Recent Notices and Events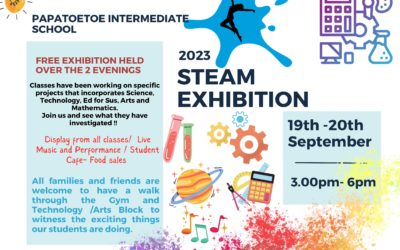 What a successful first day of the STEAM Exhibition.  An amazing display of students learning.  It was a great...
read more
Papatoetoe Intermediate School has a long and rich history. We are proud of our heritage, of our students and staff members who have passed through these doors; especially of those who have gone on to be 'high achievers' in their fields. We continue to maintain high expectations of all students and staff members. Our students demonstrate that they are effective communicators, 'connected' learners with healthy minds and bodies. We seek to provide the very best curriculum opportunities possible, with a wide range of subjects and learning contexts.  We aim to have every student realise and reach their potential.  We strive to offer them a well-rounded holistic curriculum.  Students remain with their same teacher and peers for the two years they are at our school.
Our students, with help from whānau and teachers working together, make accelerated academic achievement over the two years they attend our school.  Online learning is now a feature, and every student is provided a device.  'STEM' provisions no include coding and robotics. The intermediate years are exciting years for students. It is a time of considerable physical and emotional growth as children move from childhood to adolescence.  It is a time of transition between primary and secondary paradigms. Our curriculum aims to build on prior learning and achievement as we work towards a more independent, self-directed learning style. Our students are encouraged to develop a clearer understanding of their own achievement levels and to set and achieve personal learning goals. We all want our students to be successful at secondary school and become self-motivated 'life-long learners'.
We need our parents, whānau and wider school community to be involved; in our students and their successes, in the development of our facilities, in fundraising and community events and in the direction of our school. We encourage this through our 'open door policy', our hui, fono and parent meetings and through the 3-Way Reporting Conferences. We want our students to know that they are supported, encouraged, that they 'belong' and that their success is important to us all.
Pauline Cornwell
Principal
October

2023

Sun
Mon
Tue
Wed
Thu
Fri
Sat

1

School Holidays

Tuvalu Language Week

• •

2

School Holidays

Tuvalu Language Week

• •

3

School Holidays

Tuvalu Language Week

• •

4

School Holidays

Tuvalu Language Week

• •

5

School Holidays

Tuvalu Language Week

• •

6

School Holidays

Tuvalu Language Week

• •

7

School Holidays

Tuvalu Language Week

• •

8

School Holidays

Fijian Language Week

• •

9

Fijian Language Week

Dental Van arrives at school

First Day of Term 4

House General Knowledge

• • • •

10

Fijian Language Week

House General Knowledge

• •

11

Fijian Language Week

House General Knowledge

• •

12

Fijian Language Week

House General Knowledge

• •

14

Fijian Language Week

Elections being held in the school gym

• •

16

Niuean Language Week

Cyber Smart Week

House General Knowledge

• • •

17

Niuean Language Week

Cyber Smart Week

House General Knowledge

• • •

18

Niuean Language Week

Cyber Smart Week

House General Knowledge

• • •

19

Niuean Language Week

Cyber Smart Week

House General Knowledge

Year 8 Immunisations - 2nd Dose

Fijian/Indian Hui Fono

• • • • •

20

Niuean Language Week

Cyber Smart Week

House General Knowledge

• • •

23

Tokelau Language Week

House General Knowledge

Labour Day - School Closed

• • •

24

Tokelau Language Week

House General Knowledge

• •

25

Tokelau Language Week

House General Knowledge

Interzone Boys and Girls Basketball

• • •

26

Tokelau Language Week

House General Knowledge

South/West Zone Boys Volleyball

Student Leaders to William Buck in the City

• • • •

27

Tokelau Language Week

House General Knowledge

World Teachers Day

South/West Zone Girls Volleyball

• • • •

30

Board Meeting in the Meeting Room

•