MINUTES OF THE PAPATOETOE INTERMEDIATE BoT MEETING
Monday 15th February 2021
6.00 p.m online Google Meeting [due to Lockdown 3]
Present
Jeremy Nicholls [Chairperson], Pauline Cornwell [Principal], Darryl Wilson [MoE appointed Trustees], Leigh Manukau and Kirsty Ellis [Elected Trustees] and Heather Bates [Staff Elected Trustee]
Apologies
Mohammed Sahu Khan [MoE appointed Trustee]
Peter Cann [MoE appointed Trustee]
In Attendance
Donna Young: DP Curriculum Coordinator, Lynn Corderoy; AP Leader Assessment and Reporting and English and Te Reo Maori, Sanjeev Kumar: AP Leader Mathematics, Ray Webb [RTLB Cluster Manager] and Barbara Ferregel [BoT Secretary]
Thank you, Sanjeev for the Karakia
Appointment of a new Chairperson
Because of Lockdown 3 this was an online meeting and we had 2 members unable to attend. The Board decided to hold this decision over to the March meeting, in the hope that it will be a face to face meeting.
Jeremy will continue as Chairperson until the March meeting.
Pauline                moved
Seconded            Darryl
Carried                Unanimously
Welcome to –
Donna Young: DP Curriculum Coordinator, Lynn Corderoy; AP Leader Assessment and Reporting and English and Te Reo Maori, Sanjeev Kumar: AP Leader Mathematics will attend to present and discuss EOY Curriculum Reports with the BOT.
Members had all received copies of the full report and the summary prior to the meeting
Donna
Donna present in a supporting role while Lynn and Sanjeev report on their appropriate areas.
Sanjeev
Sanjeev reported on Maths.
Sanjeev thanked the Board for all their support.
Lynn
Thank you to the Board, RTLB and Principal for all their support over a different year of 2020.
Lynn reported on the Reading, Writing and Te Reo Maori
Question and answers – great feedback for the Leaders present.
Despite the Lockdowns over the 2020 school year the data was still very pleasing.
Board members thanked Donna, Lynn and Sanjeev and their teams for all their hard work despite the 'different' 2020. They left the meeting at 6.45 p.m.
Previous minutes from the 1st December  2020
Moved as a correct record           Jeremy
Carried                                               Unanimously
Matters Arising
No. 4 – Charter Strategic plan approval- change minutes 'to be approved'
Finance
Despite Covid being a huge challenge and because of the lack of spending we ended the year with a significant profit. Working capital of $650,000.00
Ihia's proposal – Massive upgrade to Kapa Haka uniforms [last upgraded 10 years ago]

Increase budget spend from $25,000.00 to $65,000.00 at this meeting and invite Ihia to the March meeting explaining what she is purchasing.
Ihia needs Pauline's approval before she goes ahead with any orders
As a school we should be supporting this 100%- if we can – up until now we have not been able to.

At the mid year budget review Board to look at how we are tracking and if we look as if we are making a profit we allocate some of this profit to other Cultural Groups
Kapa Haka students are competing in the Regional Competitions beginning of May – order needs to be in asap.

Moved the Board approve the increase in budget from $25,000 to $65,000.00                       Darryl
Seconded                                              Leigh
Carried                                              Unanimously
Pauline proposed that at the end of 2021 if we have the money we look at building a large adventure programme [for teenage children]
Recommendations

December/January 2020/2021 Profit and Loss Statement and Balance Sheet be accepted
Term deposit $100,000 for 3 months
2021 budgets for RTLB and PIS be accepted
Moved          Pauline
Seconded     Kirsty
Carried         Unanimously
Welcome to Ray Webb [RTLB Cluster Manager]
Accept annual report
Approve Annual Narrative report due to MoE at the end of February

Moved                Pauline
Seconded Kirsty
Carried                Unanimously
Highlights

Many highlights over the 2020 year including –

527 referrals. Increase on 2019.
Engagement with whanau as measured with data base – compared to 2019 there was an increase in whanau engagement in 2020. Worked closer with whanau due to Covid
IY autism – first cluster in NZ to deliver this programme to teachers across the Cluster
2 trained in IYP programme IY for Parents.
Ray thanked the Board for their support and especially acknowledged Pauline for all her support in the 4 years Ray has been Cluster Manager. Pauline – replied saying it has been a pleasure working alongside Ray. A very productive relationship. Thank you Ray
Jeremy – thanked Ray from the Board, for a committed 4 years. You will be missed. Enjoy your retirement.
Ray left the meeting at 7.45 p.m
Break at 7.45 until 7.50 p.m.
Principal's Report
Strategic Thumbnail included with the Board Papers.
Kahui Ako role

3 teachers within our school [2 MU – 2 hours a week to work with teachers in their classroom to improve practice in a particular area]
Lynn Corderoy is the liaison teacher
Bronwyn's EO resignation

Advertised in Seek and our website

CM – vacancy advertised in the Education Gazette
Lunches in schools

Recommendation is the Board opt to accept Deejay as our Provider
Seconded            Jeremy
Carried                 Unanimously
Pauline will complete the document and return it
Kapa Haka sleepovers – RAMS done and dusted. Will be presented at March meeting

3 sleepovers to prepare the students for the Regionals [students and staff will sleepover in the School Gym]
Moved Darryl
Seconded            Kirsty
Carried                 Unanimously
Current roll is 682 – growing by the day but we are also losing some students where families have moved out of the area.
7th Day Contract – [signed and approved] school comes to us to use specialist teachers and training.  Our Tech Teachers really enjoy this programme.
EOTC Week – 29th March to the 1st April
Moved report is accepted along with recommendations  –
Moved                 Jeremy
Carried                 Unanimously
Property
New reception area floor plan included with the Board Book

Move it back to the GSR front of the school.
More details at the March meeting

Over the holidays all rooms received the following. They look amazing so fresh and light.

New carpet
New wall linings
Painted
TVs
Electrical fittings

New gates installed now at Motatau Road entrance
On behalf of the Board Jeremy expressed thanks to Kris and Watershed for the management of all these projects.
Moved the Property report be accepted                       Jeremy
Carried                                                                         Unanimously
At 8.33 p.m. Jeremy moved that the Public be excluded from discussion of confidential items relating to personnel matters because of their sensitive nature.
               Carried                 Unanimously
 The Board moved to In Committee.
The 'in committee' discussion closed at 9.10 p.m. and the regular meeting resumed.
Jeremy moved that any actions agreed to in-committee be undertaken by the Principal, Pauline Cornwell.
               Carried                 Unanimously
Correspondence
Auckland Transport – Travelwise Schools programme
Aoeroa NZ History – already in the school
General Business
NZSTA Conference

16 – 18 April in Rotorua
Travel down on the Thursday night and back on the Sunday
Registration – Barb [once numbers are confirmed]

Barb to check with Mohammed and Peter

Co-opt another Board Member

Pacifica [and possibly legal skills or property]
Newsletter – Pauline will word a summary for applicants and share with the Board for approval
Meeting closed at 9.15 p.m.
Closing Karakia – thank you Leigh
Next Meeting – Monday 29th March at 6.00 p.m.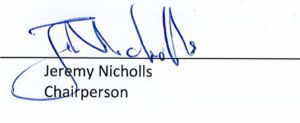 Date:  29th March 2021