MINUTES OF THE PAPATOETOE INTERMEDIATE BoT MEETING
Monday 29th March 2021 at 6.00 p.m.
 Present
Jeremy Nicholls [Chairperson], Pauline Cornwell [Principal], Peter Cann, and Mohammed Sahu Khan [MoE appointed Trustees], Leigh Manukau [Elected Trustees] and Heather Bates [Staff Elected Trustee]
Apologies
Kirsty Ellis [Elected Trustees]
Darryl Wilson [MoE appointed Trustees]
In Attendance
Whaea Ihia Reuben, Aunty Mere and Matua Jeff
Barbara Ferregel [BoT Secretary]
Thank you, Leigh for the Karakia
Finance
Bronwyn
Commentary discussion
Budget – swimming sports cancelled but possibly will happen at the end of 2021.
Recommendations

February 2021 Profit and Loss Statement and Balance Sheet be accepted
Moved          Peter
Seconded     Leigh
Carried         Unanimously
Jeremy thanked Bronwyn for her time at the school and wished her well in her new job. Bronwyn left the meeting at 6.10 p.m.
Board and visitors introduced themselves.
Welcome to –
Whaea Ihia, Aunty Mere and Matua Jeff
Whaea Ihia and Aunty Mere thanked the Board for their support.
Copies of the Kapa Haka budget were distributed and discussed.
What being in the Kapa Haka Group means. Gives students an identity to be proud of regardless of age, gender or ethnicity.
Kapa Haka uniform was shared with the Board and Ihia explained the story behind the embroidery on the bodice.
The Kapa Haka Group perform at Kia Aroha College on the 14th May at 11.30 a.m. It would be great to see Board Members and staff there to support the students
Kapa Haka are using the 'old' Performing Arts Room and have renamed it – Whare o Whakatipu [House of Growth]
Pauline advised that included in the rest of the school budget there are funds available to be used to 'connect' to Maori families.
Staff are attending Te Reo PD in their own time. There is also funding set aside for this.
There are plans for Community meetings during the year. Maybe hosting something during Matariki.
Thank you to Whaea Ihia, Aunty Mere and Matua Jeff for attending our meeting.
Guests left the meeting at 6.45 p.m.
Jeremy handed the meeting over to Pauline to call for nominations for Chairperson for 2021.
Peter nominated                Jeremy
Seconded                           Leigh
Carried                               Unanimously
Jeremy accepted the nomination. As there were no further nominations Jeremy was declared the Chairperson for 2021. Congratulations Jeremy.
Pauline then called for nominations for Deputy Chairperson
Jeremy nominated             Peter
Seconded                           Mohammed
Carried                               Unanimously
Peter accepted this nomination. As there were no further nominations Peter was declared the Deputy Chairperson for 2021. Congratulations Peter.
It was agreed Jeremy would attend the NZSTA Conference and represent our BoT.
Previous minutes from the 15th February 2021
Moved as a correct record                 Pauline
Seconded                                          Jeremy
Carried                                               Unanimously
Matters Arising
Under Principal's Report – Current roll ……………… 'loosing' – correct to losing
Peter Cann was not present
Principal's Report
Study Support Centre Funding Agreement – confirmed funding of $48,000.00 per year for the next 2 years – 2021 and 2022.
Free lunches in Schools – great success. Started on 22nd Marie Leota is the School Liaison person, she contacts families re delivery of any left over lunches and reports back any complaints/positives to Deejays.
We have a student from MIT under the Gateway Programme working in school alongside Craig.
SWIS Data is showing an improvement in behaviour across the school. Board would like to see 'comparative' data.
Farewell to Ray Webb

Ray has extended his last day as RTLB Cluster Manager to 25th This accommodates the new Cluster Manager finishing her RTLB postgraduate papers. Ray's farewell will now be late June. Date to be confirmed. New Cluster Manager – Tamara Gersbach. Tamara's contract will start on Monday 26th July [beginning of term 3]
Property
Original Admin Area plans need to be adjusted. They are too expensive as is.
Pauline working with Watershed making adjustments.
Prior to the May Board meeting the Board Members will 'walk through' the school to see the upgrades to classrooms. Walk through at 5.00 p.m. and Board Meeting to start at 6.00 p.m.
Correspondence
Jenny Salesa has offered to support the school after the break in. Jeremy will make contact with Jenny to see how she would like to help/support.
Thank you letter sent to the Buddhist Temple thanking them for their donation of sanitzer.
Congratulatory letter sent to staff member [see in committee minutes from February]
Moved the Property and Principal's report be accepted                         Peter
Seconded                                                                                                              Jeremy
Carried                                                                                                                  Unanimously
At 7.40 p.m. Jeremy moved that the Public be excluded from discussion of confidential items relating to personnel matters because of their sensitive nature.
               Carried                 Unanimously 
The Board moved to In Committee. 
The 'in committee' discussion closed at 8.15 p.m. and the regular meeting resumed.
Jeremy moved that any actions agreed to in-committee be undertaken by the Principal, Pauline Cornwell.
               Carried                 Unanimously
General Business
NZSTA Conference

16 – 18 April in Rotorua
Travel down on the Thursday night and back on the Sunday
Discussion re Co-option of another Board Member

Pacifica [and possibly legal skills or property]
Board members to think about this and maybe 'shoulder' tap if they know of someone and then ask for a CV.
The BoT did feel there was no urgent need.

Delegated Authority

New document was shared with all Board Members
This will be ratified by email after the meeting and added to Matters Arising at the May meeting.
Meeting closed at 8.25 p.m.
Closing Karakia – thank you Jeremy
Next Meeting – Monday 24th May at 6.00 p.m. [School 'walk through' at 5.00 p.m.]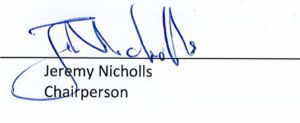 Date:  24th May 2021