PAPATOETOE INTERMEDIATE SCHOOL NEWSLETTER
No. 10 – 16th June 2022
Important Term 2 dates
Please ensure you have received the latest school letter regarding 3-way conference booking information and camp.  Check your emails for this information and if you haven't received this by next week please contact the school office.
Monday 23rd May to the 1st July
Life Education Caravan in school
Blake NZ – VR in school all week
Thursday 16th June
Interzone Year 8 Boys Football
Tree Planting
Thursday 23rd June
Student Leaders out all day at training – details TBC
Friday 24th June
Matariki – School Closed
Monday 27th June
6.00 p.m. Board Meeting in the Principal's Office
Tuesday 28th June
Interzone Boys Rugby (Tuesday 5th July – SD)
Wednesday 29th June
Interzone Girls Rugby (Wednesday 6th July – SD)
June – mixed days
Everyday Theatre in the school over the course of this month
Tuesday 5th July
SW Zone Girls Hockey
Tuesday 5th, Wednesday 6th and Thursday 7th July
School closes at 2.00 p.m. – 3 Way Conferences [more information will be circulated closer to the time]
Wednesday 6th July and Thursday 7th July
Wearable Arts show – 6.00 – 7.00 p.m – in the school gymnasium
All whanau invited (please wear masks)
Wednesday 6th July
Boostrix Vaccinations
Thursday 7th July
SW Zone Boys Hockey
Friday 8th July
End of Term 2
Friday 15th July
Nominations called for Board of Trustees Elections
Monday 25th July
First day of Term 3
In and out of zone applications open for 2023
6.00 p.m. Board Meeting in the Principal's Office
Dental van arrives at the school
BOARD OF TRUSTEES ELECTIONS
Board Elections are in September 2022, for a three year term. Please consider if you have the talents, experience and commitment which would contribute to the governance of Papatoetoe Intermediate School. Board members have a significant and very important role, including employment of staff, property and finance, health and safety, strategic direction, accountability and representation.
If you are interested in finding out more about being a Board member please contact our Board Secretary – Barbara Ferregel (barbaraf@papint.school.nz) or one of our Board members who will be happy to answer questions. Information about our Board can be found on our school website.
Interested community members are welcome at meetings. If you would like to know about attending meetings also contact the Board Secretary.
Election Dates:
– 15th July – call for nominations
– 5th August – nominations close
– 10th August – voting papers distributed
– 7th September – Election
– 13th September – votes counted
– 14th September – New Board takes Office
REGISTRATION OF INTEREST
DIRECTOR OF EDUCATION APPOINTMENTS TO THE SCHOOL BOARD OF
PAPATOETOE INTERMEDIATE SCHOOL
Papatoetoe, Auckland
Registrations of Interest are invited for up to four appointments to the School Board governing Papatoetoe Intermediate School.  The school has an alternative constitution which allows for four people to be appointed by the Director of Education for Auckland to the School Board.  The positions are available from 14 September, 2022.
About the School
The Papatoetoe Intermediate School is an urban, state intermediate school situated in Motatau Road, Papatoetoe, Auckland, providing education for students in Years 7 and 8.  Students remain with their same teacher for the two years they are at school.
The school has a long and rich history, and it prides on its heritage, high achieving alumni and its current students and their families.  The school's focus is to have its students demonstrate that they are effective communicators and connected learners with healthy minds and bodies.  Papatoetoe Intermediate School ākonga commonly achieve accelerated academic achievement over the two years.  The school provides a well-rounded holistic curriculum with a wide range of subjects and learning contexts and its staff are committed to assisting all students to realise their potential and achieve to the very best of their abilities.  Increasingly the school provides extended opportunities for online learning, STEAM provisions and experience in coding and robotics.
The intermediate years are exciting years for students.  It is a time of considerable physical and emotional growth as children move from childhood to adolescence.  It is a time of transition between primary and secondary paradigms.  Papatoetoe Intermediate School curriculum aims to build on prior learning and achievement, and it works towards a more independent, self-directed learning style.  Its students are encouraged to develop a clearer understanding of their own achievement levels and to set and achieve personal learning goals.  "We all want our students to be successful at secondary school and become self-motivated 'life-long learners'".
About the Role
The School Board is a Crown Entity.  In its governance role, the Board is the employer of the school staff, sets the school's overall strategic direction and is future focused.  The overriding focus and primary duty of effective Board membership is the quality of education that each of the school's students receives.
Board members need a balance of skills and experiences.  They need to work well in a team, be able to put strategies in place for the school's future, ask challenging questions, have good communication skills and represent the diversity of the school's students.  It also helps to have an understanding of financial matters, the education sector and experience in managing people.
The term of appointment is for up to three years.  Applicants should preferable have knowledge and experience of school governance.  Knowledge of developing and maintaining relationships with Māori and Pasifika parents, whānau and community is highly desirable.
For more information and Application Form, please contact Sonja Petkovic on 09 632 9453 or email sonja.petkovic@education.govt.nz
Applications close on Thursday 23rd June at 5.00 p.m.
PRINCIPAL'S MESSAGE
The building project for the new administration area has started.  For the next 4 months access into our school during school hours will only be available via the Motatau Road enterance.  Please drive to the gates and press the button to request access.
During 3 way conferences all gates will be open until 7.30 p.m.
Thank you for your patience during this time.  We apologise for any inconvenience.
CLASS PHOTOS NOW AVAILABLE TO ORDER ONLINE
Our 2022 class photos are now available to order online through photolife.  You will have received an email with a link and personal code for your child's photo, please check your junk/spam mail if you haven't received this.
Please note FREE DELIVERY BACK TO SCHOOL ends at midnight on Sunday 26th June 2022.
If you have any queries please contact photolife on 09 262 1040 or 0800 50 10 50 or enquiries@photolife.co.nz
NOEL LEEMING FRIENDS & FAMILY DEALS
Noel Leeming is delighted to support KidsCan by raising funds with out Friends and Family Promotion this June.  With your help, we hope to make a difference by providing the essentials Kiwi kids need to learn, with 2.5% of the total sales from this event being donated to KidsCan.
This offer is open to our school whanau including parents. students and community of friends and family.  It will give you the opportunity to unlock amazing deals during the two-week period, starting Monday June 20th and running through until Sunday July 3rd 2022.
To take advantage of this special offer, people can visit one of our Noel Leeming Stores located across the country and simply show the event flyer on their smartphone (or in printed form) to unlock amazing deals and raise funds for KidsCan.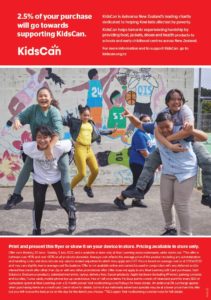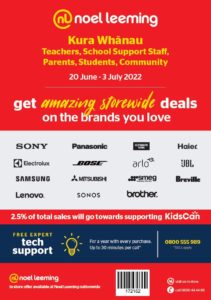 FROM THE LIBRARY
We are a Duffy school and every term we get books which we are able to receive with the help of Latitude Financial Services.
We really enjoy receiving so many books throughout the year.
Recently our school took part in the Duffy Reading challenge and we were one of the winning schools.  We received a box of some amazing books which will be available through the library.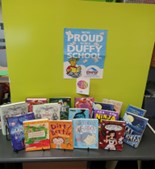 LIFE EDUCATION
For the past few weeks our students have been privileged to have some lessons provided by Life Education.  They are one of New Zealand's largest education providors, supporting the health and wellbeing of our children.
We received this amazing book from them as well, and a big thank you to Life Education for this amazing book.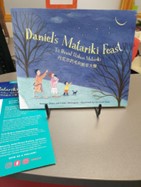 2023 ENROLMENTS – PAPATOETOE INTERMEDIATE SCHOOL
The enrolment process for the 2023 Year 7 intake will soon be under way.
Enrolment forms will be at Papatoetoe Central, East, North, South, West. Puhinui, and Wymondley Road Schools early in term 3.  Alternatively, you can collect an enrolment pack from the Papatoetoe Intermediate School office or enrol via our website www.papint.school.nz through the enrolment link.
IN ZONE APPLICATIONS – We would ideally like all our in zone applications returned to Papatoetoe Intermediate School by Friday 12th August 2022.  This will enable us to allocate the number of out of zone places we have available for 2023.
OUT OF ZONE APPLICATION – Applications open on Monday 25th July 2022 and close on Wednesday 7th September 2022, with a ballott to be held on Wednesday 14th September 2022 for any balloted places the school has available.  NO out-of-zone applications can be accepted after 3.00 p.m. on Wednesday 7th September 2022.
Please Note – Papatoetoe Intermediate cannot enroll students whose parents intend to put them into the care of people who live in our home zone – no matter how close the relationship.
2023 HIGH SCHOOL ENROLMENTS 
PAPATOETOE HIGH SCHOOL
IN-ZONE ENROLMENT: To assist the school with planning it would be appreciated if completed forms could be returned before Friday 30th September 2022 (the end of Term Three).
OUT-OF-ZONE ENROLMENT: Applications to enrol for 2023 close on Wednesday 7th September 2022.  The ballot date is Wednesday 14th September 2022.
OTAHUHU COLLEGE
Enrolments for 2023 for Otahuhu College are open.
THANK YOU TO ROOM 23 for their article for this Newsletter
Room 23 has been doing a lot of amazing activities, including Ozobots, Bikes and more!
Ozobots were fun.  Our teacher puts us in groups of two.  We all get one Ozobot and a giant piece of blank white paper per group.  We have to draw a black line on the giant blank paper and place the Ozobot on it.  It will make the Ozobot move along with the line's position.  You can also change the speed, position and movement of the Ozobot by drawing a line with different colours.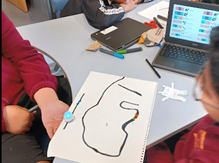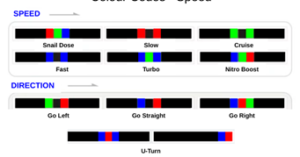 We have also been riding bikes outside and inside the school.  Bigfoot is a team that teaches schools how to ride bikes on roads safely.  Bigfoot taught us a lot of rules!  They taught us how to ride bikes, they taught us how to ride on the roads safely.  It was a lot of fun and Room 23 had a great experience.  A big thank you to the Bigfoot team.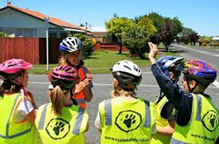 Room 23 have also been doing Buddy Reading in class.  This program is where we read together with a buddy and encourage each other to find new vocabulary words and build up reading mileage.  Buddy reading is a fun and easy way to learn and improve our reading.
Buddy reading also helps us to communicate and share the knowledge we have.
Room 23 is looking forward to a productive Term 3 to work on improving our results across the curriculum.