PAPATOETOE INTERMEDIATE SCHOOL NEWSLETTER
No. 11 – 27th July 2023
Important Term 3 dates
Dental van is in school this term – please call ahead to make an appointment on 09 278 1975
Friday 28th July
Exhibitions of Learning – in our Technology/Arts Rooms
Monday 31st July – Friday 4th August
Cook Island Language Week
Tuesday 1st August
South/West Zone Girls Netball
Wednesday 2nd August
Interzone Boys Hockey
Inter-School Masterchef Competition
Thursday 3rd August
Talent Quest Heat 1
Interzone Girls Hockey
South/West Zone Girls Netball – Saving Day
Student Leaders to William Buck in the City
Friday 4th August
Talent Quest Heat 2
Dress in National Costume of the Cook Islands
Tuesday 8th August
South/West Zone Boys Netball
Thursday 10th August
Talent Quest Heat 3
South/West Zone Boys Netball – Saving Day
Friday 11th August
Talent Quest Heat 4
Book Week Character Parade – Dress up as your favourite Book Character
Monday 7th August – Friday 11th August
Book Week – Read, Grow and Inspire
Tuesday 15th August
Interzone Girls Netball
Wednesday 16th August
Boostrix Vaccinations in School (For those who have returned permission)
Interzone Girls Netball – Saving Day
Thursday 17th August
South/West Zone Boys League
Monday 21st August
9:15a.m. – 11:00a.m. – Papatoetoe Central Technology Taster
1:30p.m. – 3:30p.m. – Papatoetoe West Technology Taster
Tuesday 22nd August
Interzone Boys Netball
9:15a.m. – 11:00a.m. – Papatoetoe East Technology Taster
12:15p.m. – 2:00p.m. – Wymondley Technology Taster
Wednesday 23rd August
Interzone Boys Netball – Saving Day
Thursday 24th August
9:15a.m. – 11:00a.m. – Bairds Mainfreight/Papatoetoe South/Papatoetoe North/Fairburn Technology Taster
12:15p.m. – 2:00p.m. – Puhinui School Technology Taster
South/West Zone Boys League – Saving Day
Friday 25th August
Teacher Only Day – School Closed for Mid-Term Break
PRINCIPALS MESSAGE
Welcome to our new staff members
(Miss) Whaea Sarah Richardson who is our new Syndicate Leader for Waiti (Rooms 2, 3, 4, 23, 24, 25 and 26) and our English Curriculum Leader.  Sarah comes from Rangeview Intermediate and has worked in several schools in the South Auckland area.  We are very pleased she has chosen to work at our school.
(Mr) Timothy Liebbrandt is the new teacher in Room 19.  Mr Liebbrandt arrived from South Africa during  the school holidays and has quickly settled into our school after the mihi whakatau on Monday last week.  Mr Liebbrandt is an experienced intermediate school teacher who brings with him a wealth of experience and expertise.  Room 19 will be blessed by this over the next 6 months.
Matariki Celebrations: On Wednesday 19th July we had a hui with our Maori Community & enjoyed food and our Kapa Haka group performing.  To celebrate further we were able to give each staff member, Kaumatua and Board members our first harvest of honey from our bees.  Next year we hope to sell this to our school community so we can further expand this Kaupapa in our Kura.  Thank you to Deejays and our in-school helpers who prepared the kai for the evening.
ART EXTENSION TRIPS
Papatoetoe Schools Arts Exhibition – Dew Drop Events Centre
On Wednesday 19th of July a group of students went to an art show at the Dew Drop Event Centre.  This was hosted by Papatoetoe Principals Association and the principal of Puhinui School, Mark Elder was there to meet us.  When you go to an art gallery opening there are refreshments for those attending.  I had a couple of lollies and a pink jam slice.  I saw art from other schools and I saw a lot of potential in the work of younger artists than me.  The art was amazing, and we took lots of group photos.
Chiara – Room 10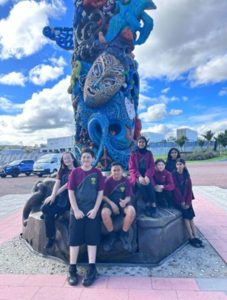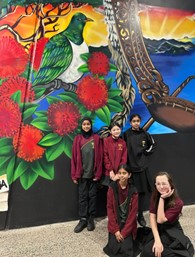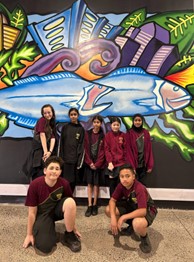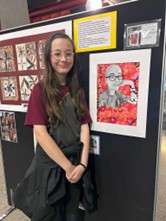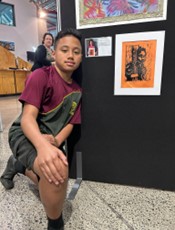 Auckland Art Gallery Trip – Extension Art Students – Wednesday 26th of June 2023
In Term 2 the extension art students with Miss Hormann went to the Auckland Art Gallery in the city.  We saw tons of amazing art pieces by well known artists.  Some of the pieces of art had meaning in them, and some looked weird.  And some looked like scribbles.  But overall I really enjoyed the trip.  I would go there again.
Dru – Room 7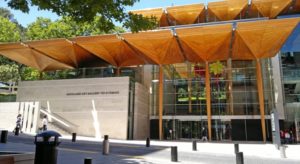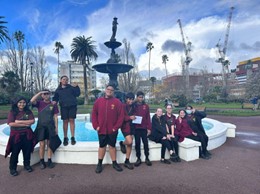 LIFE EDUCATION CLASSES
Life education was both a mild disturbance, but quite the ladder.  The more we attended Life Ed classes, the more we progressed up that ladder.  After each rung was reached, we learned something new.  And each lesson, we were left with a different look on our face.
The Life Education caravan, otherwise known as Harold's home, was clearly turned into a room filled with comical suppressions, and immature reactions.  We learned a lot about the human body, but particularly exploring the parts and features of the human body,  that isn't normally taught in normal classrooms.
With that being said, it should be clear why things were taken the wrong way.  I remember our second lesson with Life Ed, we were exploring numerous alternative names for our 'below the waist' areas, and the chest area for females.  We learned some terms to describe body parts and the changes that we may go through.  I can say for some of us, it was a plate full of discomfort, whilst others felt more comfortable.  Everyone goes through these changes at different times, but it's important that we are respectful during this time.
Nevertheless, Life Education certainly was an interesting aspect of learning.  I think no matter how awkward or embarrassing the discussion of certain topics, it's definitely important.  Life Ed left us a piece of education about certain areas, and I can truthfully say that my Life Ed experience is one I'm never going to forget…
Especially the images….
Irwin – Room 1
BOOK WEEK – WEEK 4
Our school students are always encouraged to read and make use of the library to the fullest.
Being a Duffy school we are able to gift books to students. Students may also receive books for "Caught being good" as well.
This term we are holding a book week in week 4 from the 7th – 11th August and we are hoping to have a fun filled week with lots of reading, activities, author visit and a dress up day.
We have also been privileged to receive some gifts from Scholastic NZ Ltd to help us as prizes for book week.  I would especially like to thank Ms Robyn Southam for delivering our box of books/bookmarks.
We also received a donation of stationary from Educational Essentials to be used as prizes.  We also would like to thank them for their kind gesture.
Let's all join in and make our book week full of fun.
Mrs Dass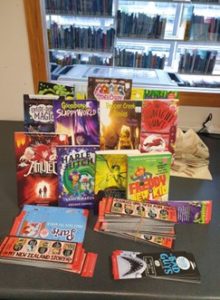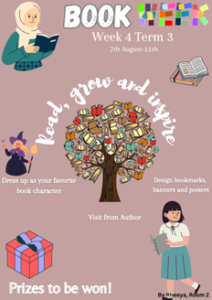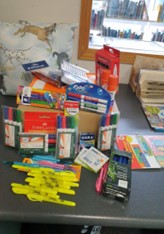 ENROLLING AT OTAHUHU COLLEGE
If you are wishing to enrol your child at Otahuhu College for the year starting 2024 please do so at your earliest convenience.
We encourage you to access our online enrolment form which can be found on the Otahuhu College website or by clicking on this link: https://otahuhucollege.school.nz/. Click on the "Enrol" tab and follow instructions.  You will need to have relevant documents ready for uploading.
If you would prefer to come in to the school please email our school receptionist Ayla Mafi: amafi@otahuhucollege.school.nz and she will be able to provide you with a hard copy of our enrolment form.  Alternatively, we have given Papatoetoe Intermediate hard copies of our enrolment form.  Your child can collect one from the school office.
If you have any questions please contact:
Year 9 Dean, Emma Norgate: enorgate@otahuhucollege.school.nz
Deputy Principal, Moana Va'aelua: mvaaelua@otahuhucollege.school.nz
SENCO, Leanne Klopper: lklopper@otahuhucollege.school.nz
Nga manaakitanga
2024 PAPATOETOE INTERMEDIATE SCHOOL ENROLMENTS
Our 2024 in and out of zone enrolments have now opened.  We strongly encourage families to apply online (www.papint.school.nz) as we are aiming to become a 'paperless' school.  If you are unable to apply online, we have enrolment forms available at the school office.  You will need to provide, with the completed enrolment form a copy of your child's birth certificate, passport or visa information and 2 forms of a proof of address in the name of the LEGAL guardian.  We also ask families to provide proof of students' immunisation status and previous school reports if possible.
If you live out of zone for our school, you will need to have your application to us by Wednesday 30th August 2023, 3.00 p.m. to be included in the out-of-zone ballot.  The number of out-of-zone enrolments that will be accepted will be very low due to the increasing in zone enrolments.  While siblings remain a priority group for out-of-zone applications we can no longer guarantee that they will be accepted.
Notification of the number of out-of-zone enrolments our school will be able to accept in 2024 will be sent to primary schools and added to our website in August 2023.
For any questions or queries regarding 2024 enrolments please email enrolments@papint.school.nz
Please see the below flyer about our upcoming 2024 Caregiver Information Evening for caregivers and new students enrolling for 2024.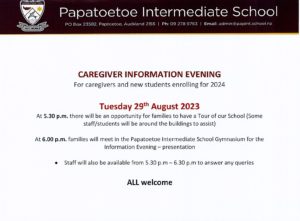 CYBER SAFETY PARENT EVENING
We want our school to be a safe place.  Due to the rapidly changing times our tamariki are growing up in and the mounting challenges and harms they are facing online we need to start talking about and tackling this as a community.
In order to better support our students online, we are holding a Cyber Safety Parent Evening with the video presentation supplied by the 'Informed and Empowered Programme' creators.  This video will cover some of the following topics:
– Cyberbullying – How cyberbullies can reach our kids 24/7
– Social Media – The pressure for kids to build an online brand that is often far removed from their authentic selves FOMO, Highlight Reels
– Gaming and the developing brain – An oversupply of dopamine leading to dopamine deficiency, synaptic pruning, and the underdevelopment of social skills and empathy
– Naked Selfies – The pressure to send nudes from intermediate up through high school
– Online predators – The methods they use, how to spot them, and how to get out from under their control if your child has been trapped.
– Online porn vs healthy sexuality – How consuming online pornography as a child or teen can create a sexual template where violence, aggression, and dominance are seen as normal and consent can become very blurry
The content in this presentation is NOT SUITABLE FOR CHILDREN.  Please make alternative arrangements or let us know if you need support with this and we will aim to provide an alternative space for them to be and one of our teachers to supervise them.
This presentation will be held in our school library on Thursday 10th August from 6pm – 9pm.  Tea and coffee for attending adults will be provided.
2024 SCHOOL CAMP
As part of our EOTC programmes at Papatoetoe Intermediate School, we go to CYC Ngaruawahia Camp for an epic camp experience involving adventure, challenge and fun!  We run this in two groups: from Monday – Wednesday, and Wednesday to Friday.  Two Syndicates attend each time.  We are booked in for Monday 4th – Friday 8th November 2024.
We have been working with the camp and have estimated the full cost for this camp is likely to be $220 per person.  This covers: transport, accommodation, food, staffing and all activities.  Activities are likely to include: Archery, Air Rifles, BMX, Burma Trail, Bush Walk, Campfire, Climbing Wall, Crate Climb, Flying Fox, Hydroslide, Kayaking, Mudslide, Outdoor Cooking, Paintball, Pool, Raft Building and Team Confidence Course.
We know that it can be helpful to be able to spread costs out over time.  You can start paying for camp now.  Please make payments that best suit your needs – give our friendly office staff a call and they can help organise this with you.  Bank Account details: ASB 12 3028 0656566 00 – Please include your child's name, room number with the code: CAMP 2024.  FULL PAYMENT of $220 is required by Thursday 10th October 2024.  Our school does seek sponsorship for students and the costs are heavily subsidised.  If you know of someone who might like to sponsor our camp please contact us asap.
Permission and medical forms will be sent out in Term 3 2024 so we can ensure we get the most up to date information.  If you would like to be a parent/adult helper and join us on the camp please let us know.  We hold a Camp Information Evening for Parents/Caregivers in the lead up to camp and information and dates for this will come out in 2024.
THANK YOU TO ROOM 2 for their article for this Newsletter
Whaka Pokai o Tara – to Act Like a Band of Chiefs
A design choice seems just for the aesthetic side of things but have you ever wondered about the deeper meaning behind it?  Papatoetoe Intermediate choose theirs to represent the rich history of the area the school was built in.  Features and details included on the badge are representative of the way people once described chiefs, a story of bravery and spiritual beliefs.
The motto is derived from the way people honoured chiefs.  The Maori spoke very poetically and phrases had different definitions.  'Pokai o Tara' is one of them because it roughly means flock of birds yet it is comparing the chiefs to the graceful terns.  'Whaka Pokai o Tara' means 'Act like a band of chiefs'.  This is advice Papatoetoe Intermediate gives to you.  It's telling you to act nobly as a chief would… Act Together.  This text is now placed on the school uniform.  Another important part of the uniform is the badge, and on that badge is the hawk.
From Nilofar – Room 2