PAPATOETOE INTERMEDIATE SCHOOL NEWSLETTER
No. 11 – 30th June 2022
Important Term 2 dates
June – mixed days
Everyday Theatre in the school over the course of this month
Tuesday 5th July
SW Zone Girls Hockey
Interzone boys rugby – Saving Day
Tuesday 5th, Wednesday 6th and Thursday 7th July
School closes at 2.00 p.m. – 3 Way Conferences [more information will be circulated closer to the time]
Wednesday 6th July and Thursday 7th July
Wearable Arts show – 6.00 – 7.00 p.m – in the school gymnasium
All whanau invited (please wear masks)
Tuesday 5th July and Thursday 7th July
Papatoetoe High school representive in our school office to assist with 2023 enrolments
Wednesday 6th July
Boostrix Vaccinations
Interzone Girls rugby – Saving Day
Thursday 7th July
SW Zone Boys Hockey
Friday 8th July
End of Term 2
Friday 15th July
Nominations called for Board of Trustees Elections
Monday 25th July
First day of Term 3
In and out of zone applications open for 2023
6.00 p.m. Board Meeting in the Principal's Office
Dental van arrives at the school
Thursday 4th August
Interzone girls hockey
Friday 5th August
Nominations close for BoT Elections
Tuesday 9th August
SW Zone girls netball
Wednesday 10th August
Voting papers issued for BoT Elections
Thursday 11th August
SW Zone girls netball – Saving Day
PRINCIPAL'S MESSAGE
Congratulations to the students and their teachers who contributed to the Wearable Arts – Eye on Nature Competition. Your efforts stood out and you were so successful! Congratulations especially to the winners from Room 12 and Room 6 and to our fabulous Art Teacher – Ms Christine Hormann.
We do hope all our families are able to come to the school show next week to see all the work done by the classes. The promise to be an excellent two shows.
2023 ENROLMENTS – PAPATOETOE INTERMEDIATE SCHOOL
The enrolment process for the 2023 Year 7 intake will soon be under way.
Enrolment forms will be at Papatoetoe Central, East, North, South, West. Puhinui, and Wymondley Road Schools early in term 3.  Alternatively, you can collect an enrolment pack from the Papatoetoe Intermediate School office or enrol via our website www.papint.school.nz through the enrolment link.
IN ZONE APPLICATIONS – We would ideally like all our in zone applications returned to Papatoetoe Intermediate School by Friday 12th August 2022.  This will enable us to allocate the number of out of zone places we have available for 2023.
OUT OF ZONE APPLICATION – Applications open on Monday 25th July 2022 and close on Wednesday 7th September 2022, with a ballott to be held on Wednesday 14th September 2022 for any balloted places the school has available.  NO out-of-zone applications can be accepted after 3.00 p.m. on Wednesday 7th September 2022.
Please Note – Papatoetoe Intermediate cannot enroll students whose parents intend to put them into the care of people who live in our home zone – no matter how close the relationship.
WEARABLE ARTS 2022
PAPATOETOE INTERMEDIATE WINS BIG AT EYE ON NATURE WEARABLE ARTS!!!
Room 12, Papatoetoe Intermediate's Kulraj Singh and Suega Poutea formed an impressive duo to take first place in the Primary category, with their twin garments 'Rongo – The Hero and the Alter Ego'.  Year 8 student Noah Hehepoto, themed Kai Moana from Room 6 placed 3rd in this year's competition too.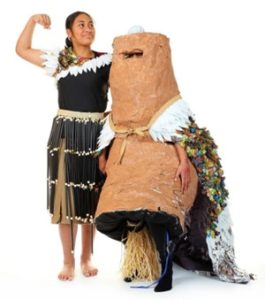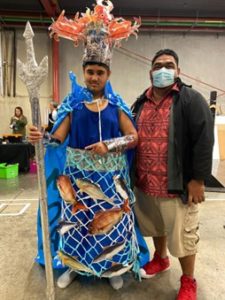 Room 12 made their garments to represent two sides of Rongo, the Māori god of cultivated and underground food, with recycled materials.  According to the judges, the construction effort and incorporation of contemporary New Zealand and Māori tradition made them a stand-out.  This year there were 78 entries, with the winners taking away a total prize pool of $3,500 for their schools.
Our students took inspiration from a wide range of social and environmental issues around the Incredible Kai theme, from rainforest destruction, to the cultural importance of kai and the impact of food waste on our planet.
PAPATOETOE INTERMEDIATE SCHOOL – WEARABLE ARTS SHOW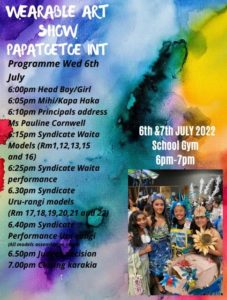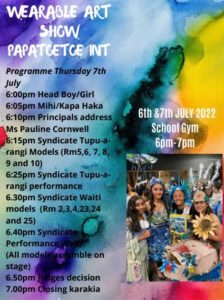 3-WAY CONFERENCES
On Tuesday 5th July, Wednesday 6th July and Thursday 7th July from 2.15pm-6.00pm we will be holding Year 7 and 8 3-Way Conferences.
School will close at 2.00pm on these three days.  School buses will still be at 3pm and those students needing to catch the school bus or who have to be picked up at 3pm will be supervised until this time.  Please make an appointment immediately so that you book a time that suits you and your whanau.
Appointment Times
We are using an online booking system to make appointments.  Simply go to www.schoolinterviews.co.nz and enter the school code: rhedt
If you are unable  to book online, please contact your child's teacher directly or the school office (09 278 9763) and leave a message for the teacher to contact you to make a booking.
SCHOOL CAMP
We are very excited about our school camp to Ngaruawahia scheduled in October/November this year.  Your child will have brought a notice home regarding this.
We have finalised our budgets and the price of camp is set at $195 per person.
You can start paying for camp now.
Bank Account details: ASB 12-3028-0656566-00 – Please include your childs name, room number with the code: CAMP
Please make payments that best suit your needs.
FULL PAYMENT is required by 30th September
There will be a Camp Information Evening for Parents/Caregivers on Tuesday 9th August at 5:45pm in the school gym.
If you have any questions or concerns please contact Student Reception on 09 278 9763
EVERYDAY THEATRE
Everyday Theatre is a unique, interactive workshop.  Its primary aim is to empower young New Zealanders to achieve wellbeing and safety, by providing a safe forum for young people to discuss issues around child abuse, neglect and family violence in a highly structured way.  It has been internationally recognised as 'best practice' for dealing with sensitive issues.
Every class will be given an opportunity to take part in these sessions, starting on the 28th June 2022.
SCHOOL BOARD OF TRUSTEES ELECTIONS from 15th July 2022
It's board election time again.  Next term we will be electing board members for the next three years.
Nominations will open for the election of 3 parent representatives to the school board no later than 15 July.  NOTE: This starts during the school holidays.   
The returning officer for the triennial board election is Bernardine Vester.  Bernardine can be contacted at returningofficer@myschoolelection.nz.   
The timetable for the election is:
Main Roll closes:  Wednesday 13 July
Call for Nominations:  No later than 15 July.
Supplementary Roll closes: Monday 1 August
Nominations close: Wednesday 3 August
If there are more nominations than vacancies, then parents and caregivers will receive an invitation to vote either electronically or by post.  
Voting starts:  Wednesday 10 August
Election day is September 7.
Voting count:  Tuesday 13 September
New board in place:  Wednesday 14 September.  
Nominations can be made online through an email link provided in the Call for Nominations.
However, a hard copy nomination form can also be obtained from the school office.
If you wish to stand for the board, it is recommended that you provide a candidate statement and photograph.
The electoral roll will be held at the school and can be viewed during normal school hours.
STRATEGIC PLANNING AND REPORTING – Second Phase
We'd like to invite you to participate in the second phase of the Strategic Planning and Reporting (SPaR) engagement process.  We have analysed your feedback from the first round of engagement and identified some common strategic planning trends in your feedback that might be incorporated into planning and reporting regulations/guidelines.  We'd now like to test ideas with you.
Please find attached some further information on what we heard from you during the last round of engagement and the ideas that we would now like to test with you.  Once you have reviewed this information, please enter your feedback through our planning and reporting phase 2 survey here:  Schools and communities – survey monkey link
FREE FLU JABS FOR TAMARIKI AGED 3 TO 12 YEARS
Children aged 3 to 12 years old can get a free flu vaccination from their GP, healthcare provider or at most pharmacies from this Friday 1 July.
Free flu jabs for tamariki – Ministry of Health
Most tamariki aged 9 years and over need one vaccination each year to get good protection against flu.
If you have a child under 9 years old, talk to your healthcare provider as they may need one or two vaccinations depending on whether they've had a flu vaccine before.
2023 HIGH SCHOOL ENROLMENTS 
PAPATOETOE HIGH SCHOOL
IN-ZONE ENROLMENT: To assist the school with planning it would be appreciated if completed forms could be returned before Friday 30th September 2022 (the end of Term Three).
OUT-OF-ZONE ENROLMENT: Applications to enrol for 2023 close on Wednesday 7th September 2022.  The ballot date is Wednesday 14th September 2022.
OTAHUHU COLLEGE
Enrolments for 2023 for Otahuhu College are open.
THANK YOU TO ROOM 25 for their article for this Newsletter
This year started off with a slight drag!  However, part way through the first quarter things started getting exciting with opportunities abound!  Now you might be thinking… "Why is this year so different from all the others?"  Well, for starters it is the beginning of a whole new phase for all people from all walks of life.  Yes, this in itself is nothing 'life-changing' however it remains very significant for those who dare to have the courage to overcome whatever it is that they face at the start.  The remaining time promises to be filled with restoration and the continuation of new and exciting things.  We have wonderful opportunities to capture and cultivate real meaning in relationships which has the potential to bring communities together, "Kia Mai Tahi!".
We are all on an interconnected and collective journey, it means that each person is undeniably linked to the people around them.  Together we have the potential to do good things.  If we examine our 'way' as a school closely we'll find that we draw our strength from this concept; there is a 'wealth of potential' living inside of the people that make Papatoetoe Intermediate the special place that it is and will forever remain.  It lives in the hearts and minds of those whose footprints have left an indelible mark in this place.  Our tamariki have the potential to add their names to this list… a list written in the STARS.