PAPATOETOE INTERMEDIATE SCHOOL NEWSLETTER
No. 12 – 28th July 2022
Important Term 3 dates
July/August – various days
Everyday Theatre in the school over the course of this month
Thursday 4th August
Interzone girls hockey
Friday 5th August
Nominations close for BoT Elections
Sunday 7th August – Friday 12th August
Youth Peace Week 2022
Tuesday 9th August
SW Zone girls netball
Wednesday 10th August
Voting papers issued for BoT Elections
Thursday 11th August
SW Zone girls netball – Saving Day
Monday 15th August – Tuesday 16th August
ASB St Johns in school – working with students
Tuesday 16th August
SW Zone boys netball
5.30 p.m. – 7.00 p.m. – Year 6 Caregiver Information Evening in the Gym
Thursday 18th August
SW Zone Boys netball – Saving Day
ASB St Johns in school – working with students
Monday 22nd August – Friday 26th August
Book Week – more information to come
Tuesday 23rd August
Interzone girls netball
Thursday 25th August
SW Zone boys league
Friday 26th August
Interzone girls netball – Saving Day
Daffodil Day – 'Wear Yellow Day' in support of Daffodil Day – Gold coin donation
Monday 29th August
Teacher Only Day – school is closed for students
6.00 p.m. – Board of Trustees Meeting in the Principals Office
Tuesday 30th August
Interzone boys netball
Wednesday 31st August
Interzone boys netball – Saving Day
Thursday 1st September
SW Zone boys league
PRINCIPAL'S MESSAGE
Welcome back to our staff and students. We look forward to fun filled and busy term 3 2022.
Mask wearing will continue, in keeping with MOE Guidelines, in Term 3.
We will continue to check air quality, sanitise and maintain pandemic health requirements. Please talk with your children and encourage them to be positive and supportive. RATS tests are available for any students with symptoms.
Remember the school gates open at 8am and students should be in class for the start of school by 8.30am.
Please make sure your child has the correct winter uniform – black shoes and black socks, the school T-shirt and sweater, Black jacket and black pants. If you have any trouble with this please send a note explaining. We do have some spare items if you need support. Please let your child's classroom teacher know if you want some help.
Preparing for School Camp. Please return permission slips allowing your child to attend and if you are available to help asap. You can start paying towards camp costs now.
Checking for COVID and keeping our school 'bug' free. Please contact your child's teacher if your child is sick and cannot come to school.
Enrolling for 2023 – secondary school enrolments are now open, as are enrolments to our school. Please make sure you complete the enrolments for 2023 and remind your family, friends and neighbours to do the same.  Papatoetoe High School enrolment forms are available at our school office.
Board elections – we have received several nominations for our school elections. This reflects the strong desire our community has to ensure our students get a great education – thank you to all those willing to do this work.
STAFF UPDATES
FAREWELL
This term we farewell Saba Kiani who goes on parental leave on the 10/08, we wish her all the best with her new family.  We also farewell Marta Andrew classroom teacher of room 24.
WELCOME
Welcome Nandini Chakarbarty, classroom teacher for Room 24.  Welcome also to Erika Brecher who starts on the 08/08 who will be the teacher in Room 9.  We do hope you welcome and support our new staff members.
NOMINATIONS ARE NOW OPEN FOR BOARD ELECTIONS
It's Board election time again.  This term we will be electing Board members for the next three years.
Nominations are now open for the election of 3 parent representatives to the school board.
Nominations remain open until midday on 3 August 2022.
The returning officer for the triennial board election is Bernardine Vester.  Bernardine can be contacted at returningofficer@myschoolelection.nz.   
The timetable for the election is:
Main Roll closes:  Wednesday 13 July
Call for Nominations:  No later than 15 July.
Supplementary Roll closes: Monday 1 August
Nominations close: Wednesday 3 August
If there are more nominations than vacancies, then parents and caregivers will receive by post an invitation to vote.  These can be returned to the school administration office.
WHAKAPOKAI O TARA
Te Whakapokai o Tara kapa haka performed their very first 2022 show at our Papatoetoe Intermediate School 'Wearable Arts Show'.  Our group had been practicing over the past weeks, in between illnesses and children having to stay home due to COVID and 'flu.  It was quite tricky to have us all together in a 'normal space' at school to practice.  They had heaps of fun doing kapa haka and I hope they will continue when they leave our kura.  I'm always proud of their efforts, especially as they learn something new every time they perform and are continuing to build confidence each time.
Mauri Ora
Thank you – Whaea Ihia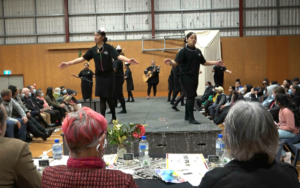 2023 ENROLMENTS – PAPATOETOE INTERMEDIATE SCHOOL
The enrolment process for the 2023 Year 7 intake is now under way.
Enrolment forms are now at Papatoetoe Central, East, North, South, West, Puhinui, and Wymondley Road Schools.  Alternatively, you can collect an enrolment pack from the Papatoetoe Intermediate School office or enrol via our website www.papint.school.nz through the enrolment link.
IN ZONE APPLICATIONS – We would ideally like all our in zone applications returned to Papatoetoe Intermediate School by Friday 12th August 2022.  This will enable us to allocate the number of out of zone places we have available for 2023.
OUT OF ZONE APPLICATION – Applications open on Monday 25th July 2022 and close on Wednesday 7th September 2022, with a ballot to be held on Wednesday 14th September 2022 for any balloted places the school has available.  NO out-of-zone applications can be accepted after 3.00 p.m. on Wednesday 7th September 2022.
Please Note – Papatoetoe Intermediate cannot enroll students whose parents intend to put them into the care of people who live in our home zone – no matter how close the relationship.
EDUCATION REVIEW OFFICE NOTICE
The Education Review Office (ERO) has shifted to a new approach to evaluation that supports each school's improvement over time.  Key features of the new approach, Te Ara Huarau, are that ERO will:
work with all schools in an ongoing way rather than as a one-off event
connect with each school's strategic planning and reporting cycle as part of their improvement journey
work in partnership with schools, collaborating in support of equitable and excellent outcomes for all learners.
As a result, each school will:
have a dedicated ERO Evaluation Partner who works alongside the school
have a different experience depending on needs, strengths, and their school's specific evaluation focus
be on a three-year evaluation cycle
What will public reporting on ERO's website look like?
As school's transition into the approach, ERO will work with schools to publish a one-off Profile Report.  This will focus on the strategic goals schools have in place to improve learner outcomes and what the school is seeking to achieve through the evaluation.
Within a three year cycle all schools will then have a Te Ara Huarau / School Evaluation Report.  This report includes information about the school's improvement journey, what the school has achieved for learners and their future priorities.
All schools will receive a Board Assurance with Regulatory and Legislative Requirements Report about their board's attestation to meeting those requirements.  Provision for International Students and Hostel Reports will be published where applicable.
Other reporting
Progress Reporting – These reports are not published on ERO's website.  They can be written by the school, jointly by the school and ERO or by ERO.  Progress reporting provides specific information for specific audiences such as your board, the community, or the Ministry of Education.
More information is available on ERO's website.  ERO.govt.nz/how-ero-reviews/Te-Ara-Huarau
ERO will be visiting classes at Papatoetoe Intermediate during this term.
THANK YOU TO ROOM 2 for their article for this Newsletter
Room 2 has been writing Information Reports on the impact of World War 1 on New Zealand.  These are some extracts from pupils reports:
Blake, Year 8
103,000 soldiers went to war.  50% were injured or killed.  Children lost their fathers and women lost their husbands.
We know the war ended in 1918.  I did not realise how many people got killed or injured. WW1 was a bad idea and it is not a good idea to shoot people.
Rheeya, Year 7
Although World War 1 was over, Archie Baxter still suffered numerous problems which affected him for a very long time.  One of these problems was the fact that nobody wanted to employ him because of his history.  I think that desptie people's history and beliefs they should all be treated equally.
Raina, Year 8
Finally the war ended in 1918.  New Zealand nurses had made a huge contribution.  I felt emotional how nurses gave up their lives to help and take care of the soldiers.  These grey angels contributed a lot to the war and their efforts will be remembered.