PAPATOETOE INTERMEDIATE SCHOOL NEWSLETTER
No. 14 – 25th August 2022
Important Term 3 dates
August/September – various days
Everyday Theatre in the school over the course of this month
Monday 22nd August – Friday 26th August
Book Week
Everyday Theatre – Various Days
Thursday 25th August
SW Zone boys league
Book Week – Character Dress up day
Friday 26th August
Interzone girls netball – Saving Day
Daffodil Day – 'Wear Yellow Day' in support of Daffodil Day – Gold coin donation
Monday 29th August
Teacher Only Day – school is closed for students
6.00 p.m. – Board of Trustees Meeting in the Principals Office
Tuesday 30th August
Interzone boys netball
Papatoetoe Central (morning) in school for Tech/Arts tasters
Papatoetoe West (afternoon) in school for Tech/Arts tasters
Wednesday 31st August
Interzone boys netball – Saving Day
Bike Maintenance Programme – selected students
Thursday 1st September
SW Zone boys league
Papatoetoe East (morning) in school for Tech/Arts tasters
Wymondley Road (afternoon) in school for Tech/Arts tasters
Friday 2nd September
Fairburn/Bairds Mainfreight/Papatoetoe South/Papatoetoe North (morning) in school for Tech/Arts tasters
Puhinui school (afternoon) in school for Tech/Arts tasters
Sunday 4th September – Saturday 10th September
Tongan Language Week
Tongan national dress – Friday celebration
Monday 5th September – Friday 9th September
Sports Camp – for selected students
Wednesday 7th September
BoT Election Day
Out of zone applications close at 3pm
Tuesday 13th September
Announcement of BoT
Interzone girls' and boys' cross country
Wednesday 14th September
Ballot for any out of zone places for 2023
New BoT take office
SW Zone and counties girls league
Thursday 15th September
Talent Quest – Heat 1
Friday 16th September
Talent Quest – Heat 2
Friday 16th September – Sunday 18th September
Kapa Haka Group attending Wananga
Tuesday 20th September
Interzone boys league
Wednesday 21st September
Interzone girls league
Speech Finals
Thursday 22nd September
Interzone boys league – Saving Day
Talent Quest – Heat 3
Friday 23rd September
Interzone girls league – Saving Day
Talent Quest – Heat 4
ACTING PRINCIPAL'S MESSAGE
At Papatoetoe Intermediate we all work to ensure connections are made with caregivers.  In Term 2 we had our conferences where caregivers, students and teachers came together to discuss all the positive aspects of students' learning and how to best support them in the second half of the year.  We would like to thank all caregivers for their support.  For those who were unable to make a conference, you can still meet with the class teacher.  Please phone the school office on 09 278 9763 to leave a message for the class teacher to contact you to arrange a time or email the class teacher directly.
We remind all caregivers that you can access your child's work anytime via EDUCA, our school real time reporting system.  Student work, notices, newsletters are shared regularly using EDUCA.  Please contact the school office if you have not received an invite to join EDUCA.
REMINDER – MONDAY 29TH AUGUST IS TEACHER ONLY DAY
A friendly reminder that Monday 29th August is Teacher Only Day.
Staff will be on site working on Professional Development but school is closed this day for students.
DAFFODIL DAY
As Spring creeps through, we are welcomed by the beautiful sight of yellow Daffodils flooding our gardens.  These Daffodils represent not only the beginning of a new season, but a season of hope and new life for anyone living with Cancer.
At Papatoetoe Intermediate we pride ourselves on being supporters of the Cancer Society and taking part in Daffodil Day 2022.  To celebrate this day our school will be having a "Yellow Day" on Friday, 26th of August.  This is a day where students can make a donation and dress in yellow to show their outward support for the Cancer Society.  Every student will receive a Daffodil Day ribbon and a unique Pap Int Daffodil Day sticker to show our appreciation.  As a staff, we will also be engaging in the event by holding a Daffodil Day morning tea where all donations will be given to the Cancer Society
Miss Nosa
BOOK WEEK
In Week 5 we had Book Week to celebrate reading accorss the school.  We had a fun filled week and our students were privileged to listen to 2 famous authors.
Tessa Duder and Weng Wai Chan came and shared their writing journey and what inspired them to start writing.  The talks were very interesting and were enjoyed by the students.  We hope this will encourage students to enjoy reading.  The students get to do some activities in classes and competitions which will be judged and prizes given.
We have character dress up day and also Duffy Theatre performing for us later this week.
Mrs Dass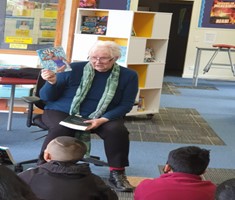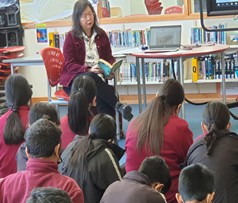 Tessa Duder                                             Weng Wai Chan
BOARD ELECTIONS
Voting closes on Wednesday 7th September at 4.00 p.m.
Your votes can be posted back in the envelope provided or placed in the Voting Box at School Reception.
2023 ENROLMENTS – PAPATOETOE INTERMEDIATE SCHOOL
The enrolment process for the 2023 Year 7 intake is now under way.
Enrolment forms are now at Papatoetoe Central, East, North, South, West, Puhinui, and Wymondley Road Schools.  Alternatively, you can collect an enrolment pack from the Papatoetoe Intermediate School office or enrol via our website www.papint.school.nz through the enrolment link.
IN ZONE APPLICATIONS – We would ideally like all our in-zone applications returned to Papatoetoe Intermediate School as soon as possible.  This will enable us to allocate the number of out of zone places we have available for 2023.
OUT OF ZONE APPLICATION – Applications opened on Monday 25th July 2022 and close on Wednesday 7th September 2022, with a ballot to be held on Wednesday 14th September 2022 for any balloted places the school has available.  NO out-of-zone applications can be accepted after 3.00 p.m. on Wednesday 7th September 2022.
Please Note – Papatoetoe Intermediate cannot enrol students whose parents intend to put them into the care of people who live in our home zone – no matter how close the relationship.
THANK YOU TO ROOM 3 for their article for this Newsletter
This week at Papatoetoe Intermediate is Book Week.  During Book Week we celebrate and promote books and the importance of having a love of Reading.  In Room 3 we have been doing lots of different activities.  Earlier in the term we researched our favourite authors and created Information posters to display on our walls during this week.  We have also been busy making different types of bookmarks that we will be able to use while Reading.  We created bookmarks showing book characters and included quotes about why reading is important.  We also had a lot of fun designing and making origami corner bookmarks, you can see all of our amazing creations in the photos provided.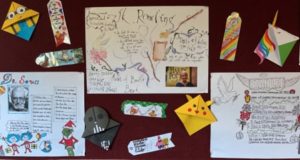 During this week some students were lucky enough to go and spend time with authors Tessa Duder and Weng Wai Chan.  Tessa Duder is a New Zealand author of novels for young people, short stories, plays and non-fiction.  Weng Wai Chan published her first book, Lizard's Tale, in 2019 after a successful 10-year career as a doctor.  During their sessions in the library the authors read stories and poems, the students also had the opportunity to ask questions about their journeys as authors and how they got to where they are today.