PAPATOETOE INTERMEDIATE SCHOOL NEWSLETTER
No. 15 – 8th September 2022
Important Term 3 dates
September – various days
Everyday Theatre in the school over the course of this month
Monday 5th September – Friday 9th September
Sports Camp – for selected students
Tongan Language Week
Monday 12th September – Friday 16th September
Te Wiki o Te Reo Maori Language Week
Tuesday 13th September
Announcement of School Board
Interzone girls' and boys' cross country
Wednesday 14th September
Ballot for any out of zone places for 2023
New School Board take office
SW Zone and counties girls league
Thursday 15th September
Talent Quest – Heat 1
Friday 16th September
Talent Quest – Heat 2
Friday 16th September – Sunday 18th September
Kapa Haka Group attending Wananga
Tuesday 20th September
Interzone boys league
Wednesday 21st September
Interzone girls league
Speech Finals
Thursday 22nd September
Interzone boys league – Saving Day
Talent Quest – Heat 3
Kapa Haka Festival at Papatoetoe North School
Friday 23rd September
Interzone girls league – Saving Day
Talent Quest – Heat 4
Monday 26th September – Friday 30th September
Fijian Language Week – Observed
Tuvalu Language Week – Supported
Mental Health Awareness Week
Monday 26th September
Girls League Event – TBC
School Board Meeting in the Principals Office with newly Elected Board
Wednesday 28th September
SW Zone girls basketball
Thursday 29th September
SW Zone boys basketball
Friday 30th September
Final Day of Term 3
Talent Quest Final
Saturday 1st October – Sunday 16th October
School Holidays
Monday 17th October – Friday 21st October
Niue Language Week
Monday 17th October
First Day of Term 4
PRINCIPAL'S MESSAGE
Thank you to all the parents/caregivers who have completed permission forms, offered to help and paid for camp.  We have been offered support for students who cannot afford the costs of camp and want to ensure that every student is able to attend.  Please contact your child's teacher if you need support.
We are very grateful to whanau, community members and staff who provide sponsorship to our school to get students to this wonderful opportunity to learn together.
Cultural Competences – our school holds Te Tiriti o Waitangi at the heart of all decisions.  We strive to acknowledge tangata whenua and their foundational input into the success of all we do at our school.
We know that we need to continue this journey of ensuring we do fufil Te Tiriti obligations.  Ensuring all staff are committed to improving cultural knowledge and competencies – both within our local Maori context and for all the cultural groups represented at our school is a committment all staff make when we commit to working at Papatoetoe Intermediate School.
Please work with us.  It is with your help and support that we continue to improve.
DAFFODIL DAY
Friday 26th August 2022 was Daffodil Day.  There was a sea of yellow being worn by staff and students, and it was wonderful to see the amount of support for this worthy cause.
Papatoetoe Intermediate School raised $1000 for the Cancer Society from our staff morning tea, daffodil auction, 'Wear Yellow Day' and donations, thank you to our students, staff and community for their generous donations.
DUFFY THEATRE
On Friday 26th August we were very fortunate to be able to watch the Duffy Theatre perform for our students over two sessions by very talented actors.
Duffy Theatre reaches out to around 500 students throughout New Zealand with the message: It's Cool to Read and Cool to Achieve.  Our show was about lock-down in Aotearoa due to COVID-19 and how it affected school kids.  It was a good way to finish our Book Week Activities.
We would also like to thank our funding partners, Latitude Finance, for helping provide all the amazing books we receive throughout the year.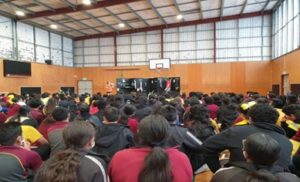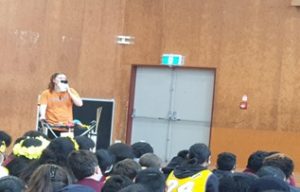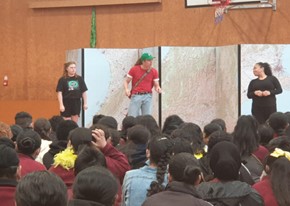 BOOK WEEK
Thursday 25th August was book character dress up day.  It was wonderful seeing all the different book characters roaming around the school, and the imagination and skill put into a lot of the dress-ups, it shows the love of reading by our students and staff.
Below are just a few of these creative characters.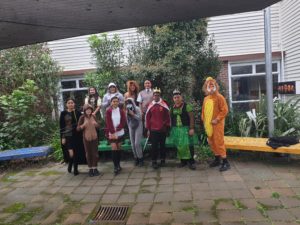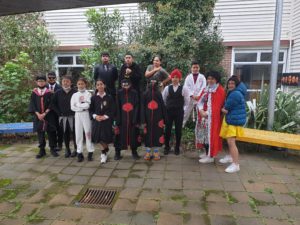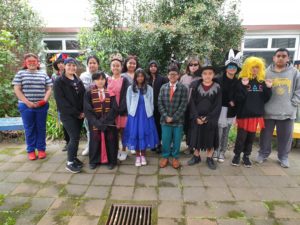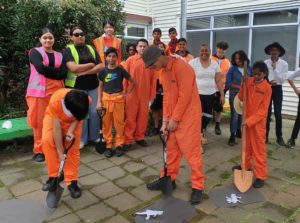 YEAR 6 TECHNOLOGY AND ART TASTERS
Over week 6 this term we have had many Year 6 students visiting Papatoetoe Intermediate to 'break the ice' and learn a bit about how we work here together.  So far we have had Papatoetoe Central, South, West and East, Fairburn School, Wymondley Road, Bairds Road, and Puhinui as well as many siblings of past and present students which is neat!
'Tasters' is the nickname for having 'a taste' of what it might be like here with our students and teachers and subjects in this new environment which is often bigger than what many students may be familiar with.  It has been wonderful to again be able to meet these students since over the COVID years we weren't able to do this.  The children already display STAR values and should settle in well with us next year, they were very enthusiastic and appreciated their visits.  Thanks to everyone who helped, Our student leaders and  'Taster guides' specialist teaching team for the activities and Mrs Young for the organisation and Ms Cornwell for meeting, greeting and chatting with the groups.
Tech/Arts Teachers
If you haven't enrolled with us yet and would like for your child to attend Papatoetoe Intermediate School in 2023 please ensure you enrol promptly.  Reminder our 'out of zone enrolments' closed on Wednesday 7th September 2022 at 3pm. The ballot will be held on 14th September and whanau will be informed shortly after.
Here are some photos of what was created by these lovely children.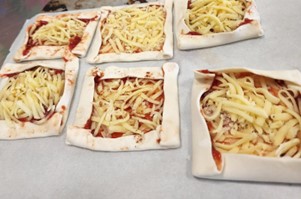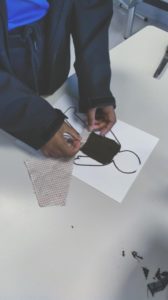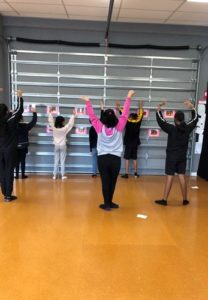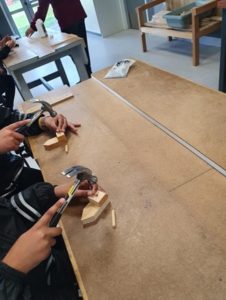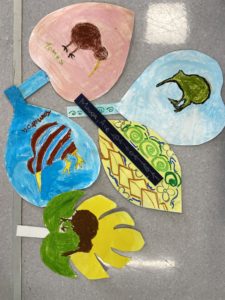 This art lesson was 'New Zealand symbols' and that symbols have meanings.  This was drawn onto a fan with oil pastel and dye.  This is called a 'resist' technique.
Miss Hormann – Visual Arts Teacher
THANK YOU TO ROOM 4 for their article for this Newsletter
Throughout the year Papatoetoe Intermediate have been engaging in Everyday Theatre.  Everyday Theatre is an interactive programme that runs in Year 7 & 8 classes, creating a safe forum for young people to talk about family relationships through a facilitated applied theatre workshop.  We are lucky to experience rich learning.
Below is a written response from one of our students,
"In Room 4, my class and I were lucky enough to experience the Everyday Theatre program.  This program goes to different schools all around Aotearoa and teaches students different things that may happen at home.  They came to my school and taught us about abuse and the many ways it can be shown (Mentally and Physically).  They also taught us about the different ways we could reach out to someone, receive help and how it is okay to speak up.  They let us play different games with interactive ways for us to participate and get out our thoughts about what we know or think abuse it."
By Summer-Rayne – Room 4