What's on in Term 3 ……..- 
Please keep a look out for two surveys coming your way
–    Preparation for returning to school under Levels 3 and 2
–    Community Consultation and feedback – to assist with planning for 2022
We hope you will take some time to complete both Surveys for us.
Monday 13th September – 19th September
Te wiki o Te Reo Maori; we encourage everyone to try to speak some Maori this week.
Monday 27th September 
New date – Applications close for out of zone applications for 2022
Monday 27th September
6.00 p.m. BoT Meeting – please advise the BoT Secretary – Barbara Ferregel [barbaraf@papint.school.nz] if you would like to attend
Wednesday 29th September
Ballot for out of zone places for 2022.
Friday 1st October
Last day of Term 3 – school closes at 3.00 p.m.
Monday 18th October
First day of Term 4
TONGAN LANGUAGE WEEK 2021
Sunday 5th to Saturday 11th September
This year's theme for Uike Kātoanga'i 'o e Lea faka-Tonga – Tongan Language Week is Fakakoloa 'o Aotearoa 'aki 'a e Ako Lelei, which means enriching Aotearoa with holistic education.
The theme serves as a conversation starter on the importance of holistic education, diverse forms of learning and how Aotearoa can benefit from it. 
For our Tongan families, some of the Tongan Language Weeks' activities and events hosted from household-bubbles across the country will be held online to embrace Uike Kātoanga'i 'o e lea faka-Tonga. 
Due to COVID-19 Alert Levels across Aotearoa, Uike Kātoanga'i 'o e Lea faka-Tonga – Tonga Language Week will be celebrated online. Some of our Tongan staff and students are meeting online to put together a short video about the Uike Katonga'i o e Lea faka-Tonga. This video is going to be posted on our school Facebook page for everyone to see. 
We encourage everyone in our school-wide community, even if you are a non-Tongan to join our Tongan staff and students and their families in celebrating the Tongan Language Week. You can greet one another within your bubble with a friendly Malo e Lelei (hello), be polite, be respectful and show more acts of kindness. 
'Oku mau fakatauange pe moe talamonu atu ketau ma'u ha Uike Lea Faka-Tonga fiefia mei api na – Wishing you all a happy Uike Katoanga'i 'o e Lea Faka-Tonga – Tongan Language Week at home. Please take care of yourself, stay safe and look after your family/whanau. 
'Ofa atu (Kind regards),
Mr Titiuti, Ms Skudder, Mrs Finau & Mr Fehoko 
TE WIKI O TE REO MAORI
Te Wiki o te Reo Māori takes place this year between 13 and 19 Hepetema/September 2021. This special week is an opportunity for the concentrated celebration and promotion of te reo Māori, helping to secure its future as a living, dynamic, and rich language.
Our students have been learning to identify things around the classroom- translating words to te reo, learning phrases, singing waiata, having karakia in the morning/ before eating/ end of the day, and reciting their pepeha. Our kapa haka students are very active with their practices and participating in various activities in and out of school. They have also sung the school song which is played every morning for other students to sing along with pride.
To develop te reo Māori, it's important to hear, read and use the language in a variety of contexts and situations which our tamariki will be enhancing during the language week.
Thank you to Room 16 for this Newsletter article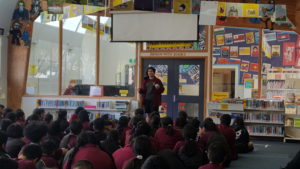 This term we had Selena and Amy represent us in the syndicate speech finals. It took lots of courage and hard work to persuade the audience and judges. It was very interesting to listen to all the speeches. Congratulations to    Amy who went on to win 1st place with her topic: "Why beauty standards don't matter".
Amy will be representing Syndicate Waita at the Papatoetoe Intermediate School Speech Finals.
DEVICES and HARD PACKS
Thank you to our small, but dedicated team of staff members who have organised for pick up or delivery, over 200 devices and 140 hard packs.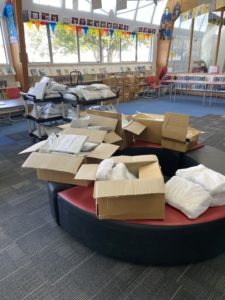 This has ensured that all our students have the opportunity to continue to be engaged during this lockdown.
Thank you to everyone concerned.
Everyone aged 12 years and over can now be vaccinated
Everyone in Aoteraroa New Zealand aged 12 years and over can now book their free COVID-19 vaccination.
The Ministry of Health advises that two doses of the Pfizer vaccine are necessary to protect each other, our whānau and our community against the Delta variant of the virus.
Reservations can be made through bookmyvaccine.nz – when booking appointments remember to stay local and book as close to home as possible.
If you have questions or need help booking, call the COVID Vaccination Healthline 0800 28 29 26.
It may be able to book directly at your local general practice, community pharmacy or hauora provider. For more information visit Healthpoint or Karawhiua.
PAPATOETOE INTERMEDIATE ENROLMENTS FOR 2022 – IN ZONE and OUT OF ZONE
Applications for in zone enrolments are still open. Out of zone applications do now not close until the 27th September.
Application Packs are available on our School Website https://papint.school.nz  or from the Papatoetoe Intermediate School Office.
Current Year 7 students ARE NOT required to re-enrol for their Year 8 year in 2022.
HIGH SCHOOL/COLLEGE ENROLMENTS
Secondary School Enrolments for 2022 updates
Each Secondary School will have their own messages regarding enrolments during lockdown.
We strongly recommend that you make contact with the Secondary School you are wishing to enrol your child in for 2022 via their website and contact email address if you have any queries regarding enrolments.
Below are messages from Papatoetoe High and  Ōtāhuhu College regarding enrolments during lockdown.
If you need help with enrolling please do not hesitate to contact our School Office. We are happy to help.

Regards
Donna Young
Deputy Principal
Papatoetoe High School
OUT-OF-ZONE ENROLMENT: Applications to enrol for 2022 close on Wednesday 20 October 2021. The ballot date is Wednesday 27 October 2021.
The closing date is week one term 4. This will allow for people to deliver any last minute applications on the Monday and Tuesday.
Please check back regularly on the school website and facebook page for the notification.
Only 'paper' enrolment option is currently available.
Please email for any queries re enrolment: office@papatoetoehigh.school.nz
From Ōtāhuhu College:
Kia ora koutou Whanau
We hope this message finds you and your whanau safe and well.
To ensure you can continue to enrol with Ōtāhuhu College for 2022 please access our Ōtāhuhu College website. Click on the ENROL tab; scroll dow​n to "Enrol Online Here" or "Download an Enrolment Form PDF Here". Please take note of the documentation you are required to bring into Ōtāhuhu College once school resumes.
If you have any questions or you would like a hard copy mailed to you, please contact me by email: MVaaelua@otahuhucollege.school.nz
​He waka eke noa
Moana Vaaelua
Deputy Principal
Ōtāhuhu College
IMPORTANT and HELPFUL INFORMATION FROM the MINISTRY OF EDUCATION
Vaccine FAQs (including information for 12 to 15-year-olds)
The attached document has been provided by the Government to support any questions you might be getting about vaccinations for 12 to 15-year-olds.
As noted in our regular 17 August Bulletin, using schools and kura as vaccine sites was mentioned earlier in the planning stages, but they are not currently considered critical to the roll-out plan for 2021. This is because there are opportunities for families to be vaccinated in other settings such as local GPs, pharmacies or community vaccination centres.
More places to get help
Helplines that are available 24 hours a day, seven days a week:
Mental Health Crisis: 0800 800 717
Lifeline for counselling and support: 0800 543 354 or 0800 LIFELINE
Samaritans for confidential support for anyone who is lonely or in emotional distress: 0800 726 666
Depression Helpline to talk to a trained counsellor about how you are feeling or to ask any questions: 0800 111 757 or free text 4206
Healthline for advice from trained registered nurses: 0800 611 116
Suicide Prevention Helpline: 0508 828 865
Counselling Free Call or Text 1737.
Also available: