PAPATOETOE INTERMEDIATE SCHOOL NEWSLETTER
No. 16 – 22nd September 2022
Important Term 3 dates
September – various days
Everyday Theatre in the school over the course of this month
Thursday 22nd September
Interzone boys league – Saving Day
Talent Quest – Heat 3
Kapa Haka Festival at Papatoetoe North School
Friday 23rd September
Interzone girls league – Saving Day
Talent Quest – Heat 4
Monday 26th September – Friday 30th September
Fijian Language Week – Observed
Tuvalu Language Week – Supported
Mental Health Awareness Week
Monday 26th September
Queen Elizabeth 2 Memorial Day – School Closed
Tuesday 27th September
School Board Meeting in the Principals Office – welcome to the newly Elected Board
Wednesday 28th September
SW Zone girls basketball
Thursday 29th September
SW Zone boys basketball
Friday 30th September
Final Day of Term 3 – School closes at 3pm
Talent Quest Final
Saturday 1st October – Sunday 16th October
School Holidays
Monday 17th October – Friday 21st October
Niue Language Week
Monday 17th October
First Day of Term 4
Monday 24th October – Friday 28th October
Tokelau Laguage Week
Monday 24th October
Diwali Celebrations
Labour Day – School Closed
Tuesday 25th October
Interzone girls and boys basketball
Wednesday 26th October
SW Zone girls volleyball
Thursday 27th October
SW Zone boys volleyball
'Shake Out' Day
Friday 28th October
School BURGER Day
World Teachers Day
PRINCIPAL'S MESSAGE
Congratulations to all Board members who have been elected to serve on the Papatoetoe Intermediate School Board.  Special thank you to all who stood and to all whanau who voted.
We are nearly at the end of Term 3.  All year 6 students should have erolled for year 7 and all year 8 students for year 9, secondary school.  Our school has accepted 85 students out-of-zone and now will focus on the smooth transitions into and out of our school.  For some students this will mean providing RTLB support through the transition.  We encourage you to contact us if you think your child will need additional support.
DECLARATION OF RESULTS
PAPATOETOE INTERMEDIATE SCHOOL BOARD
Declaration of results – Staff Representative – 1 space
Heather Bates – 27
Alisha Spiers – 11
Declaration of results – Parent Representatives – 3 spaces
Sulendra Raju – 19
Sharona Puletaha – 14
We welcome and congratulate – Lilien Skudder, Kimiora Parata, Lofi Tuala and Leigh Manukau as Elected Trustees to the School Board.
We also welcome – Peter Cann , Jeremy Nicholls, Mohammed Sahu-Khan and Darryl Wilson, as Ministry appointed Trustees to the School Board.
The next Board meeting is Monday 26th September.
MONDAY 26th SEPTEMBER 2022
New Zealand will mark the passing of Her Majesty Queen Elizabeth II with a one-off public holiday on Monday 26th September 2022.
Papatoetoe Intermediate school will be closed for the day.
IMPORTANT ANNOUNCEMENT FROM GOVERNMENT
Monday 12th September 2022
As of Tuesday 13th September 2022 staff and students are no longer required to wear masks in school and the framework will be removed.
We do ask that if a student has symptoms that a Rapid Antigen Test (RAT) is taken to ensure no COVID positive germs come to school.  We continue to take safety measures – good ventilation, sanitiser, checking symptoms.
FOOD ON WHEELS
We had a successful food sale on wheels in week 5.  In preparation for the food sale, we had to search for recipes that were delicious, quick, cheap and easy to make within the two lessons.  We learned that time is very important when cooking and beacuse of this we were able to finish preparing food and cater for many students.  We did a lot of trials to make decisions on what would be best to put for sale.  We also had to decide on the sale prices of the food.  We calculated the cost price and then increased the price of the food item a bit to make profit.  We still kept it at a reasonable and fair price for the stuents so they would be able to afford the scrumptious treats.
My experience with the bake sale was fun and crazy as all I could hear was students calling out for Food during the sales.  The queue stretched so long and before the bell went off the queue kept growing.  I started getting nervous as I felt the sweat slowly dripping down my face and the sun beating down on us made it much hotter.  It was so crazy and we were thrilled to see the other students support.  We reflected on the food sale and did problem solving so that we can cater and manage this better for the next time.
Thanks to all the students and teachers for supporting us during the Food Sale.
From Hospitality Students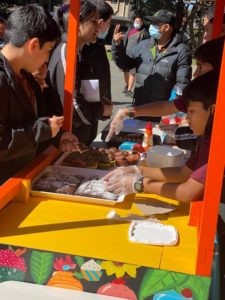 THANK YOU TO ROOM 5 for their article for this Newsletter
SPEECH – BY ILLHAAN (ROOM 5)
Speeches, speeches were probably the hardest thing this term as only two students from our class could participate in the Tupu-a-Rangi speech competition.  Everyone in class worked really hard to get chosen but only four got chosen which then got reduced to two students after a class vote (Ilhan and Denzel).  Our topics for the speech were Recycle and Peace but no war.  Both Denzel and I had been working really hard to build up our confidence to speak in front of the Syndicate and to memorise our speeches.  After all that practice, it all paid off because both Denzel and I made it onto the podium by coming second and third.  I had come second whilst Denzel had come third.  Many thanks to Ms Schutt and Mrs Dass for judging the speech competition and Miss L for the organisation of the Syndicate speech competition.  I'm sharing my speech to you all:
Recycle
Have you ever wondered how recycling could help the earth's survival?  Hi I'm Illhan and this is why you should recycle and how pollution could destroy our planet.  Well to start I highly believe that recycling is a very important way to help with the earth's global environment because if we don't stop global warming who knows what could happen it could even cause into air pollution, water and the water levels to rise.  We are already seeing the impact that global warming and pollution has caused to the earth and smaller countries.
So you know any country that has been highly affected by the levels of water rising?  Because due to global warming lots of countries around the world have been tremendously affected.  From global warming ice and glaciers are liquefying resulting in the water levels to rise up which then affects smaller pacific countries like Tuvalu and Kiribati and make them go through the journey of being submerged underwater.
To add onto all of these horrific complications global warming could cause pollution to the air which then could cause heart disease, lung cancer and multiple damages to your respiratory system.  If we recycle, stop burning fossil fuels and stop the use of harmful chemicals it could reduce polluting the air which would also extricate the risk of all those harmful effects.  Not only that, global warming has started melting the stratospheric ozone layer which would then mean we would have holes in the ground from the sun's powerful rays, it would be like superman shooting his laser eyes at us from space.
Furthermore, we have gas.  Gas prices have immensely skyrocketed so don't you think that getting an electric vehicle is a must?  Plus most high and electric vehicles are way more advanced than ordinary cars most of them even offering full driverless capabilities.  To add to that, EV's such as Tesla have an average rating of 5 stars!  And I do know that some people want cars with flames, pops and loud exhausts, well I want them too but we do have to think about how the smoke could take possession of our clean air.
I have another question for you:  Do you like sea animals?  If you do then you might really want to listen to this last paragraph because not only are the animals being harmed by plastic and rubbish taking up their space to swim, it also looks like food making the animals want to eat it.  Because due to the horrific pollution animals like seals and sea turtles might not make it to the year 2025, sad right?  Not only does it harm the animals it also harms us by taking up land on our beaches and taking over our fresh clean water.
I really hope that from this speech you can rethink your actions before littering and how pollution could destroy our planet and also why you should recycle and remember if you use the three R's for those who don't know reduce, reuse and recycle then that's the best way of survival for our planet.  Thank you.