What's on in Term 3 ……..- 
Friday 1st October
Last day of Term 3 – school closes at 3.00 p.m.
Monday 18th October
First day of Term 4
Dates to be shared as soon as Level 2 is announced
ALERT LEVEL CHANGES
Papatoetoe Intermediate School hopes that you and your family are safe.
In order for us to plan safely for your child returning back to school, we need you to complete the survey form set to your email  address (and a link provided below)  for each child that you have at our school.
This information is used for the purpose of ensuring that appropriate supports are in place for your child when they return to school under Alert Level 3 and / or Alert Level 2.
Alert Level 2 return date – TBC based on Government notification
Please click on the link below: Community Consultation
https://docs.google.com/forms/d/1arLly531-wt9uKISvhM5UM99LUurCSNVh3O_2vHskmM/prefill
Link to survey to be completed: Preparation for Alert Level Changes – please complete this if you have not already done so as we need the data for Level 2.
https://forms.gle/giA1ZLPDHLopSGij8
GETTING RESOURCES FOR OUR STUDENTS DELIVERED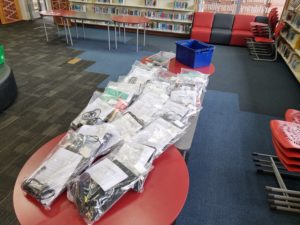 As you all are aware  our lockdown was extended for another week. With this announced our school COVID19 Resource Response Team got into action. Notices were sent out to whanau, list was updated and the team prepared a number of packs for delivery. These were all delivered on Wednesday 15th September.
A number of chromebooks were delivered with COVID19 protocol and other packs were left at front doors or in letterboxes.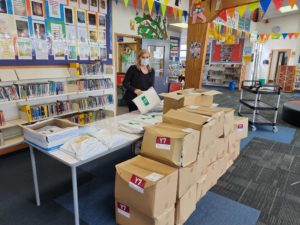 A big thank you to our COVID19 Resource Response Team.
WORK FROM STUDENTS DURING LOCKDOWN – thank you
Selfworth
Life is a blessing yet some people can't find out why.
We seem to only pick the negative part of life.
We don't seem to focus on the positive.
We tend to rely on other people and end up focusing on others rather than us.
The truth is we need to be able to look after ourselves and love ourselves before we can look after or love anyone else.
Everyone has obstacles in life. We cannot change anyone but ourselves.
Ariana Grande once said "Block out all the negative energy and just focus on yourself!"
~Zaafira ~ Room 5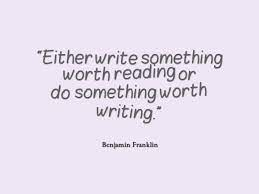 The world might end today or tomorrow or even now right before your very eyes. You don't know that and I don't know that either but life is worth living. Trust me, you'll know it when you experience it. Life is a word giving out so much meaning. It is a calling for those who want it and for those who do not there is still time for you to accept it. Winston Churchill once said, "No one ever finds life worth living, one has to make it worth living". There could be so many things you're good at but you don't know that unless you try. Live life to the fullest, remember, you only have one life and one life only. We tend to be adventurous to try to know the world and what we can do to say that our life is worth living. People have different perspectives on how life is worth living.
For me, there are many things that make my life worth living. For instance my family. They are the most precious people in my life. I don't know what would've happened if I wasn't born to my mother. To this day, I am still grateful for the wonderful things that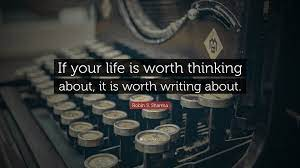 happen in my life because of my amazing family. We should hold our loved ones tightly while we can because it is only a matter of time before they are gone.
You may not know this but life flies like a blazing comet in the evening sky. The thing about life is that when you fall down, it will let you learn from your mistakes. Failure is one thing for sure we all humans go through on a daily basis, especially on the first day of your new job. Failures are the reason why we become successful. We experience another's perspective by filling in their shoes and becoming the better version. Life will offer so much to you whether you like it or not but it is your choice to live freely and let life do its job. I don't know much but this much I do know: Only you can make life worth living!
Totoa – Room 5
TECH/ART LOCKDOWN NEWS
During the lockdown Technology and Arts students have continued their learning through google classroom. We would like to thank the whanau for supporting and guiding  their children with the learning . Below are a few photos of students doing some Fun Activities at Home.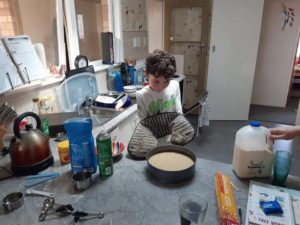 In Food Tech students are given challenges and practical options to show their creative and cooking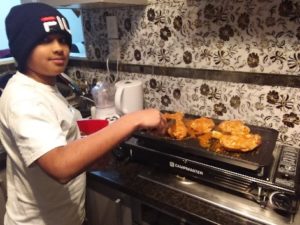 skills in the kitchen.
In Visual Art students have been creating artwork that  have an Abstract Art quality to their images.
They have also been creating Self Portraits of themselves which then leads into literacy where they explain the reason they have used certain images.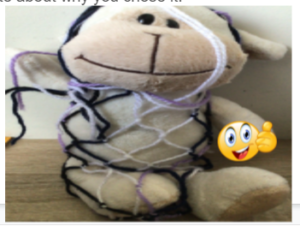 Fabric: looking at how soft toys are made, and showing some of our loved ones: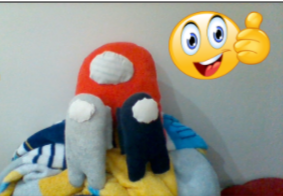 Learning about leather sources and processing and finding amazing shoes, clothes and creations!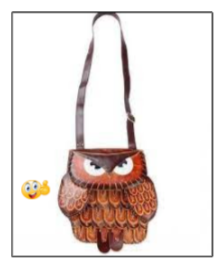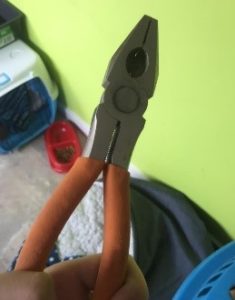 Hard Materials – Tool Hunt
Looking for tools around your home and explaining how to use them safety.

Music
In Music, students have been learning how to be creative with digital music. Students have created assembly music using BeepBox. They are currently designing their own video games and creating a soundtrack for them.
In Performing Arts Students have been designing costumes of their own for specific Characters for Drama. For Dance they have been creating fitness videos to share with their families
Thank you to Room 25 and Mr Raymond for this Newsletter article
Kia Ora,
It is said that it is better to gain wisdom than it is to gain gold.  This expression certainly holds true in these trying times where we seemingly stand on the threshold of uncertainty.  That being said; we may run the fortunate risk of proving the aforementioned statement. As a country and people we have mustered the call and we've come together marvelously whilst the Coronavirus has caused havoc and brought tragedy globally. We've held on to hope when all seemed dismal. We must continue to cleave to hope and trust that this too shall pass, after all everything passes eventually. As time is merely a measurement of change that spans that which is tied to the finite.
The real gain to be made here could be that each of us may very well have the privilege of 'tilling the old soil' in preparation for a new seed of hope. So that it may grow and bring forth good fruit within each of us. In conclusion may the following idea find favour with you and if you're willing may it be of encouragement to you, also. The idea itself isn't new nor is it revolutionary but it is merely a simple humble truth which rings "when faced with adversity; equally one is faced with an opportunity".
Everyone aged 12 years and over can now be vaccinated
Everyone in Aoteraroa New Zealand aged 12 years and over can now book their free COVID-19 vaccination.
The Ministry of Health advises that two doses of the Pfizer vaccine are necessary to protect each other, our whānau and our community against the Delta variant of the virus.
Reservations can be made through bookmyvaccine.nz – when booking appointments remember to stay local and book as close to home as possible.
If you have questions or need help booking, call the COVID Vaccination Healthline 0800 28 29 26.
It may be able to book directly at your local general practice, community pharmacy or hauora provider. For more information visit Healthpoint or Karawhiua.
PAPATOETOE INTERMEDIATE ENROLMENTS FOR 2022 – IN ZONE and OUT OF ZONE
Applications for in zone enrolments are still open. Out of zone applications do now not closed on the 27th September with the ballot taking place today.
Application Packs for in zone students are available on our School Website https://papint.school.nz  or from the Papatoetoe Intermediate School Office.
Current Year 7 students ARE NOT required to re-enrol for their Year 8 year in 2022.
HIGH SCHOOL/COLLEGE ENROLMENTS
Secondary School Enrolments for 2022 
Each Secondary School is continuing to have their own messages regarding enrolments during lockdown.
We strongly recommend that you make contact with the Secondary School you are wishing to enrol your child in for 2022 via their website and contact email address if you have any queries regarding enrolments. SOME secondary schools have extended their 'out of zone' enrolment dates.
Queries regarding:
–   Papatoetoe High School: please contact office@papatoetoehigh.school.nz  
–   Otahuhu College – please contact MVaaelua@otahuhucollege.school.nz
Donna Young
Deputy Principal
Papatoetoe High School
ENROLMENTS
Term 3 at Alert Level 3
You will be able to pick up and drop off in-zone and out-of-zone enrolment forms from the school office, from Wednesday 22 September until Friday 1 October, 9am to 3pm. Remember that originals of most documents can be photocopied and verified at the school office.
Term 4
Out-of-zone enrolment applications close on Wednesday 20 October 2021.
Please email for any queries re enrolment: office@papatoetoehigh.school.nz
From Ōtāhuhu College:
Kia ora koutou Whanau
We hope this message finds you and your whanau safe and well.
To ensure you can continue to enrol with Ōtāhuhu College for 2022 please access our Ōtāhuhu College website. Click on the ENROL tab; scroll dow​n to "Enrol Online Here" or "Download an Enrolment Form PDF Here". Please take note of the documentation you are required to bring into Ōtāhuhu College once school resumes.
If you have any questions or you would like a hard copy mailed to you, please contact me by email: MVaaelua@otahuhucollege.school.nz
​He waka eke noa
Moana Vaaelua
Deputy Principal
Ōtāhuhu College
IMPORTANT and HELPFUL INFORMATION FROM the MINISTRY OF EDUCATION
Vaccine FAQs (including information for 12 to 15-year-olds)
The attached document has been provided by the Government to support any questions you might be getting about vaccinations for 12 to 15-year-olds.
As noted in our regular 17 August Bulletin, using schools and kura as vaccine sites was mentioned earlier in the planning stages, but they are not currently considered critical to the roll-out plan for 2021. This is because there are opportunities for families to be vaccinated in other settings such as local GPs, pharmacies or community vaccination centres.
More places to get help
Helplines that are available 24 hours a day, seven days a week:
Mental Health Crisis: 0800 800 717
Lifeline for counselling and support: 0800 543 354 or 0800 LIFELINE
Samaritans for confidential support for anyone who is lonely or in emotional distress: 0800 726 666
Depression Helpline to talk to a trained counsellor about how you are feeling or to ask any questions: 0800 111 757 or free text 4206
Healthline for advice from trained registered nurses: 0800 611 116
Suicide Prevention Helpline: 0508 828 865
Counselling Free Call or Text 1737.
Also available: