PAPATOETOE INTERMEDIATE SCHOOL NEWSLETTER
No. 17 – 20th October 2022
Important Term 4 dates
Monday 17th October – Friday 21st October
Niue Language Week
Monday 24th October – Friday 28th October
Tokelau Language Week
Monday 24th October
Diwali Celebrations
Labour Day – School Closed
Tuesday 25th October
Interzone girls and boys basketball
Wednesday 26th October
SW Zone girls volleyball
Tironui Concert Band and Year 8 Orchestra at Aotea Centre
Thursday 27th October
SW Zone boys volleyball
'Shake Out' Day
Friday 28th October
School BURGER Day
World Teachers Day
Monday 31st October – Friday 4th November
Whole School Camp
Team Rehua (Rooms 1, 12, 13, 15, 16, 17, 18, 19, 20, 21, 22) Monday 31st October – Wednesday 2nd November
Team Puanga (Rooms 2, 3, 4, 5, 6, 7, 8, 9, 10, 23, 24, 25) Wednesday 2nd November – Friday 4th November
Monday 31st October
6.00 p.m. – 8.00 p.m. – School Board Meeting in the Principals office
Thursday 3rd November
Interzone girls and boys volleyball
Tuesday 8th November
SW Zone girls, boys and mixed touch
Thursday 10th November
SW Zone girls, boys and mixed touch – Saving Day
Sunday 13th November
Random Act of Kindness Day
Tuesday 15th November – Wednesday 16th November
3.15 p.m. – 6.00 p.m. – Year 7 Conferences
Friday 25th November
International Day
Monday 12th December
9.00 a.m. – 11.00 a.m. – Team Rehua Award Ceremony and Year 8 Graduation
12.00 p.m. – 2.00 p.m. – Team Puanga Award Ceremony and Year 8 Graduation
Wednesday 14th December
11.00 a.m. – 12.30 p.m. – Supreme Prizegiving
6.00 p.m. – 8.30 p.m. – Year 8 Graduation Dance and Celebration
Thursday 15th December
Final day for Year 8 Students – Students released at 2.00 p.m.
Friday 16th December
Final day for Year 7 Students – Students released at 1.30 p.m.
PRINCIPAL'S MESSAGE
Welcome back to all students and staff to the busiest term of the year.  This term we have our school camp as well as complete enrolments into, and out of, our school.  Teachers are selecting leaders from the Year 7 students and writing final reports.  During the holiday break our leadership team went on retreat to plan for 2023 and were also preparing for Graduation and Prizegiving at the end of the year.  We hope you are all ready for this fabulous time together and will join in the celebrations throughout the term: International Day, Exhibitions of learning Award and Graduation Ceremonies, along with the Year 7 Parent and Teacher Conferences.
ONLINE SAFETY –

Adults need to work together to keep children safe
There has been another increase in the use of social media platforms, especially Instagram and Tik Tok where bullying, inappropriate and abusive content has been posted by our students – your children.
Much of this has happened at home during the holidays and students have been coming to school to tell us about their concerns.  The negative use of such communication tools is leading to some very upset, frightened, angry and frustrated young people.  It is very difficult to manage such behaviours as they are happening outside of school hours.  Please check your child's internet history.  Tell us if there is anything we need to know about (take screenshots and email them to us if necessary).  Please talk to your child(ren) about their own use of social media and ask them about the expectations we have at Papatoetoe Intermediate about this.  Take action to stop your child's interactions with this.
In particular there are a number of posts using accounts named:
papint_confessions
papint._confession2k22
lilmiss_confessions
papint.confessions
We have notified Netsafe about this.
As you can appreciate while we do all that we can to support all students with this it is very difficult to manage such behaviours as they are happening outside of school hours.  Students should not have access to their phones and our system restricts access to social media when they are at school.  We have in school programmes and learning based on the respectful and positive use of social media but we do require the support of whanau with this too.  We also encourage the use of T.H.I.N.K. with our students.
Together we can support all our young people to be safe, respectful and positive in the digital world!
For additional information please refer to NetSafe, they are an amazing organisation that are there to help with positive online activity education.
https://netsafe.org.nz/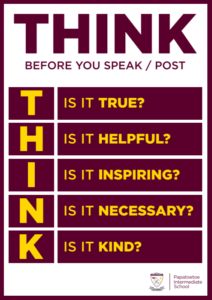 TALENT QUEST
What a fantastic talent quest we had at the end of term three.  There were some amazing dancers, musicians and singers.  Talent is alive and well at our school!  Congratulations to:
Mary (Room 17) – 3rd Place – $80 Westfield voucher and trophy
Arishka & Ridhi (Room 8) – 2nd Place – $100 Westfield voucher and trophy
Vaá (Room 13) – 1st Place – $150 Westfield voucher and trophy
In term four, we're looking to showcase even more talent from our incredible artists, so keep an eye out for the date and join us for this show!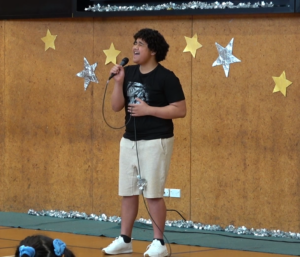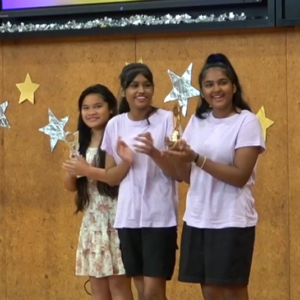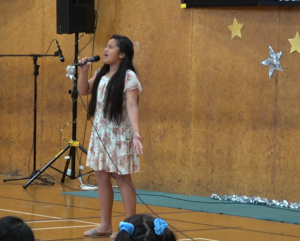 GENERAL KNOWLEDGE QUIZ
This year, I took part in the 2022 House General Knowledge Quiz.  We were put into our house groups and then we were given the categories for the different parts of the quiz.  These categories included: World Events of 2022, Pop Culture, Sport and Games, Where is this? Te Reo Māori Living world, Spelling, and Yay or Nay?.  In the end, Totara came fourth, Kanuka came third, Kahikatea came second, and Nikau won first place.  Although my team didn't come first, I still enjoyed it and I found it very fun.
By Joanna – Room 4
SPEECH FINALS
In Term 3 all the classes were involved in writing speeches.  They researched, wrote and practiced saying the speeches in front of their peers.  The 2 best speakers were chosen by each class and they took part in the syndicate speech finals.  This was held in weeks 7 and 8 in the library and was judged by Ms Woodill, Ms Nielsen, Ms Schutt and Mrs Dass.  Two winners then contested for the school finals in week 9.  This was judged by Ms Cornwell and Mrs Young and we got our winners:
Speech Finals Winners:
1st – Summer-Rayne
2nd – Troy
3rd – Leusoalii
Congratulations to everyone who participated in the 2022 speeches.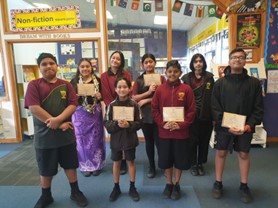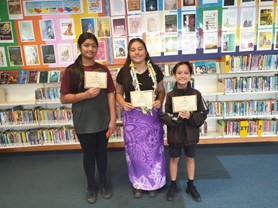 EPRO8
The Epro8 challenges are inter school science and engineering competitions.  The competition attracts thousands of students each year from across New Zealand.  There are a series of events students participate in: firstly within their own school, then between other schools.  The purpose of these events is to promote science and engineering, perhaps even allowing students participating in these competitions to advance their knowledge of these fields.
During the Epro8 competition we are given about 2 and a half hours to build and finish as many projects as we can.  Initially, we took on the crowd size project, but we encountered some challenges during the making of this.  It was then that we decided to build the drum kit off of the crowd size.  We were able to finish one project and start another during our second competition; landing us close in 5th place.  The contraption we made was an automatic drum machine.  It consists of a 1.7m by 700mm base with 4 "drums" on it.  To make it automatic we had to use the electronics to make 4 "sticks" drum the drums simultaneously.
In spite of not making it to the grand final, we left the competition proud of ourselves and proud that we reached the semi final.  Also, we are grateful for getting a learning experience from this, and we appreciate the support we received from the teachers.  For the first time, Papatoetoe Intermediate placed in the epro8 competition thanks to the Wise Buccaneers!
The Wise Buccaneers (Elisiva, Hillary, Anton, Elias)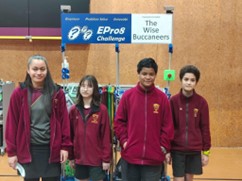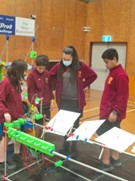 Our school will be running an internal Epro8 competition later this term.
SPORTS CAMP
Term 3, week 7, selected students went on a five-day camp to compete and represent our school at camp Adair.  This was a sports camp where each day students competed in a different sport to earn their team several points.  The nights were chilly with a three-degree low making sleeping a living nightmare.
We arrived at around 12 and were greeted with an opening ceremony setting rules and the expectations for camp, plus another greeting from the rain.  The day included Badminton, Cross Country Relay, and Ki O Rahi with two of our badminton girls placing third overall.
Day 2 followed with 2 gold medals for singles tennis, silver for boys basketball, Gaga Ball, and bronze for girls basketball.  This put our school in fourth place overall on the leader board and first for the fair play trophy.
The next day was set with each student ready to take on a sport.  W finished the day with gold for boys lacrosse, bronze for boys mountain biking, and volleyball.
Day 4 finished with the girl's indoor bowls winning us gold and bronze in the girls league, rock climbing, and boy's indoor bowls which had everyone passed out at the end of the day.
After a long and tiring week of sports, we made it to the final day with only one activity being tug-o-war.  The girls placed third but unfortunately could not squeeze themselves into the top two.  We all went to a closing ceremony where we placed fourth overall in the competition and second for the fair play trophy to end our great experience of camp.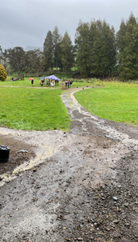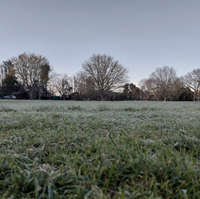 THANK YOU TO ROOM 6 for their article for this Newsletter
EMERGENCY FIRST AIDER COURSE WITH ST. JOHNS
In August right through to September, all the classes at Papatoetoe Intermediate School were lucky enough to take part in the Emergency First Aider course with St. Johns.  This course was part of our Health programme here at school.  Each session appropriately takes one and a half hours of learning in depth about medical care.  Mrs Sue Lowry came as representative and a professional First Aider of St. Johns and she has a vast knowledge and expertise on different emergency situations.  She gave a lengthy demonstration and description of a variety of situations through her experiences and stories.  In our school library, she explained how to demonstrate appropriate responses to unconscious patients as well as assessments of patients using DRSABC (Danger, Response, Send for help, Airway, Breathing and CPR).  She explained how to perform effective CPR and take appropriate action and described suitable responses to a variation of situations that may require First Aid.  This course was informative and influential to our students at Papatoetoe Intermediate.  It's vital to teach the youth about procedures that they might face in the future and getting them ready and well-prepared for an emergency.  Lastly, on behalf of all the students here at Pap Int we would like to thank Mr Fletcher for organizing this useful and important course for us.  Even if it may not seem useful now, one day it night save a life.
Reported and written by : Risha – Room 6