IMPORTANT TERM 4 DATES
Monday 14th December
9.00 a.m. Team Rehua Award Ceremony and Year 8 Graduation
12.00 p.m. Team Puanga Award Ceremony and Year 8 Graduation
School Reports go home today
Tuesday 15th December
Whole School Picnic Day
Syndicate Waiti – Mangere Pools
Syndicate Waita – Parnell Baths
Syndicate Uru Rangi – Mangere Pools
Syndicate Tupu a rangi – Otahuhu Pools and Leisure Centre
Wednesday 16th December
11.00 a.m. Supreme Prize Giving
1.30 p.m. Students dismissed to go home [School buses will still depart at the normal time]
6.00 p.m. – 8.30 p.m. Year 8 Graduation Dance and Celebration in the School Gymnasium
Thursday 17th December
Final School Newsletter for 2020 published and sent home today
Final day for Year 8 Students
1.00 p.m. Final Year 8 Assembly
2.00 p.m. ALL students dismissed to go home [School buses will still depart at the normal time]
Friday 18th December
Year 7 Students final day
1.30 p.m. Students are dismissed to go home [School buses will still depart at the normal time]
2021
Monday 25th January – Tuesday 2nd February
10.00 a.m. – 2.00 p.m. – School office open
Wednesday 3rd February
Year 8 students return
Thursday 4th February
Year 7 and new Year 8 students start
NEW SCHOOL WEBSITE
Please visit our schools new website – www.papint.school.nz and view the draft Charter and Strategic Plan.  We ask for feedback on our plans for the future.
HOUSE FUN DAY
Last Friday we had our last house event, House Fun Day!  Red and blue tutus, yellow and green shirts, all the colors came together to cheer, compete and win!  Throughout the day, we played multiple sports.  A few favorites of ours were scramball (although it was quite a chaotic sport), capture the flag and volleyball.
Along with all the games and cheering, came points and scoring.  Scoring was judged on how we followed the STAR values.  We also had chants and a dance competition which also contributed to points.
After a tiresome day, we knew what awaited us.  The final results of our scores were announced.  Totara coming fourth, Kahikatea – third, Kanuka the runner up and Nikau was the official winner of House Fun dat!  We were all excited to see the results after such a fun day.
Miss Leung – Kanuka House Leader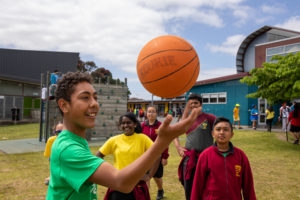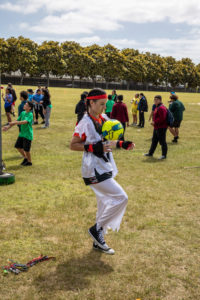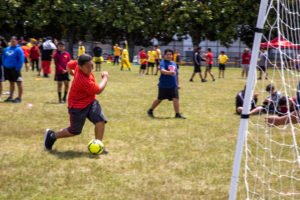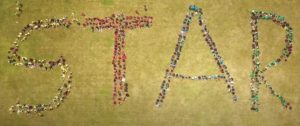 BRAINBUSTERS VISIT
On Monday 30th November we had the pleasure of being visited by the team from the show 'Brainbusters'.  Grace, Chris and Angus entertained the students with a quiz, giveaways and question time about the show.  We hope to see some of our students compete in the near future.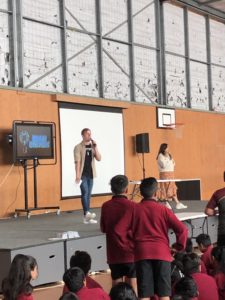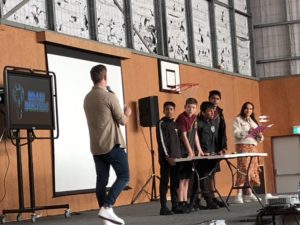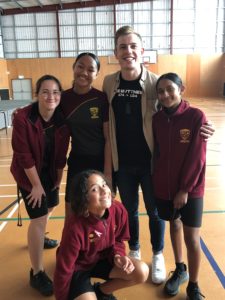 WRITING EXTENTION GROUP
This year some students were chosen for writing extension to work with an author to publish their own book.  Vasanti Unka worked with a group of students and they persevered to complete the book THIS IS US.

It is very special for these students to have achieved this.  For some of these students it is their second book and we are really proud of them.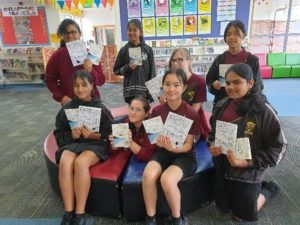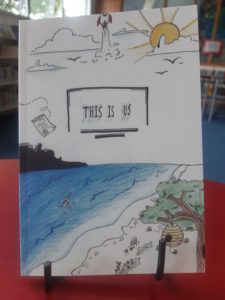 SUMMER READING
Auckland Libraries and Duffy Books in Homes are offering Summer Reading from the 1st to the 31st January 2021.
Visit aucklandlibraries.govt.nz/summerreadingsorted or click the link below
Duffy Summer Reading
5 January – 5 February 2021
Read, relax and reset with fun, flexible online reading challenges – for the whanau or just for you.  Choose a challenge and register for your chance to be in to win great prizes from Specsavers, passes for Auckland's top attractions and more! Registrations open 14 December 2020 – Visit www.aucklandlibraries.govt.nz/summerreadingsorted to find out how to sign up and get stuck in.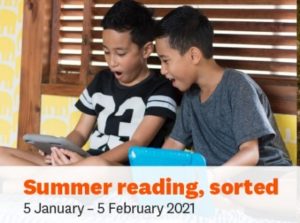 DUFFY BOOKS
Papatoetoe Intermediate School is a Duffy school and we are fortunate to get free books throughout the year.  Duffy also recognizes special people in students' lives and these 3 students have received awards on behalf of their special chosen people.
Congratulations to them and their families.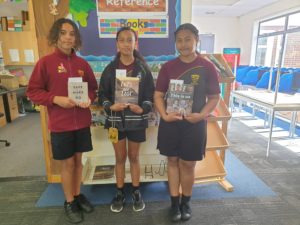 DIGITAL LIBRARY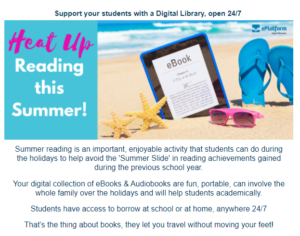 PAPATOETOE SANTA PARADE KAPA HAKA PERFORMANCE
On Wednesday 2nd December our Kapa Haka group performed at the Papatoetoe Santa Parade.  They gave a wonderful performance and we are very proud of all the hard work they have put into their performance.  Thank you to everyone who came to watch and support us.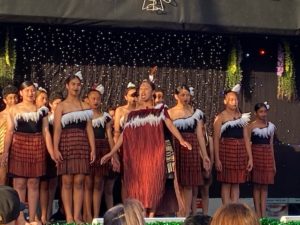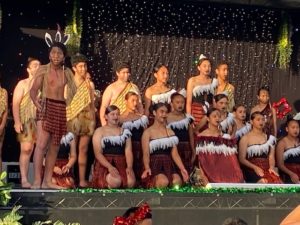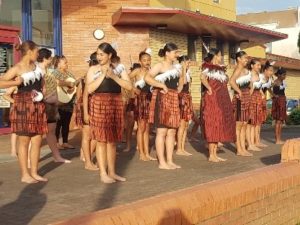 TE WHAKAPOKAI O TARA – KAPA HAKA
Being in Whakapokai o Tara this year was hard, especially with the pandemic slowing our ropu down, but as usual we have to have a positive wairua because the show needs to go on.  Being in Te Whakapokai o Tara doesn't only mean we get to perform but to express the Maori culture.
In Te Whakapokai o Tara we're all one, if one falls we all fall and that's the amazing thing about this ropu.  In Kapa Haka we have our kaitataki wahine and tane who are our leaders and guide us on the way as one.  This year has been such a great year of learning, and we're so lucky to have been able to attend whaea Ihia and whaea Mere's marae, and go on amazing trips to show all the hard work and effort we put into our mahi.  Big thanks to whaea Ihia and our Kapa Haka team for providing us with everything we have, tena koutou katoa!
Matelita – Kaitataki Wahine
GARDEN TO TABLE
The garden to Table programme is teaching children the essential skills they need to be food-resilient.  All around the country, they want to see children enthusiastically getting their hands dirty and learning how to grow, harvest, prepare and share fresh, seasonal food.  For more information please visit www.gardentotable.org.nz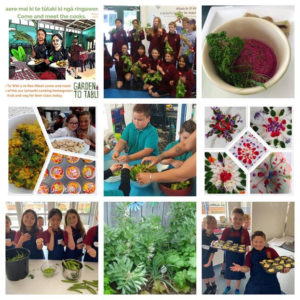 2021 STUDENTS
If you have enrolled your child with us for 2021 and are no longer going to send them to our school, could you please advise the office so we can remove them from our register for 2021.
Also, if you have a child who currently studies with us in year 7 (2020) and are not intending to return to our school next year can you please advise the office on 09 278 9763 or alishas@papint.school.nz.
THANK YOU TO ROOM 7 FOR OUR NEWSLETTER ARTICLE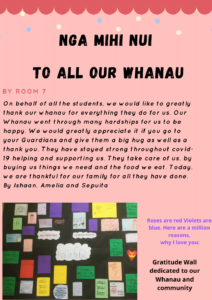 KEEPING OUR STUDENTS SAFE
Our school takes the safety of students [and staff] very seriously.  We have clear procedures for dealing with all complaints, which at all times are closely adhered to.  We encourage students and whanau to contact us if they have any concerns.  Our teachers, leaders and senior staff are committed to ensuring out school is a happy and safe place for all students and staff.  Please refer to the School Website for the Complaints Procedure in the Personnel Handbook.
ADULT ENGLISH LANGUAGE CLASSES
English Language Partners is a not-for-profit, award winning education provider with NZQA Category 1 endorsement, that has been providing English language and settlement services to adult refugees and migrants in South Auckland.
They offer a variety of classes which are easily accessible for our students' parents and grandparents to learn English.  They have highly qualified and experienced ESOL teachers.  Their classes are free to all NZ residents.
There have been numerous studies done that show children are able to learn more effectively at school when their parents and caregivers have an understanding of English.
Below are a list of classes in out local area.