IMPORTANT DATES
2021
Monday 25th January – Tuesday 2nd February
10.00 a.m. – 2.00 p.m. – School office open
Wednesday 3rd February
Year 8 students return
Thursday 4th February
Year 7 and new Year 8 students start
MESSAGE FROM OUR PRINCIPAL – Pauline Cornwell
Congratulations to Everyone – we made it to the end of 2020!
This year has been one for challenges and rapid new learning.  The COVID-19 has had a dramatic effect on many aspects of our lives; we have been forced, to rely on online provisions for communication, education, shopping, financial management, transport etc.  The pandemic has sped up a technological change process.  Concerns about the changes can sometimes overshadow the positive outcomes and opportunities.
In 2020 the opportunities we have been able to provide our students include:
Our first Powhiri held at Great South Road entrance
Bike month and the series of events held in support
Establishment of our new school gardens, which have been harvested and fed many homes
A range of Student Leadership training and events
Safety Week and the range of safety promoting learning associated with this; lockdown practices, evacuations, cybersafety, youth law etc.
Swimming Sports at Papatoetoe Pools
Lockdown with Levels 1, 2, 3 and 4 lockdown phases – the distribution of hard copy resources, distribution of food packs, Duffy Books and devices and the advent of 'distance learning'
Examples of good leadership in our own country and bad leadership in others
Return to school, managing anxieties and catering for both in-school and distance learning at the same time
Writing extension – this group have published a wonderful book this year!
Bullyfree NZ Week and Pink Shirt Day
Samoan, Fijian, Tuvaluan, Niuean, Cook Island, Maori, Sign, Tongan, Language Weeks
Return to lockdown and another return to school
House Competitions including; Lockdown Challenge, Talent Quest, General Knowledge Quiz Competition, Spelling Bee, House Fun Day…
Online Assemblies
Regular deliveries of food to families in need and working with Community groups
Interschool sports – Softball, Athletics, Volleyball, Netball and Hockey
Speech Competition
International Cultural Festival Day with The Food Festival, Cultural Performances and Wearable Arts Competition
Tironui Trust Concert
Kapa Haka Marae Noho
School Camp and EOTC
Information evening for Year 6 students and whanau which about 500 people attended
Papatoetoe Schools Art Exhibition
Diwali Celebration
Online library access
Awards Ceremony
Year 8 Graduation Ceremony and Evening
Supreme Prize Giving with the announcement of our Leaders for 2021.
The Supreme Prize Winners and 2021 School Leaders are announced at the end of this Newsletter.
Achievements
About 27% of our students made more than 1 years progress this year in Reading, Writing and Mathematics
In Reading, Writing and Mathematics around two thirds of our school are achieving at or above nationally stated expectations
Learning has continued in all curriculum areas online
We have maintained all assessment and reporting schedules
We have improved contact with families through online learning during lockdowns, we have been in your homes and you have been in ours – thank you
We have not missed any BOT meetings
People who have joined us this year – it has been great growing our Pap Int whanau
Pooja Reddy, Teacher and Alisha Spiers, Admin – who both returned from maternity leave
Elliot Peacock, Sophie Dorset and Pooja Bhikha, Teachers – who each filled in for teachers who were unable to travel to NZ
Reikus Nortje, Teacher – started several weeks after the start of the year
Leslie Govender, Teacher – started as soon as she arrived in NZ (just prior to the first lockdown) and her family were stuck in South Africa – they are thankfully here now
Montessa Bosman, Teacher – arrived in NZ just a few days before the start of school
Vanita Narsai, Teacher – replaced our Performing Arts teacher who decided through lockdown 1, it was time to move out of Auckland
Jane Woodill, Learning Support Leader who has filled the vacancy left by Matua Jonnie Black
Lewis Thorogood, Teacher – classroom teacher Room 9
Melanie Willis, Teacher – classroom teacher Room 21
Johannes Wagner – Teacher Aide
Todd Fehoko – Teacher Aide
Esafe Moli – Teacher Aide
Chris Latham – Teacher Aide
Michaella Turner – Teacher Aide
Hope Leota – Teacher Aide
People who have left and who we remember with gratitude:
Elliot Peacock and Sophie Dorset – teaching at another school, left at the end of term 1
Vicki Appleton-Tattersall – moved to Palmerston North – left at the end of term 1
Jada Manase – was accepted into the Police Force – left at the end of term 2
Rosie Williams – moved back to the Hawkes Bay to be closer to family (and to get married) – left at the end of term 2
Lauren Hartley – pursuing other options – left at the end of term 3
AND Matua Jonnie Black – to become the Principal at Matipo Primary School
People leaving at the end of 2020 – We thank all our staff members leaving at the end of 2020 for all their efforts on behalf of our students and dedication to this community.
Montessa Bosman – has won a teaching position across the road from her home, where her children attend
Pooja Bhikha – to teach at Royal Oak Intermediate School
Pooja Reddy – to work in adult education
Johannes Wagner, Teacher Aide – to pursue other options
Sheryll Stevens, Teacher Aide – who leaves us after 18 years of loyal service and care for our students and support for our teachers.  Thank you Sheryll
Shaman Singh – leaves us after 5 years to further his teaching career at another Auckland School.  Thank you Shaman for the work and dedication committed to Travelwise at Papatoetoe Intermediate.
New teachers starting in 2021:
Miss Bhavna Pratap, Teacher – Room 24
Mr Robert Pether, Teacher – Room 15
Miss Esther Nosa, Teacher – Room 4
Mrs Saba Kiani, Teacher – Room 9
Ms Bianca Kerr-Bell, Teacher – Room 19
Ms Anna Davies, Teacher – Room 18
We thank you all for your outstanding efforts over the course of the year.  While our rates of student achievement have not been as high as previous years, our students have been educated and supported and learned more valuable lessons that will stay with them throughout their lives.  They have learned the value of education; friendships, the price of freedom and need to follow 'rules' for the safety not just for ourselves but for the whole community.  Whanau and teachers have had to work TOGETHER to make learning work in a meaningful way – we hope this close relationship will continue as a feature of our school.
Safe journeys, to all our Year 8 students.  With you go our hopes and dreams for the future.  Make us even prouder of you and come back and tell us of your achievements!
Have a peaceful blessed Christmas break, be safe over the New Year and we will see Year 7 students and whanau back on 3 February 2021.
From Pauline Cornwell (Principal) and all the staff at Papatoetoe Intermediate School
MESSAGE FROM OUR BOARD CHAIR
Hi, it's Jeremy Nicholls here: Papatoetoe Intermediate Board Chairperson.
This time last year, who would have known what a difficult year we were going to have, but we've pulled through by helping each other as a community.  I've been encouraged by the commitment of our board members, each of them representing different aspects of our community, and bringing their knowledge and wisdom to the board table to help make decisions affecting the future of our school and our students.
Last year one of our main goals was to try to increase the connections between school and families, asking you in the community what your priorities are, and how we can change practices in the school to integrate those.  This year we've been forced to work even more closely, with teachers working in your homes via zoom calls.  Groups in the community have been working with these teams of teachers and staff in the school to provide resources, aid, and support during the various lock downs and other challenges this year.  All this work has strengthened our school, and our ties with our local community, forming lasting relationships and changing the way we work going forward.
There has been increased use of computers at school – now each child has a computer – people are now more computer savvy, they use less paper and now have the tools to run classes online.  Before that was a good idea, now it's a reality.
To wrap up, I'd like to say thank you to everyone for working hard to make the most of this year despite all the problems, and for finding the silver linings, and using them to our best advantage.  Have a safe break and we will see you next year for some exciting new projects and developments for the new year.
Jeremy Nicholls – BoT Chairperson
TRAVELWISE AWARD FOR 2020
As a team we set a goal at the beginning of 2020 to achieve Gold recognition again.  Covid did affect a few of our original ideas but Travelwise worked collaboratively to come up with new ideas such as #travelwise and slow bike race.  We were also successful in receiving a $65000 grant which will go towards building a new bike track for our school.  This project should begin in April 2021.
Due to the team effort of Travelwise teachers and students we were rewarded with Gold recognition for promoting road safety within our school.
Shaman Singh – Teacher Room 23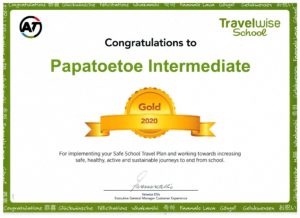 SUPREME PRIZE WINNERS
2020
CEREMONY was Wednesday 16th December 2020
HEMANT KUMAR Memorial Award
J. PRAKASH
Awarded to the student who has made the most continuous progress in all three core curriculum areas. [Reading, writing and maths]
ANNA FERREGEL Memorial Award
M. TAIESE
Awarded to a student who has overcome their disability to bring pleasure to others through kindness and hard work.
Public Speaking
G. NAYAGAR
2020 winner of School Speech Competition
Outstanding Service to the School
G. NAYAGAR
B. TOUCH
Awarded to students who embody the concepts of a 'connected community of learners'.  They are involved not to lead, or for reward but to service.
Mainfreight Duffy Award for Excellence
R. QAYS
Awarded to the student who has shown all round excellence during their time at Papatoetoe Intermediate School, in both academic improvement and displays all the school values.
Te Reo Maori
G. NAYAGAR
This student has demonstrated outstanding commitment to the use of Te Reo Maori.
Kapahaka Leaders
P. FAAFUATA
W. WRIGHT
These students are humble, conscientious and motivated leaders.  They display the attributes that will enable them to be successful and demonstrate pride in their culture.
Cultural Leaders
S. NALEDAWA
S. KAIHAU
These students are both passionate and knowledgeable about their culture.  They exemplify the very best of their cultural legacy inherited from their ancestors.
Arts
Year 7 – H. THEAVY
Year 8 – S. GUNANAYAGAM
These students demonstrate outstanding skills across the Arts – Music, Visual Arts and Performing Arts.
Technology
Year 7 – H. THEAVY
Year 8 – G. NAYAGAR
This prestigious award is awarded to the students who demonstrate the qualities, knowledge and skills defined with the NZ Curriculum for Hard Materials, Food Technology and Soft Materials.
Tironui Scholarships
Year 8 – B. TOUCH
This is awarded by the Tironui Trust.  This student shows dedication towards their music since year 5 and their playing reflects it.
Sports
Year 7 – L. BANIANI
Year 8 – R. TUPAI
These students are out best all round sportspeople.
Academic – DUX
Year 7 – S. LA
Year 8 – B. TOUCH
Awarded to our top students for displaying outstanding academic excellence in a range of subjects – maths, reading, writing, science, specialist and social science.
Thank you to our SCHOOL LEADERS 2020
HOUSE GROUP LEADERS
Kanuka
S. MOALA
P. FAAFUATA
Nikau
D. SILIVA
S. SINGH
Totara
S. THEAVY
H. GLEN
Kahikatea
M. PEPA
H. HUKUI
HEAD GIRL – G. NAYAGAR
HEAD BOY – W. SAUASO-RASCH
SCHOOL LEADERS for 2021
KANUKA
L. PRITCHARD
S. FAALAVE
NIKAU
R. SHARMA
A. COLLINS
TOTARA
O. FINAU
A. HUDAFAH
KAHIKATEA
S. LA
B. WILSON
HEAD GIRL – A. AILUAI
HEAD BOY – U. ALI
Congratulations to all our students and especially to our prize winners and out School Leaders for 2021.
ENJOY YOUR TIME WITH FAMILY AND FRIENDS
HAVE A SAFE AND HAPPY HOLIDAYS