NEWSLETTER No. 18 November 2021
What's on in Term 4 ……..- 
Contributing schools Year 6 students visiting this term  – this is likely to be a virtual Tour shared with Primary Schools and added to our Website
Monday 15 November – tentative day (in principle) for schools to reopen. TBC and more information to come
Picnic Day – TBC we will try to have these as a celebration of the efforts students, staff and whanau have made over this extraordinary year
Prize Givings – TBC whether online or with limited guests
Monday 13th December
Award Ceremonies and Graduation – under review
Graduation Dance in the evening is  cancelled
Wednesday 15th December
11.00 a.m. Supreme Prize Giving – currently under review
Thursday 16th December
Final day for our Year 8 students
Friday 17th December
Final day for Year 7 students. Students will be released at 1.00 p.m.
Year 8 Graduation Dinner and Dance – Cancellation
Unfortunately due to COVID circumstances and school event regulations we have had to make the call to cancel this year's Year 8 Graduation Dinner and Dance.
The school budget that was allocated for this event has now been allocated to provide a subsidy to the School Leavers gear being made available to purchase.  This has been included in the current cost promoted.
Leavers gear can be ordered by visiting this website –
WHEN WE ALL RETURN TO SCHOOL
All staff members are required to provide proof of a negative COVID test before they return to work with students. All staff members, visitors and contractors coming into schools, must provide proof of their first vaccination and a negative test on a weekly basis OR proof of full  COVID vaccination by 15 November 2021.
Thank you to Room 22 and Room 23 for this Newsletter article
Room 22
It was 2:00 am. I heard the living room T.V on, so I rushed downstairs to turn it off, but when I was looking at the T.V,  all I could see was the word run. At first, I thought my parents were playing a prank on me, so I ran towards their room. As I opened the creaky old door, there my parents were, shredded into  thousands of pieces. I looked out the slightly cracked window to see these creatures with dark greasy hair, dull black eyes, and a spine-crawling smile. Their stance was chilling to look at, so I ran outside, only to see my neighbor being ripped to pieces by creatures with their sharp but dirty claws.
I just stood there in awe, not knowing if I would even be able to outrun those creatures, but suddenly, the creatures slowly tilted their heads and locked eye contact with me. Their smiles had grown wider. I couldn't think of anything at that moment, I just ran straight to my garage and grabbed the bike that my parents had given me for last Christmas. Tears rolled from my eyes, but I pulled myself together and rode that bike as hard as I could. Every house I went by,  I saw multiple bodies lifeless on the ground.
Suddenly,  I heard screaming coming from a house that was way ahead of me. I followed the sharp scream, but the closer I got, the more giggles I heard. It started to freak me out, but I had to save whoever was screaming. When I pulled up to the driveway of the house, it looked like it had been abandoned. It's roof was damaged, the wood on the porch was snapped in half, and it just looked dreary. I tried convincing myself to not go in, but I was already inside looking around in the house.
Whispers were surrounding me, along with giggles. The noises I was hearing were making me feel like I needed to go, but I needed to rescue whoever was up there. As I looked up the staircase, it started to look disturbing. Every step that I took felt like I was being forced to walk to the edge of a plank on a ship. Whew, I had got to the top, I felt like I achieved something. What really surprised me was that the screaming had stopped as soon as I had stepped foot onto the last step of the staircase. It seemed strange, but I didn't think much of it. I checked every room, but no one was there.
Then, there it was, the last room at the end of the hallway. Every time I took a step towards the room, I'd look behind me. When I had made it to the room, I busted through the door, only to see that 'thing'. There was a kid with the creature too. The child giggled, whilst the creature was coming towards me. All I could remember after that was hearing a ringing sound from my ears. I didn't know how long it was after that moment, but I had woken up in my room.
I looked outside, and everything seemed just fine. I ran straight into my parents room, but they weren't there. I ran across to my neighbors, and no one was to be seen. I even checked the nearby stores, but no one was to be found. Am I hallucinating?
By Elisiva Room 22
                                                                                                                                                                   Room 23 in class – hoping to return soon
Room 23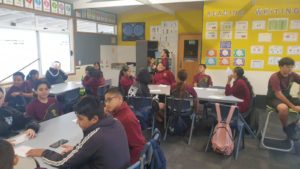 Fun Facts
–  Studies show that Rats can dream.
–  Bees can fly higher than Mount Everest
–  Bananas glow blue under black light 
Room 23 has been very busy during the lockdown, at school they've been doing the set tasks that their teacher has set for them and also have been doing their Tech/Arts work. We've been doing different things such as narratives, algorithms, and even reading about the current holiday coming up being Halloween.
Our class has not only been working very hard on school work but have also been working hard at home. We have  been doing chores such as cleaning, making food and sweets for the family and preparing for Halloween by putting decorations up. Besides doing work, Room 23 has also been doing fun activities such as playing video games, drinking their favourite drinks, and watching their favourite tv shows
Our teacher Mr Nortje has also been busy preparing our school work and  making sure our class is staying functional and productive. Now that most of our class has done their test, Mr Nortje will now mark them and I bet most of us are excited for that. Apart from doing work Mr Nortje has been going on walks and doing his daily exercise and spending time with his family.
We are all looking forward to returning to school and reconnecting with our friends and teachers.
Everyone aged 12 years and over can now be vaccinated
Everyone in Aoteraroa New Zealand aged 12 years and over can now book their free COVID-19 vaccination.
The Ministry of Health advises that two doses of the Pfizer vaccine are necessary to protect each other, our whānau and our community against the Delta variant of the virus.
Reservations can be made through bookmyvaccine.nz – when booking appointments remember to stay local and book as close to home as possible.
If you have questions or need help booking, call the COVID Vaccination Healthline 0800 28 29 26.
It may be able to book directly at your local general practice, community pharmacy or hauora provider. For more information visit Healthpoint or Karawhiua.
If your child has received 2 doses of the Vaccination please email our school at vaccination@papint.school.nz  advising us of this and also include in your email either a scanned copy or photo of their COVID Vaccination record  card showing the dates the vaccinations were given.
Keep children and whanau safe by making sure that everyone who can get a vaccine, does.
PAPATOETOE INTERMEDIATE ENROLMENTS FOR 2022 – IN ZONE and OUT OF ZONE
Applications for in zone enrolments are still open. Out of zone applications have closed and all families have been notified.
Application Packs for in zone students are available on our School Website https://papint.school.nz  or from the Papatoetoe Intermediate School Office.
Current Year 7 students ARE NOT required to re-enrol for their Year 8 year in 2022.
HIGH SCHOOL/COLLEGE ENROLMENTS
Secondary School Enrolments for 2022 
Each Secondary School is continuing to have their own messages regarding enrolments during lockdown.
We strongly recommend that you make contact with the Secondary School you are wishing to enrol your child in for 2022 via their website and contact email address if you have any queries regarding enrolments. SOME secondary schools have extended their 'out of zone' enrolment dates.
Queries regarding:
–   Papatoetoe High School: please contact office@papatoetoehigh.school.nz  
–   Otahuhu College – please contact MVaaelua@otahuhucollege.school.nz
Papatoetoe High School
You are able to pick up and drop off in-zone and out-of-zone enrolment forms from the school office – 9am to 3pm. Remember that originals of most documents can be photocopied and verified at the school office.
Out-of-zone enrolment applications closed on Wednesday 20 October 2021.
Please email for any queries re enrolment: office@papatoetoehigh.school.nz
From Ōtāhuhu College:
We hope this message finds you and your whanau safe and well. I would like to acknowledge the difficult time our communities are living through and how strong and resilient we have remained. Please take care out there.
If you would like to enrol your child with Ōtāhuhu College for 2022 please access our Ōtāhuhu College website. Click on the ENROL tab and follow the instructions.
Please enrol online or you can make an appointment to meet with me this term. If you would like any further information please contact me by email: mvaaelua@otahuhucollege.school.nz or text your name, the word enrolment and your mobile number to 021 0827 0931.
Kia noho haumaru, stay safe
De La Salle College
Please go to our College website to download and print an enrolment pack or come into our College Office to pick one up in Level 2.
Website Link: https://www.delasalle.school.nz/enrolment-form/
Any further queries please email: enrolments@delasalle.school.nz    or call our Enrolment Officer on 276 4319 ext 816 during term time 8am-4pm
Enrolments will close on the 26th November 2021.