NEWSLETTER No. 19 November 2021
What's on in Term 4 ……..- 
Contributing schools Year 6 students visiting this term  – this is likely to be a virtual Tour shared with Primary Schools and added to our Website
Picnic Day – TBC we will try to have these as a celebration of the efforts students, staff and whanau have made over this extraordinary year
Prize Givings – TBC whether online or with limited guests
Thursday 18th November
Team Puanga students return to school – [Thursdays and Fridays]
Monday 22nd November
Team Rehua students return to school – [Mondays and Tuesdays]
Monday 13th December
Award Ceremonies and Graduation – under review
Graduation Dance in the evening is cancelled
Wednesday 15th December
11.00 a.m. Supreme Prize Giving – currently under review
Thursday 16th December
Final day for our Year 8 students
Friday 17th December
Final day for Year 7 students. Students will be released at 1.00 p.m.
Returning to School
ALL students are welcome back at school everyday.  We strongly encourage parents to start off sending their children two days a week.
All staff members are required to provide proof of a negative COVID test before they return to work with students.  All staff members, visitors and contractors coming into schools, must provide proof of their first vaccination and a negative test on a weekly basis OR proof of full COVID vaccination were required by 15 November 2021.
Our school has ensured all staff and visitors coming into our school meet legal requirements to be vaccinated and provide proof of negative COVID test. All health and Safety plans are in place.
Papatoetoe Intermediate is a safe and fun place for our students to be as they finish off a difficult year.
To make sure no unauthorized people come onsite we now have security gates at Motatau Road and Great South Road – these do not open until 8.00 a.m. each morning. Students cannot enter the school grounds until 8.00 a.m. each day.  Keep your child safe and make sure they do not get to school before 8.00 a.m.  People needing to enter the school after 9.00 a.m should go to Great South Road where there is a pedestrian intercom.
Year 8 Graduation Dinner and Dance – Cancellation
Unfortunately due to COVID circumstances and school event regulations we have had to make the call to cancel this year's Graduation Dinner and Dance.
The school budget that was allocated for this event has now been allocated to provide a subsidy to the School Leavers gear being made available to purchase.  This was included in the current cost promoted.
Orders have now closed.
Everyone aged 12 years and over can now be vaccinated
Everyone in Aoteraroa New Zealand aged 12 years and over can now book their free COVID-19 vaccination.
The Ministry of Health advises that two doses of the Pfizer vaccine are necessary to protect each other, our whānau and our community against the Delta variant of the virus.
Reservations can be made through bookmyvaccine.nz – when booking appointments remember to stay local and book as close to home as possible.
If you have questions or need help booking, call the COVID Vaccination Healthline 0800 28 29 26.
You may be able to book directly at your local general practice, community pharmacy or hauora provider. For more information visit Healthpoint or Karawhiua.
If your child has received 2 doses of the Vaccination please email our school at vaccination@papint.school.nz  advising us of this and also include in your email either a scanned copy or photo of their COVID Vaccination record  card showing the dates the vaccinations were given.
Keep children and whanau safe by making sure that everyone who can get a vaccine, does.
PAPATOETOE INTERMEDIATE ENROLMENTS FOR 2022 – IN ZONE and OUT OF ZONE
Thank you to all whanau who have enrolled their children for Year 7 in 2022.  If you have not yet done that and you live in our school zone, enrolments can be completed online or dropped to the school.  To arrange and enrolment please call our school office.
Applications for in zone enrolments are still open. Out of zone applications have closed and all families have been notified.
Application Packs for in zone students are available on our School Website https://papint.school.nz  or from the Papatoetoe Intermediate School Office.
Current Year 7 students ARE NOT required to re-enrol for their Year 8 year in 2022.
HIGH SCHOOL/COLLEGE ENROLMENTS
Secondary School Enrolments for 2022 
Each Secondary School is continuing to have their own messages regarding enrolments during lockdown.
We strongly recommend that you make contact with the Secondary School you are wishing to enrol your child in for 2022 via their website and contact email address if you have any queries regarding enrolments.
Queries regarding:
–   Papatoetoe High School: please contact office@papatoetoehigh.school.nz  
–   Otahuhu College – please contact MVaaelua@otahuhucollege.school.nz
Papatoetoe High School
You are able to pick up and drop off in-zone enrolment forms from the school office – 9am to 3pm. Remember that originals of most documents can be photocopied and verified at the school office.
Out-of-zone enrolment applications closed on Wednesday 20 October 2021.
Please email for any queries re enrolment: office@papatoetoehigh.school.nz
From Ōtāhuhu College:
We hope this message finds you and your whanau safe and well. I would like to acknowledge the difficult time our communities are living through and how strong and resilient we have remained. Please take care out there.
If you would like to enrol your child with Ōtāhuhu College for 2022 please access our Ōtāhuhu College website. Click on the ENROL tab and follow the instructions.
Please enrol online or you can make an appointment to meet with me this term. If you would like any further information please contact me by email: mvaaelua@otahuhucollege.school.nz or text your name, the word enrolment and your mobile number to 021 0827 0931.
Kia noho haumaru, stay safe
De La Salle College
Please go to our College website to download and print an enrolment pack or come into our College Office to pick one up in Level 2.
Website Link: https://www.delasalle.school.nz/enrolment-form/
Any further queries please email: enrolments@delasalle.school.nz    or call our Enrolment Officer on 276 4319 ext 816 during term time 8am-4pm
Enrolments will close on the 26th November 2021.
Thank you to Room 20 and 21 for these Newsletter articles
Room 20
Our 2 Years Journey at Papatoetoe Intermediate School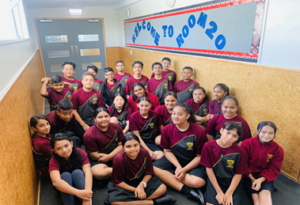 On 3rd February  2020 it was the first day of the new year at our new school and the start of the new Year 7 students journey at Papatoetoe Intermediate School. We were welcomed by Year 8's who sang a waiata along with the kapa haka group and Powhiri. After being welcomed into our new school we were called up one by one and put into our new classes and from that day on we had started our journey in Room 20. As we walked in our new class, we could tell that nervousness started to appear in everyone. Mrs Naicker then introduced us to the year eight classmates and one after another they introduced themselves. 
Highlights from our 2 years
Athletics  day
Last year 2020, we had athletics day where we were all in our house colours (Blue, Red, Green and Yellow) came together and had fun competitions between each other. There were so many fun outdoor and indoor activities. We couldn't do all of the activities, but surely all of the activities done were fun and enjoyable. One thing that made it cool, was having competitions against the houses and doing cool and enjoyable activities. It was such a hot day, but it was worth it having to spend time interacting with others around you.
International cultural day

Last year we celebrated International Cultural day, where  we all performed our cultural dances and represented different ethnicities. I was in the Samoan Group and on that day we performed all the cultural dances we had learned from Term 1 all the way to Term 4. We basically had to prepare for the International Cultural day.
On international day we also tasted different kinds of foods from different countries and that was my favorite part of the day personally. That's what made it fun because we got to eat foods that we haven't tasted and seen before.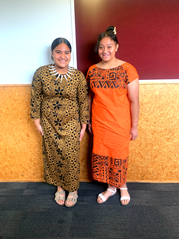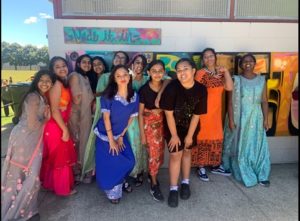 Picnic day
End of last year we had a picnic day within the syndicate where we celebrated our achievements throughout the year.  We spent the day at Mangere pools. We had fish and chips for lunch, along with orange juice. We got to go in deep pools as well as the slides going down. It was so fun and such a memorable day to spend with each other.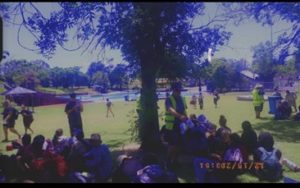 Lockdown
Beginning of last year, 2020, we were hit with Lockdown. New Zealand went into lockdown for four weeks straight. Everything changed, stores were closed, schools, pools and gyms. Even though we weren't at school we did online learning. It was totally different and something new we had to experience. Although we did online learning we also got to miss out on other events that were meant to happen at school. It was hard staying in our own bubbles but we had no choice but to do online learning. Even this year covid – 19 came back and now we're back in lockdown. We were not able to do swim sports day, picnic day, the Year 8 graduation celebration due to Covid – 19 restrictions. Even though we may not be able to do these fun activities and events we still get to spend time before all of this suddenly happened.
EOTC week
This year in Term 1,  we had EOTC week for a week (Monday – Thursday). We got to experience a lot of fun things. Some things were the Papatoetoe heritage walk, Okahu Bay, visited the Auckland Museum, and we went to Kolmar Sports Centre and did sports and swimming. One thing that was ruined was going to Okahu Bay and just because of the bad weather we were not able to do any fun activities so we came back to school and did other activities like drawing, and playing games in the gymnasium. It was such a week to remember there was so much learning and fun all at once.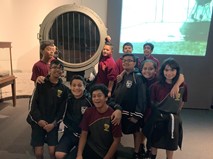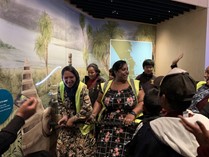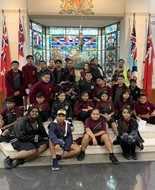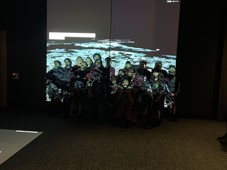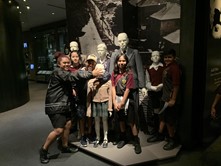 Steam and Wearable Arts Project.
For the Wearable Arts competition our project was to make a dress using newspaper.
We made a few changes by making it a two pieced dress. The dress is a plain newspaper dress that has paper flowers hot glued to it. It is sort of short in the front and long at the back which makes it very elegant. It took a while to finish the dress but we did it, we finished the dress and the outcome of it was gorgeous.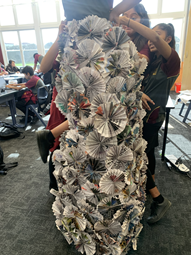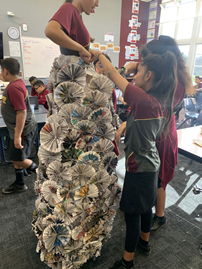 Our final summary for 2021
Coming to the end of a journey at school it's hard to say ''goodbye.'' Through these past few months and year we've learnt a lot and gone through times of ups and downs but one thing that stood out was this school is none like other. We'd like to take this opportunity and say ''Thank you'' not  just to our hardworking teachers but to all the staff members and everyone who's been with us through our journey at Papatoetoe Intermediate. We couldn't have come this far without you all so thank you all from the bottom of our heart.
By Kristine, Dhireeta and Amazie
Room 21
Throughout the 96 days of lockdown Room 21 has been supporting and encouraging each other while learning about area, perimeter, rounding and many more Mathematics topics.  For reading we have focused our learning around poems and novel studies. Writing may have been a challenge for us to do during lockdown but we have been doing Writing Legends online and short creative writings from our daily slides. We have also learned about other cultures and the diversity in Auckland. Many of us are looking forward to going back to school and seeing each other as well as seeing the teachers.
Qi-Cheng (Room 21)