PAPATOETOE INTERMEDIATE SCHOOL NEWSLETTER
No. 21 – 15th December 2022
Important Term 4 dates
Thursday 15th December
Final day for Year 8 Students – Students released at 1.30 p.m. – No Study Centre
Friday 16th December
Final day for Year 7 Students – Students released at 1.30 p.m. – No buses today (NO SUPERVISION AFTER 1.30 p.m)
2023 Dates
Office Opening Hours
Monday 23rd January – 10am – 2pm
Tuesday 24th January – CLOSED
Wednesday 25th January – CLOSED
Thursday 26th January – 10am – 2pm
Friday 27th January – 10am – 2pm
Monday 30th January
Auckland Anniversary Day – Office Closed
Tuesday 31st January
Year 8 students return – Report at 8.30 a.m. to the allocated classrooms
Wednesday 1st February
First day for Year 7 students and New Year 8 students
Report at 8.45 a.m. at the entrance at Great South Road in preparation for a powhiri
Monday 6th February
Waitangi Day – School Closed
PRINCIPAL'S MESSAGE
Thank you and Farewell
This is the time when we thank staff members who are leaving for their time and efforts at our school.
Teacher Aides: Hope Leota (who has been offered a TA position at the school her children attend), Celeste Williams and Jay Dryden all leave at the end of this year.
We sincerely thank each of them for their work with students and support for our Teachers and wish them all the best for 2023.
Teachers: Robert Pether R15 (who is leaving teaching and plans to write Educational Apps – watch this space), Riekus Nortje R23 (who leaves to teach at another intermediate school), Leslie Govender R13 (who leaves to teach at another intermediate school), Malcolm Raymond R25 (who leaves to take a leadership role at another intermediate school), Cammy Leung R8 (who leaves to take a leadership role at another intermediate school).
These Teachers have all made excellent contributions to our school.  We thank them all for their efforts and wish them all the best for the future.
Leaders:
Jane Woodill, Learning Support Leader, has taken a leadership role at Kedgley Intermediate School.  We thank Jane for all of her efforts working with Teacher Aides and supporting students and whanau and wish her all the best for 2023.
Lynn Corderoy, Associate Principal, Syndicate and Curriculum Leader – Lynn has accepted the DP's job at Takanini School.  We congratulate Lynn on this promotion and wish her all the best for the future.  A special thank you to Lynn for all the efforts and improvements she has made in our school.
Congratulations to all of our 2022 Prize Winners and to our Student Leaders who have been wonderful role models this year.
Farewell to all our Year 8 students and whanau, and to those moving schools and out of our area.
We wish each of you, students and whanau the safest and most restful, peaceful holiday break.
We are already looking forward to seeing our current Year 7 students on 31 January (who will then be our marvellous Year 8 students!)
And to the powhiri welcoming our 2023 new Year 7 (and new Year 8) students and staff in 2023 at 8:45am on the 1 February.
To each of you – Peace, Hope and Joy over this holiday time.
From the Principal – Pauline Cornwell

SUPREME PRIZE WINNERS
2022
Ceremony was Wednesday 14th December 2022

HEMANT KUMAR Memorial Award
Bhunil – Room 1
Awarded to the student who has made the most continuous progress in all three core curriculum areas. [Reading, writing and maths]
ANNA FERREGEL Memorial Award
Shiv – Room 19
Awarded to a student who has overcome their challenges to bring pleasure to others through kindness and hard work.
Public Speaking
Summer-Rayne – Room 4
2021 winner of School Speech Competition
Outstanding Service to the School
Vaomaile – Room 5
Nikhil – Room 18
Awarded to students who embody the concepts of a 'connected community of learners'.  They are involved not to lead, or for reward but to service.
Mainfreight Duffy Award for Excellence
Mahir – Room 25
Awarded to the student who has shown all round excellence during their time at Papatoetoe Intermediate School, in both academic improvement and displays all the school values.
Duffy Award
Rheeya – Room 2
Awarded to the student with the highest total number of Books logged as read during the 2022 read – the Duffy Book Challenge
OKE Kaitiakitanga Award
Madison – Room 10

Te Reo Maori
Atamua – Room 13
This student has demonstrated outstanding commitment to the use of Te Reo Maori
Kapahaka Leaders
Renata – Room 3
Hendrik – Room 1
These students are humble, conscientious and motivated leaders. They display the attributes that will enable them to be successful and demonstrate pride in their culture.
Cultural Leaders
Noah – Room 6 (Tongan Cultural Group)
Sienna – Room 1 (Samoan Cultural Group)
These students are both passionate and knowledgeable about their culture. They exemplify the very best of their cultural legacy inherited from their ancestors.                  
Arts
Year 7                Amly – Room 18
Year 8                Victoria – Room 12
These students demonstrate outstanding skills across the Arts – Music, Visual Arts and Performing Arts.
Technology       
Year 7                Joelle – Room 4
Year 8                Bhunil – Room 1
This prestigious award is awarded to the students who demonstrate the qualities, knowledge and skills defined with the NZ Curriculum for Hard Materials, Food Technology and Soft materials.
Tironui Scholarships
Year 8                Kaea – Room 18
This is awarded by the Tironui Trust. This student shows dedication towards their music since year 5 and their playing reflects it
Sports
Year 7                Jada-Breeze – Room 16
Year 8                Makiri – Room 23
These students are our best all round sportspeople.
Academic – DUX
Year 7                Dani – Room 21
Year 8                Hillary – Room 22
Awarded to our top students for displaying outstanding academic excellence in a range of subjects – maths, reading, writing, science, specialist and social science.  

Thank you to our SCHOOL LEADERS 2022
HOUSE GROUP LEADERS                                         
KANUKA
Szativah – Room 1
Vansh – Room 20
NIKAU
Teei – Room 25
Vipra – Room 17
TOTARA
Lina – Room 17
Brayden – Room 24
KAHIKATEA
Zurvahny – Room 20
Mahir – Room 25
HEAD GIRL         Sienna – Room
HEAD BOY          George – Room 19
SCHOOL LEADERS for 2023
KANUKA
Samaira – Room 22
Irwin-James – Room 1
NIKAU
Jethro – Room 8
Penelope – Room 25
TOTARA
Jada-Breeze – Room 16
Davi – Room 22
KAHIKATEA
Ilhaan – Room 5
Ariyana – Room 7
HEAD GIRL                     Rihannah – Room 23
HEAD BOY                      Tevita – Room 8
Congratulations to all our students and especially to our prize winners and our School Leaders for 2023.
MATHS WHIZZ WINNERS
Congratulations to Nilakshi – 1st place, Allan – 2nd place and Zafeer – 3rd place for showing the greatest improvement in Maths Whizz for 2022.  Maths Whizz is a grogramme that provides individualist online support for mathematics learning.  All of the einners are from room 16 – Mr Theunisen (pictured below).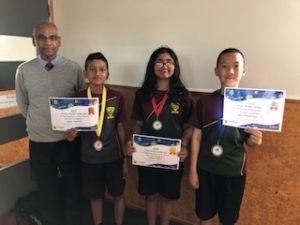 DUFFY SPECIAL AWARDS
Duffy books have been a huge help in enhancing literacy amongst our students,
We were also fortunate to receive 5 books for some special adults in our students' lives.  All the classes had to put in a little write up which went in a draw.  The students wrote as to why that person deserved to receive a book.
We were also able to give out books for the students to read with their special person.
Thanks to Duffy books for giving us this opportunity.
These are some fo the students who received a book for someone special.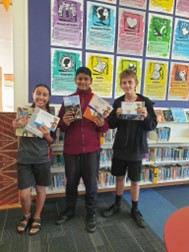 Aaliyah – Room 5 / Fauzan – Room 1 / Sam – Room 1
(Absent: Raya – Room 4 / Toa – Room 22)
SECOND HAND UNIFORM 
Thank you to all the Y8 students and whanau who have donated uniforms.  We will make sure these will be ready for redistribution at the start of 2023.
We wish all the Year 8 students all the best for 2023.. we encourage you all to set your sights on a high goal and to keep trying, no matter what the challenges, to achieve your dream.
YEAR 8 PAPATOETOE HIGH SCHOOL ORIENTATION DAY
On Wednseday 30th November a group of our year 8 students who are enrolled at Papatoetoe High School for 2023 went for an orientation visit and taster day.  Our students were able to get a taste of a variety of subjects, PE, Science, Digital, Art, Technology, Music, Social Sciences and Languages.  Below are a couple of reviews of their day:
——————————————————————————————————
Yesterday I was on a trip to Papatoetoe High School because that is the school I am going to on 1st February 2023.
I went to history class, make a statue of the sphinx out of legos.  It was so much fun.  I wanted to learn more about World War 2, the cold war and movies.
In language class I learned Japanese.  She wrote my name in Japanese, and the man taught French.  I would be interested in learning Japanese.
Music class I learn how to play the guitar.  I remember how to play Shake It Off by Taylor Swift.  I was on the guitar and they were on the drums and keyboards.  At the back was my teachers and Pap High Student Leaders and Pap Int students who were singing.
Hard materials class.  How to put a pink cloth on a robot.  I also saw wood and machines and a laser cutter.
The day was so much fun.  I saw my old friends from 2021 and I liked history.
Rayyan – Room 8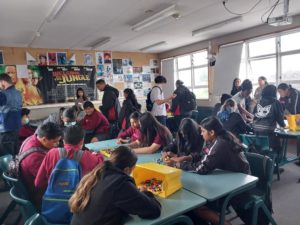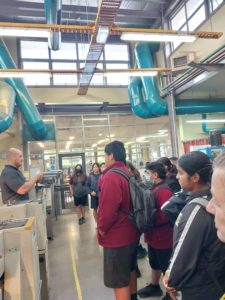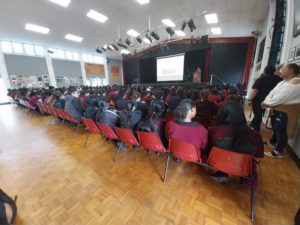 ———————————————————————————————————-
On Wednesday the 30th of November the Year 8's got the chance to experience life at high school for the first time.  Even though it was only a half day it was still a fun experience.  We got to experience different classes like Science, P.W, Art, Form class, etc.  We also sae a lot of our old friends that are in Year 9 now.  During high school break we got to have a tour around the school and see where the other students work and where you could play, like the basketball court, rugby field, soccer field etc.  We are looking forward to 2023 to start and Papatoetoe High School.
Eva and Serenity – Room 16
——————————————————————————————————-
I had fun just going for a tour around the school and different classes and the awesome teachers we went to see their classes.  There were a lot of classes all over the place but I know I will get it next year.  The school is so huge and spread out but its so clean and amazing people and cultures.
Going to pap high was a very cool experience for me.
I got to see all around the school and now I am more confident with where to go when I transfer to that school.  All the student leaders are so nice and are polite when we are not fully sure of what to do.
Compiled from various Year 8 – Room 7 students
———————————————————————————————————
On Wednesday the 30th of November. Students who were enrolled to attend Pap high had an option to come to an orientation day at Papatoetoe High School. I obviously raised my hand for this opportunity, because I would need to know where to go next year (2023). So here me and my friends were, in the library ready to head to Pap high. Was I nervous? Of course not!
We headed off to the bus stop after the teachers marked us off the roll in the library. I was so hyped that I couldn't contain my excitement. It took a while but soon the bus came to pick up the students. I went with room 8, 9 and 10. The bus drive wasn't very long because Pap high was a very short distance from Pap Int. When we made it to our destination, we were immediately told to sit down in the hall. Their hall was very small compared to ours, but tidy and neat.
The first Tech we headed to was music. Personally, I enjoy music because I play the cello and am involved in the tironui trust. We were told to play an instrument to the song, Shake it off by Taylor Swift. I played the piano. I found it tricky at first, but as I was playing I got used to the notes, and it became very easy for me to play the piano. The second Tech we did was social science. If you ask me I think I would do social science in 2023. For Social Science we had to come up with a word that relates to the phrase: "Our World". My word was Humanity. We had to turn the word we chose into a sentence. After that we brought all the sentences together and made up four poems with tho. After the periods were done we had our morning tea. The morning tea was very short. We had a mini tour around the school with our mentor, Andy. When morning tea was over it was time to head to Andy's form class. His form class was very funny and bright. I definitely want to be in that class again.
When the time came by, it was time to head to the third Tech, Language. In language we learnt how to write our name in Japanese. The teacher was so sweet. For the fourth Tech we went to hard materials. Hard materials smelt like fresh chipped wood. The teacher just introduced us to stuff we shouldn't be around and stuff that we can use regularly. After that we did textiles. Textiles were so colourful and bright. I REALLY want to do textiles more than anything. We didn't have much time to do anything except just get the concept of how everything works.For the final Tech, I'd say we had 10 minutes or less, we had Digital art. Digital art is like 3D printing. The teacher just showed us how everything works around digital art. I found it very confusing and brain hurting to look at.
When the orientation came to an end, it was time to head back to Pap Int. I found the orientation very helpful because it would help me find where I need to go when I attend Pap high. I definitely can't wait to go to that school again, but I will really miss Papatoetoe Intermediate.
Aaliyah – Room 5

We wish all of our year 8 students leaving us at the end of this year all the best for the next educational chapter in their life and will miss seeing their smiling faces around the school.
SCHOOL HOLIDAY ACTIVITIES
Papatoetoe War Memorial Library will be running school holiday activities from the 19th of December 2022 to 22nd January 2023.

These activities can be entered into the Beanstack record online or in the Te Ara Poutama Level Up Beanstack booklet (for children without digital access).
Great prizes for children to WIN, proudly sponsored by Duffy Books in homes, Auckland Zoo, PB Tech, Weta workshop.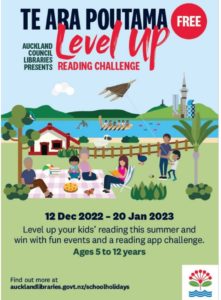 THANK YOU TO ROOM 10 for their article for this Newsletter
Education for Sustainability Zoo Trip
On Monday 28th November, a group of Room 10 students were fortunate enough to visit the Auckland Zoo as part of our Education For Sustainability programme.  Out students were given a tour around the zoo, with a special focus on water conservation and sustainability.  It was facinating to see how the water from nearby Western Springs is recycled and used at the zoo.  We also had the opportunity to explore the zoo and witness the many beautiful and exotic animals.  It was a memorable day and everyone who attended commented on how much they enjoyed the experience.  We would like to thank the people at Tread Lightly and Stormwater Sleuths for inviting us to be a part of this unique experience.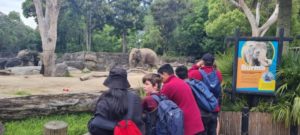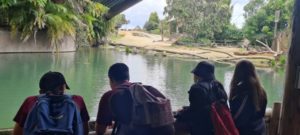 HAVE A SAFE AND ENJOYABLE HOLIDAYS!!