NEWSLETTER No. 20 December 2021
What's on in Term 4 ……..- 
Friday 17th December
School closes at 1pm
What's on in 2022….
Monday 24th January
Office opens
Monday 31st January
Auckland Anniversary Day – Office Closed
Wednesday 2nd February
Year 8 students return
Thursday 3rd February
Year 7 and new Year 8 students start
Monday 7th February
Waitangi Day Holiday
MESSAGE FROM OUR PRINCIPAL
The 2021 year has been one of surprises, challenges and triumphs.  When we consider the learning it has been about confirming values, building resilience and working together.
Working together with families has been the theme.  Staff, teacher aides and administration staff made sure we continued to connect with students and their families on a regular basis during lockdown.  We continued to provide learning, ensured access to devices and hard copy learning packs and worked to support with food and resources to those whanau needing additional support.  Having expected an interruption to achievement and progress we are please to announce that most students have continued to make excellent progress; especially those in Year 8.
Students and teachers have had to learn to work together online and over 2021 teachers have been participating in professional development to ensure they have strategies and skills to do this.  Our school is well set up, thanks to the Boards determination, with devices available for every student and increasing filming and recording facilities in classes.  We have monitored student wellbeing with SKODEL, an online survey tool and ensured all students have free access to MathsWhizz and a number of other online learning tools.
We have been humbled by the generosity of our community who have provided support.  A range of community groups have provided food, wifi, sports equipment, funds to support and improve opportunities for our children during a challenging time.  Despite the challenges we have witnessed determination of staff and students and the willingness to 'engage' from whanau.
As our Year 8 students leave our school and go to secondary school we are assured that they, and their families, are well aware of what they know and how the learn best.  This group of students, because of the lockdowns, are ready to 'succeed' and they know that it is their choice to be successful.
We wish you a peaceful, relaxing, and safe, holiday break.  We hope you enjoy summer and that out current Year 7 students return 'ready' – to lead, to help, to be kind, to show us again the best things about our students and community.
Mirri Kirihimete
Pauline Cornwell, Principal – and all our staff members
MESSAGE FROM OUR BOARD CHAIR
This year, the Board of Trustees at Papatoetoe Intermediate has been working closely with the Principal and leadership team to ease us through the difficult times we've all been facing.  I'd like to thank students that have been putting in their best efforts to keep up with their learning during the interruptions this year.  They have been supported by their teachers, and other support staff who have been working behind the scenes to prepare school work hard copy packs and devices for students to use.  We must not forget that pressure has been on the families and guardians to support their children's learning while juggling working from home, and the rest of their family, so thank you for that extra work and perseverance.  Teachers have had to become even more proficient in digital teaching as well as learning a number of new techniques themselves, and been spending a lot of time modifying their teaching styles, coursework, and resources so that they can be used in an online format.
It is important to us in the school Board to keep our students lives as normal as possible, and to provide routine and stability.  This will help keep down stress levels, and help students to achieve their best, making most of each new situation.  We look forward to being able to come back with school running as normal, but there are a few more hurdles to get past first.  Won't it be great when sport, clubs and social aspects of school can continue as normal?  I look forward to attending more events, celebrations and performances, hopefully in the near future.
Jeremy Nicholls
BOT Chair
SUPREME PRIZE WINNERS
2021
Ceremony was Wednesday 15th December 2021

 HEMANT KUMAR Memorial Award
Ngoc Tram Nhu – Room 15
Awarded to the student who has made the most continuous progress in all three core curriculum areas. [Reading, writing and maths]
 ANNA FERREGEL Memorial Award
Kayde – Room 16
Awarded to a student who has overcome their challenges to bring pleasure to others through kindness and hard work.
 Public Speaking
Amy – Room 16
2021 winner of School Speech Competition
 Outstanding Service to the School
Brian – Room 3
Selena – Room 16
Awarded to students who embody the concepts of a 'connected community of learners'.  They are involved not to lead, or for reward but to service.
Mainfreight Duffy Award for Excellence
Emmanuel – Room 16
Awarded to the student who has shown all round excellence during their time at Papatoetoe Intermediate School, in both academic improvement and displays all the school values.
Te Reo Maori
Jiraiya – Room 5
This student has demonstrated outstanding commitment to the use of Te Reo Maori
Kapahaka Leaders
Arthur – Room 10
Renata – Room 3
These students are humble, conscientious and motivated leaders. They display the attributes that will enable them to be successful and demonstrate pride in their culture.
Cultural Leaders
Olianne – Room 1  [Tongan Cultural Group]
Vincent – Room 13  [Samoan Cultural Group]
These students are both passionate and knowledgeable about their culture. They exemplify the very best of their cultural legacy inherited from their ancestors.                  
Arts
Year 7                 Vaa – Room 13
Year 8                 Ófeina – Room 18
These students demonstrate outstanding skills across the Arts – Music, Visual Arts and Performing Arts.
Technology       
Year 7                 Zaibunissa – Room 24
Year 8                 Emmanuel – Room 16
This prestigious award is awarded to the students who demonstrate the qualities, knowledge and skills defined with the NZ Curriculum for Hard Materials, Food Technology and Soft materials.
 Tironui Scholarships
Year 8                 Ella – Room 41
This is awarded by the Tironui Trust. This student shows dedication towards their music since year 5 and their playing reflects it
 Sports
Year 7                 Teei – Room 25
Year 8                 Helaina – Room 2
These students are our best all round sportspeople.
Academic – DUX
Year 7                 Sienna – Room 1
Year 8                 Richard – Room 4
Awarded to our top students for displaying outstanding academic excellence in a range of subjects – maths, reading, writing, science, specialist and social science.  

Thank you to our SCHOOL LEADERS 2021
HOUSE GROUP LEADERS                                         
KANUKA
Lauren – Room 7
Sabastian – Room 13
NIKAU
Raina – Room 12
Alex – Room 25
TOTARA
Ófeina – Room 18
Ali – Room 5
KAHIKATEA
Selena – Room 16
Brian – Room 3
HEAD GIRL         Analagi – Room 10
HEAD BOY          Uzair – Room 9
SCHOOL LEADERS for 2022
KANUKA
Vansh – Room 20
Szativah – Room 1
NIKAU
Teei – Room 25
Vipra – Room 17
TOTARA
Zaafira – Room 5
Brayden – Room 24
KAHIKATEA
Mahir – Room 25
Zurvahny – Room 20
HEAD GIRL                       Sienna – Room 1
HEAD BOY                        George – Room 19
Congratulations to all our students and especially to our prize winners and our School Leaders for 2022.
Staff Leaving at the End of 2021
Julie GILL
Lewis THOROGOOD
Todd FEHOKO
Chris LATHAM
Jovan BAKER
Huiarangi HONANA
We thank all our staff members leaving at the end of 2021 for all their efforts on behalf of our students and dedication to this community.
Thank you to Room 17 for this Newsletter article
It's the last week of Term 4 and the end of the 2021 school year!
What a different and difficult year for some of us.  We started school and it was going well.  Coming to school, learning together, being with friends, EOTC, camps, playing and enjoying.  Then came the lockdown…..
We had to stay at home for so long.  We did out online learning but missed having fun with out friends.  We missed a lot!
For the last few weeks we came in Term 4, it was still not the same.  Lots of our mates were still at home.  But we liked being in school: we played games, learnt some Maths skills, and did TECH arts.
Beginning of the year was fun when we went to Bombay Hills and planted some trees.  This was part of our 'Trees for Survival' project.  So to prepare for next year, we just potted about 600 little seedlings of native trees.  We hope next year Room 17 gets another trip to go to do the planting.
Have a safe and wonderful holiday.
Merry Christmas and a Happy New Year to all!
(From the few in school!)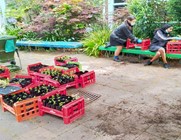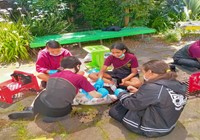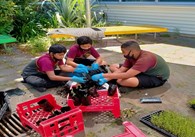 Everyone aged 12 years and over can now be vaccinated
Everyone in Aoteraroa New Zealand aged 12 years and over can now book their free COVID-19 vaccination.
The Ministry of Health advises that two doses of the Pfizer vaccine are necessary to protect each other, our whānau and our community against the Delta variant of the virus.
Reservations can be made through bookmyvaccine.nz – when booking appointments remember to stay local and book as close to home as possible.
If you have questions or need help booking, call the COVID Vaccination Healthline 0800 28 29 26.
You may be able to book directly at your local general practice, community pharmacy or hauora provider. For more information visit Healthpoint or Karawhiua.
If your child has received 2 doses of the Vaccination please email our school at vaccination@papint.school.nz  advising us of this and also include in your email either a scanned copy or photo of their COVID Vaccination record  card showing the dates the vaccinations were given.
Keep children and whanau safe by making sure that everyone who can get a vaccine, does.
School Based Immunisation Programme Update
Lockdown restrictions have, unfortunately, interrupted this year's school-based Boostrix and HPV immunisation programmes in Auckland.
It is important to keep all children vaccinated so that they are protected against tetanus, diphtheria, pertussis (whooping cough) and Human Papilloma Virus.
Families are encouraged to have their child vaccinated through their GP/Primary Care Provider free of charge.
* Note: GP practices have COVID-19 infection prevention control measures in place.  Talk to your GP at the time of booking if you have any concerns.
Dive Into Summer Reading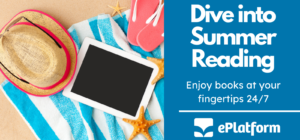 Summer reading is an important, enjoyable activity that students can do during the holidays to help avoid the 'Summer Slide' in reading achievements gained during the school year.
"Studies have shown that children who read for pleasure from a young age are much more likely to do well throughout their academic life."
Students have access to borrow books 24/7.  Your digital library never closes.
View the collection here – https://papatoetoeint.wheelers.co/account/logon?
PAPATOETOE INTERMEDIATE ENROLMENTS FOR 2022 – IN ZONE and OUT OF ZONE
Thank you to all whanau who have enrolled their children for Year 7 in 2022.  If you have not yet done that and you live in our school zone, enrolments can be completed online or dropped to the school.  To arrange and enrolment please call our school office.
Applications for in zone enrolments are still open. Out of zone applications have closed and all families have been notified.
Application Packs for in zone students are available on our School Website https://papint.school.nz  or from the Papatoetoe Intermediate School Office.
Current Year 7 students ARE NOT required to re-enrol for their Year 8 year in 2022.
HIGH SCHOOL/COLLEGE ENROLMENTS
Secondary School Enrolments for 2022 
Each Secondary School is continuing to have their own messages regarding enrolments during lockdown.
We strongly recommend that you make contact with the Secondary School you are wishing to enrol your child in for 2022 via their website and contact email address if you have any queries regarding enrolments.
Queries regarding:
–   Papatoetoe High School: please contact office@papatoetoehigh.school.nz  
–   Otahuhu College – please contact MVaaelua@otahuhucollege.school.nz
Papatoetoe High School
You are able to pick up and drop off in-zone enrolment forms from the school office – 9am to 3pm. Remember that originals of most documents can be photocopied and verified at the school office.
Out-of-zone enrolment applications closed on Wednesday 20 October 2021.
Please email for any queries re enrolment: office@papatoetoehigh.school.nz
From Ōtāhuhu College:
We hope this message finds you and your whanau safe and well. I would like to acknowledge the difficult time our communities are living through and how strong and resilient we have remained. Please take care out there.
If you would like to enrol your child with Ōtāhuhu College for 2022 please access our Ōtāhuhu College website. Click on the ENROL tab and follow the instructions.
Please enrol online or you can make an appointment to meet with me this term. If you would like any further information please contact me by email: mvaaelua@otahuhucollege.school.nz or text your name, the word enrolment and your mobile number to 021 0827 0931.
Kia noho haumaru, stay safe
De La Salle College
Please go to our College website to download and print an enrolment pack or come into our College Office to pick one up in Level 2.
Website Link: https://www.delasalle.school.nz/enrolment-form/
Any further queries please email: enrolments@delasalle.school.nz    or call our Enrolment Officer on 276 4319 ext 816 during term time 8am-4pm
Enrolments will close on the 26th November 2021.
Good, low cost computers
From Conbrio Technology Group – committed supporters of Papatoetoe Schools
10B Earl Richardson Ave, Wiri, Manukau 2104, New Zealand
14″ HP Chromebook *Cosmetic Marks* Celeron Quad-Core N2940 1.83GHZ Processor /4GB RAM / 16GB eMMC Storage / Google Chrome OS / White $210 +GST each
HP 11 G5 EE Chromebook *Cosmetic Marks* 11.6" Screen, Celeron N3060, 4GB, 16GB, Chrome OS / Black $190+GST each
HAVE A SAFE AND ENJOYABLE HOLIDAY BREAK!