PAPATOETOE INTERMEDIATE SCHOOL NEWSLETTER
No. 3 – 9th March 2023
OUR NEWSLETTER DATED 23RD FEBRUARY 2023 DID NOT EMAIL OUT DUE TO A SYSTEM ERROR – PLEASE CLICK THE LINK BELOW TO CATCH UP ON ALL THE IMPORTANT INFORMATION INCLUDED IN THAT NEWSLETTER.
https://papint.school.nz/newsletter-no-2-23rd-february-2023/
(If you are having trouble opening the link, please copy and paste it into a new browser or it can be viewed via the homepage on our school website)
Important Term 1 dates
Thursday 9th March
South/West Zone girls Softball – Saving Day
Tuesday 14th March
Interzone Boys Softball
Wednesday 15th March
Interzone Girls Softball
Thursday 16th March
Strike Day – Parents are encouraged to keep students at home!
Friday 17th March
Year 7 Marae Trip – This is the new date due to the teachers strike on the 16th March
Wednesday 22nd March
Interzone Girls and Boys Swimming
Start of Ramadan
Wednesday 23rd March
Student Leaders to Williams Buck in the City
Friday 24th February
Exhibitions of Learning
Monday 27th March – Thursday 30th March
EOTC Week – cost $20 per student.  Permission required.
Tuesday 28th March
South/West Zone Boys and Girls Tag
Thursday 30th March
South/West Zone Boys and Girls Tag – Saving Day
Sunday 2nd April
Daylight saving finished – turn your clocks back one hour
Tuesday 4th April
Year 8 HPV Vaccinations
Interzone Boys and Girls Tag
Wednesday 5th April
Class Photos – Photolife
Thursday 6th April
Final Day of Term 1
Monday 24th April
Teacher Only Day – School Closed for teacher professional development
Tuesday 25th April
ANZAC Day – School Closed
Wednesday 26th April
First Day of Term 2
Thursday 27th April
South/West and Counties Zone Orienteering
GENEROUS DONATION FROM THE WAREHOUSE
Students are now able to enjoy our recently refurbished counselling space thanks to donations from the Warehouse Manukau.  Former student Benaiah Tuigamala, now a manager at the Warehouse kindly donated to our school counselling space a new sofa, some beanbags, a rug, a side table, a throw, some cushions, a diffuser and a globe.  The space is now a comfortable and relaxing place for students to use and we are very grateful for the Warehouse for their generosity.
Sian Strachan – Counsellor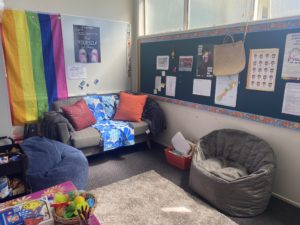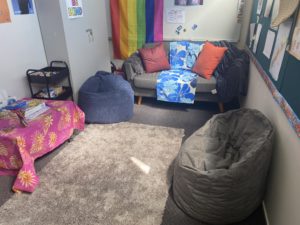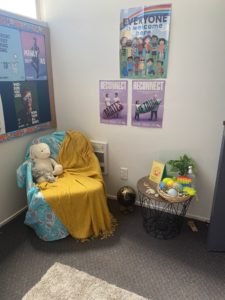 BREAKFAST CLUB
Nau mai, haere mai, time for kai!
We now have our supplies ready to enjoy for our school breakfast club.  We have Weetabix (how many can you do?) and milk, bread for toast with spreads, which you can wash down with a Milo, and of course there's plenty of fruit too.
There is NO cost.
It is open EVERY school morning.
You do NOT have to sign up or register or come regularly.
You CAN meet friends, bring a group (ask your teacher to email a group booking for groups over 10)
It opens at 8am and after dishes are done and benches clean for Mrs Prasad in her food tech room we close at 8:30am.
If you want a fancy feast, booking and planning are up to you, email nawintap@papint.school.nz
So…. If you hungry bunnies were hustled to school and want a top up to be ready for the day, I'll see you there, cheerio.
Parent help welcomed!
Mrs Nicholls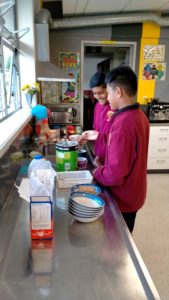 GRIP LEADERSHIP
On Wednesday 1st of March the Student Leaders were fortunate enough to attend the GRIP Leadership conference.  Many other schools from different areas also came.
At the conference they talked about the qualities and aspects of a good leader.  We participated in activities where we interacted with other students from different schools.  We also had other activities where some students stood up on stage and took part in games, quizzes and presentations which could earn them special badges.  We also had opportunities to purchase special leadership badges.
This GRIP leadership conference taught us more ways we can be better leaders with a focus on how to support all other students, and the importance of our roles as we are looked up to so we have to be the best version of ourselves to positively influence others.  We learnt about what service to others looks like and how we can do this as leaders, we also investigated the ideas around the '4 H's', Help with the little things, Humility, Hear others opinions and Happiness and the '3 L's': Look up to you, Left out by Others and Like-Minded.  As leaders we discovered that these things are vital to create a positive and support school, and how it makes our jobs as a leader more impactful.  We now look forward to using these concepts to grow our skills for leadership.
Written by Ilhaan and Tevita – School Leaders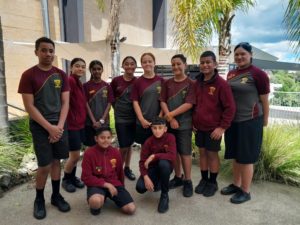 SWIMMING CARNIVAL 2023
On Friday 3rd March we had our Swimming Carnival at the Papatoetoe Centennial Pools.  It was great to be back after missing the last 2 years because of Covid!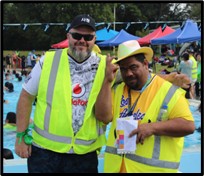 During the Swimming Carnival we had some competitive swimming races such as freestyle, backstroke and breaststroke.  Then we got to show our House pride with the first whole House activity of the day, a chant challenge to see which house was the loudest, of which for Round1 went to Kanuka.
After that we all got to enjoy a swim in the clear blue pool which was very cold but soothing.
Next was the cha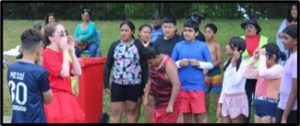 nce for some non-competitive activities, which included dolphin diving, and how long you can swim with one breath.  Everyone who participated got points for their house, it was awesome to see so many people represent their House in these events.  We again had another house chant challenge which Kanuka won again, they are a noisy bunch!
After another swim we had a lunch break, a good opportunity to rest our body in preparation to endure more energy for the fun to come.
We then got to cheer on our House representatives in their competitive race finals, it was great to support our friends and House swimmers.
After a final swim we then organised which house would start changing first so it wasn't too messy, there were lots of people to get sorted out!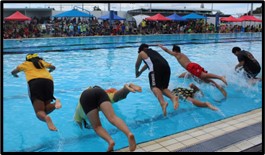 We had an amazing day and it was fantastic to spend time with our House groups, supporting all the competitors and getting involved in the activities.
Now we wait for the next assembly to find out who won the Swimming Carnival Shield!
Report by House Leaders: Penelope & Jethro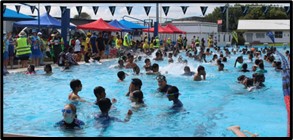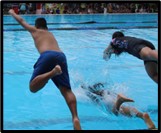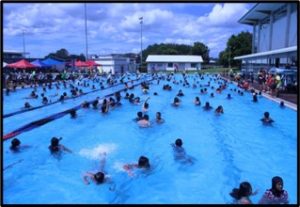 DENTAL VISITS
Each year the mobile dental van visits our school to see our students, this is usually in term 3 but dates will be confirmed and published closer to the time.
If you would like for your child to be seen by the dental clinic when the van is not at our school, an appointment can be made for your child at:
Puhinui Child and Adolescent Community Dental Clinic,
2C Grayson Avenue,
Papatoetoe
ph: 09 278 1975
The clinic is open Monday to Friday and now Saturdays 8am – 4:30pm.
THANK YOU TO ROOM 15 and Room 16 for their article for this Newsletter
At Papatoetoe Intermediate we had our first house competition event for 2023 on Friday 3rd March.
We went to Papatoetoe Centennial Pools for the day where we had the opportunity to swim and compete for our house and year levels, participate in house chant competitions and times where stdents could free-swim in the pool.  Everyone had an awesome time, the weather was hot and everyone was engaged and ready to have a good time.  It was one of our best swimming carnivals yet, especially after not having a house event like that for a few years, everyone jumped right back into it which was great to see.
Caregivers and parents were able to watch from the bank.  The house teachers had some tunes going the whole time and everyone was having a good sing-along and dance as well.
Below are some pictures of students from Room 15 and 16 having a blast.