PAPATOETOE INTERMEDIATE SCHOOL NEWSLETTER
No. 5 – 31st March 2022
Our main focus is to keep all children safe and happy at school. Please contact us immediately if you have any concerns.
Term One – important dates
Wednesday 6th April
School Leaders out today – in the City
Thursday 14th April
Final day of Term 1 – school closes at 3.00 p.m.
NO Study Centre today
School Holidays
Friday 16th April  to Friday 29th April
Important Term 2 dates
Monday 2nd  May
First day of Term 2
9th – 13th May
Road Safety Week
Tuesday 10th May
Class and Team photos – Photolife in school
Monday 23rd May to the 1st July
Life Education Caravan in school
Monday 30th May
6.00 p.m. Board of Trustees Meeting in the Principal's Office
Monday 6th June
School closed – Queens Birthday observed
Thursday 9th June and Monday 13th June
Tree Planting in the school
Thursday 23rd June
Student leaders out all day
Monday 27th June
6.00 p.m. Board of Trustees Meeting in the Principal's Office
June – mixed days
Everyday Theatre in the school
Tuesday 5th, Wednesday 6th and Thursday 7th July
School closes at 2.00 p.m. – 3 Way Conferences [more information will be circulated closer to the time]
Wednesday 6th July and Thursday 7th July
Wearable Arts show – 6.00 – 7.00 p.m.
Friday 8th July
End of Term 2
Monday 24th July
Term 3 starts
PRINCIPAL'S MESSAGE
Greetings to whanau and our school community – it is great to be in Aotearoa and back at work after such a long and somewhat unexpected time away. I take this opportunity to thank and acknowledge Donna Young, Deputy Principal and the wider school Leadership Team for the fabulous way they led our school over the past two months. It is reassuring to know that our school is always in safe hands.
Welcome to 
Celeste Williams – new Teacher Aide
Lee-Ann Keates – Financial Manager
Please see the staff contact lists for 2022 at the end of this Newsletter.
BOARD OF TRUSTEES ELECTIONS
Board Elections are in September 2022, for a three year term. Please consider if you have the talents, experience and commitment which would contribute to the governance of Papatoetoe Intermediate School. Board members have a significant and very important role, including employment of staff, property and finance, health and safety, strategic direction, accountability and representation.
If you are interested in finding out more about being a Board member please contact our Board Secretary – Barbara Ferregel (barbaraf@papint.school.nz) or one of our Board members who will be happy to answer questions. Information about our Board can be found on our school website.
Interested community members are welcome at meetings. If you would like to know about attending meetings also contact the Board Secretary.
Keeping your child safe: our gates do not open until 8.00am. Do not leave your child waiting outside the gates in the dark, especially as the weather becomes colder and wetter. Please also make sure they have a good coat, shoes and an umbrella if necessary.  If your child arrives to class wet, we will call you and ask you to pick them up from school so you can give them a change of clothes. I am sure you will all agree this is a health and safety concern. 
All students should now be attending school. All Parents and Caregivers have a legal responsibility to ensure their child attends school. Schools are required, by law, to monitor and ensure students are attending school.
If your child has frequent absences our school will be monitoring and calling families. 

If your child is away sick for more than five days you are required to provide a medical certificate.  

We will accept absences due to COVID; we will track absences attributed to COVID if students are isolating due to being a household contact or if they have been infected. We will track notifications.

All students will be required to return to school and attend regularly.

Each Teacher's primary focus is for the children at school in classes. 
Visitors are now able to return to schools: please sign in at the office if you need to come into the school grounds. 
Parents and Caregivers may now make appointments to meet with staff members face to face. 

Please provide proof of your vaccination certificate when you sign in

Visitors will be required to wear masks while they are on our school premises

Masks and sanitiser are available 
THANK YOU TO ROOM 15 and 17 for their articles for Newsletter No. 5
Room15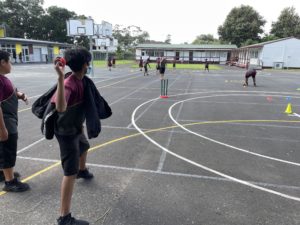 This term in New Zealand, the Women's Cricket World Cup is in full swing.
Because New Zealand is hosting such a big tournament, in times when many tournaments have been postponed, or cancelled, we have decided to celebrate the tournament in class.
Every morning we discuss the results from the day. For Physical Education we have focused on learning skills connected with the wonderful game of cricket.
In weeks 3 & 4 we learnt how to throw a ball. 5 & 6 how to catch a ball. 7 & 8 how to use a cricket bat and then in weeks 9, 10 and 11 we put these skills to practice playing small team games like Diamond Cricket and French Cricket.
It's been great to follow the tournament and hopefully there will be more events and tournaments to celebrate throughout the year.
Room17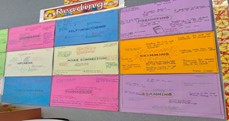 Room 17 is looking forward to a great year!
We were very excited to meet the new Year 7s for the first time. However, just as we started some of us had to be isolated because of Covid. Almost all of us are back in class now and are doing some great learning. We are also enjoying our Tech classes and going to the Library.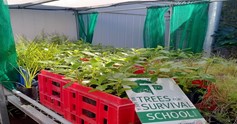 Preparing and presenting the Week 8 online assembly has been the highlight for us so far and we hope you all liked it. We are doing well looking after the little plants that are growing in our shade house. This is part of Room 17 'Trees for Survival' project. We look forward to a trip in June to plant these.
We are also super excited and looking forward to camp this year.  
Keep being safe, especially near the red tape surrounding the field. We all want to keep safe and be patient for our new bike track to be built. A special thanks to the lunch ladies for preparing our delicious free lunches. Have a great rest of the term everyone!
OUR STAFF 2022