PAPATOETOE INTERMEDIATE SCHOOL NEWSLETTER
No. 5 – 6th April 2023
Important Term 2 dates
Thursday 6th April
Mufti Day – Gold coin donation towards RSA – ANZAC Day Observed
Final Day of Term 1
Monday 24th April
Teacher Only Day – School Closed for teacher professional development
Tuesday 25th April
ANZAC Day – School Closed
Wednesday 26th April
First Day of Term 2
Thursday 27th April
South/West and Counties Zone Orienteering
Sunday 7th May – Saturday 13th May
Rotuman Language Week
Monday 8th May – Sunday 14th May
New Zealand Sign Language Week
Monday 15th May – Friday 23rd June
Life Education Van in school
Tuesday 16th May
South/West Zone Girls Football
Wednesday 17th May
Fo Guang Shan Buddhist Temple Visit for Year 8 students – More information to come
Thursday 18th May
South/West Zone Girls Football – Saving Day
Student Leaders to William Buck in the City
PRINCIPALS MESSAGE
Papatoetoe Intermediate School has the following:
Motto: Whaka pokai o Tara – Lead, as Tara led.
Mission: Creating and Pursuing Opportunity
Vision: Capable Staff; Empowering Students
Our Goals are: Improving outcomes for every student.
We invite you to help us create opportunities and if you have a talent or skill that our students could need please contact us and together we can make our community even better.
Safety to and from school: We have had a parent suggest we start a system to walk our students to and from school safely.  If you are interested in being part of a walking safety team please email the principal on paulinec@papint.school.nz.  We are trying to organise an involved group of caregivers.
EOTC WEEK
SYNDICATE TUPU-A-RANGI
EOTC gives us an opportunity to develop initiative, resourcefulness and a better self-awareness.  Furthermore, it stimulates an appreciation of the environment, provides an opportunity to engage, broaden horizons and build deeper relationships between teachers and ākonga.  EOTC is a perfect way to develop students' 21st century skills, such as confidence, leadership, resilience, self awareness, empathy and self esteem.
Day 1 – School Sports Activities
On Day 1 – my class was doing school sports, the sports we did were indoor games, league, AFL, Bikes, Hungerball, badminton.  We had coaches for most of the activities but some were just our school teachers like for bikes and indoor games.
The activities we did at school helped me learn a bit more about various sports.
My favourite activity was badminton because I like to plat it.  I'm pretty good at it.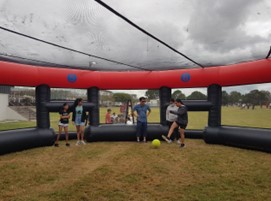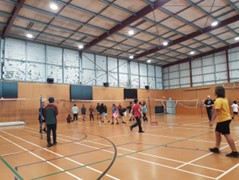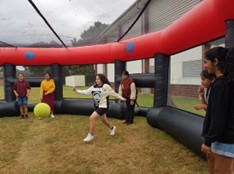 Day 2 – Volcanic Adventure / Coast to Coast walk
On Day 2 – my class was doing Volcanic Adventure / Coast to Coast walk.  Our bus dropped us off at the Auckland Domain / Museum, then we walked all the way to Mt Eden as well as walking up and down it.  After getting to the bottom we walked to one tree hill and around the bottom of it.  Then we settled down and had some food while waiting for the bus.
The volcanic walk made my legs hurt so bad as well as my shoulders from carrying my bag the whole time but after completing the walk I thought to myself it was so worth it.
My favourite part was walking up Mt Eden and seeing the view because it was a fabulous view but it was a hard walk.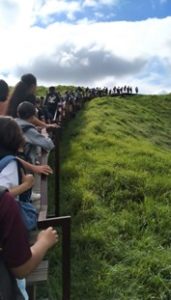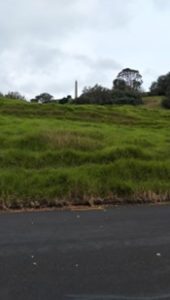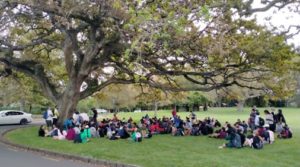 Day 3 – Okahu Bay / Fergs Kayaks
On Day 3 – my class went to Okahu Bay.  It was really windy but it didn't matter because we were going kayaking.  The beach we went to there was a kayaking company called Fergs.  They were the people providing us with kayaks.  My group was going last on the kayaks so we went to the park across the road to wait.
After using the kayaks I could really say to myself that I can kayak and trust myself not to flip my kayak over and fall off.
My favourite part was taking the kayaks back to the shed where they belong because we got some extra time to go on them.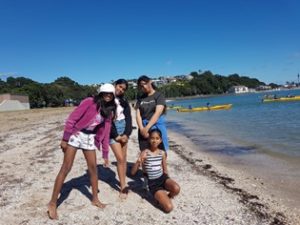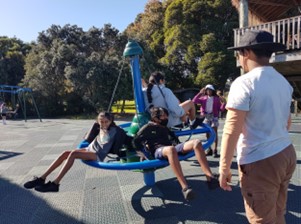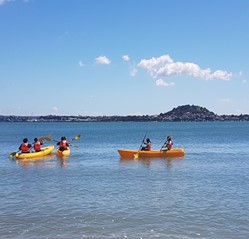 Day 4 – North Shore Mairangi & Murrys Bay
Day 4 – my class went to North Shore Mairangi & Murrys Bay.  It was a really good beach.  There were three parts to the beach.  There was the main part and 2 other parts that you can walk to.  There was this one part of the beach where I found a lot of sea glass.  I mostly found orange and brown glass.  It was so cool but you couldn't find more on the other parts.
My favourite part of the beach was looking for sea glass.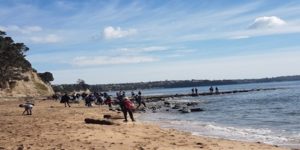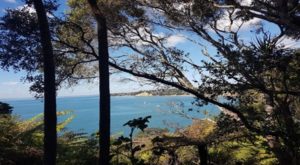 Throughout the week I had a ton of fun.  I learned a lot of things like how to kick a football, and how to kayak.
I hope I get a chance in the future to repeat all these activities and live this fun again.  I really appreciated the environment around us.
Twisha – Room 5
URU-RANGI – MARINE CONSERVATION AND BEACH EXPLORERS
It was the first day of EOTC week and I was very excited because we finally got to go on a field trip outside of the school.  Not just staying in school doing work and playing sports outside that made me feel grateful for an escape.
The bus arrived and everyone got on.  Some of the students went into the spare bus.  The bus felt shaky and scary because that was the first time I rode on a bus.  The traffic was heavy and after half an hour, we reached our destination,  the Murray's bay beach.  We gathered around a park for our breakfast and morning brief.
The first thing we did at the beach was a coastal walk where we examined some sea creatures such as snails, seaweed, crabs, starfish, oysters etc., in our groups.  We also recorded some data on the sheets provided to us.
After a quick five minute break, we moved on with our next activity, which was walking up the hill.  We headed up with our bags and drinks.  The teachers made sure that none of us were left behind.  Halfway up the hill, my knees started to hurt and we were all tired.  My friends motivated me to keep going and I kept moving forward.  Since we were super tired to climb all the way up and we didn't have enough time to do the third activity, the teachers asked us to return to the base so that we could go swimming.  That made me so happy.  We all needed that.
We had our lunch and we rushed to go swimming.  Everyone jumped into the water as if there was no tomorrow.  After like forty minutes or so, the teachers called us back to get changed and assemble at the park.  After taking our roll, we headed back to the bus.  The bus ride was bumpy, but I was grateful that me and my friends got to experience a great time and make new memories.  Among all the trips that I have ever been to, this trip was my favourite.
By Zoe – Room 20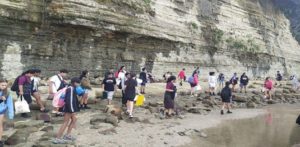 WAITI – AUCKLAND VOLCANIC ADVENTURE
We walked from Auckland War Memorial Museum to One Tree Hill in one day – what a great effort.
We all thought it would be really hard as it was a long way.  When we got half way it suddenly got easier and more enjoyable.  When we got to the end we felt really proud of ourselves.  We had all achieved such a big venture.
We got to see ducklings at the domain, cows at One Tree Hill, a great view of the city from Mt Eden.  All of the teachers were proud of us as we all kept to the time schedule and we looked after each other.
The weather was great, not too hot, not too cold.
Overall it was an enjoyable day.
Hadya and Nilofar – Room 2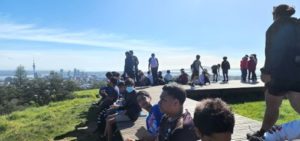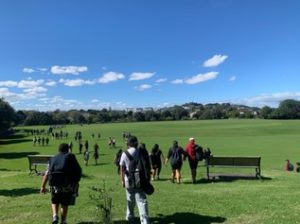 YEAR 7 MARAE EXPERIENCE
On Friday 31st March, Year 7's from Papatoetoe Intermediate went for a visit to Manurewa Marae.
When we arrived, we were welcomed onto the Marae with a powhiri.  After that we got split into two groups, one of them stayed inside the whare while the other group went to another room.
The group that stayed in the whare explored the tukutuku patterns and carvings around the inside walls.  There were lots of photos of important people on the walls too.  We were then introduced to a kite legend (Tamapahore and Tamapahure) about two brothers who created kites and one was jealous because his brother's kite flew higher.
Next we went outside and looked at all the beautiful carvings and were told what they represented.  We then went into the lunch room and had a tasty lunch of sandwiches and cookies.  While we were eating one of the Marae hosts told us about the natural area around the Marae, he spoke of the island, body of water and the birds.  He said that around 2000 birds arrive there around 2pm each day.
The trip was great, we learnt a lot about Māori culture and of the local history.  We would recommend it to all students at Papatoetoe Intermediate.
Written by Legacy, Christopher and Ranya – Room 10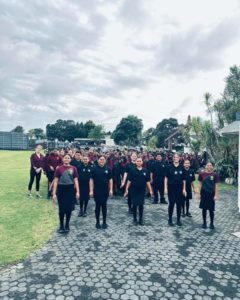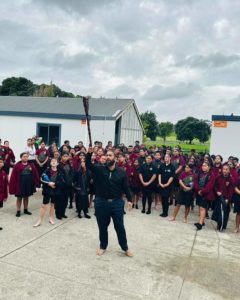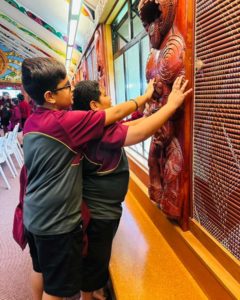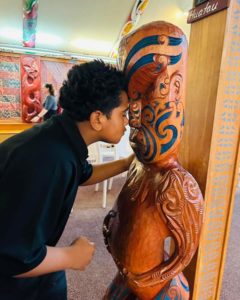 LIBRARY NEWS
As we are nearly into the holidays we encourage all students to continue with reading.  Wheelers online can be used at home.

http://papatoetoeint.wheelers.co/
Username – your email address
Password – Library1
Also Papatoetoe Library offers a holiday programme, below is what is offered on those days.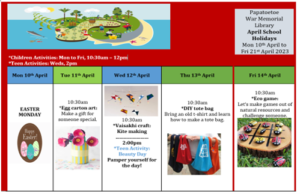 THANK YOU TO ROOM 18 for their article for this Newsletter
What an exciting few weeks it has been at Papatoetoe Intermediate and Room 18!
We have made progress in the classroom this term, working on our punctuation during writing lessons.  These reminders have really helped the children with their writing in general and their end of term EOTC reflections that you will see displayed on Educa.  In Mathematics the4 children have been working hard on their Maths Whizz progressions and working at their levels using the four operations in their workshops.
Our highlight this term has definitely been the recent EOTC week.  Thank you to everyone who helped make this week such a success.  The children are congratulated on their great attitudes and perseverance on some of the activities that were physically challenging.  It was really great seeing the students out of the classroom environment and working together and encouraging one another on certain activities.