Thursday 1st April
School closes at the usual time of 3.00 p.m.
There is NO Study Centre this afternoon
Thursday 1st April to Tuesday 6th April
Easter break – school is closed Friday, Monday and Tuesday
Sunday 4th April
Daylight Saving finishes today – put your clocks back one hour
Thursday 8th April
Boys Softball team out today
Friday 9th April
9.00 am. Whole School Assembly in the Gym – Room 2 hosting
Friday 9th April to Sunday 11th April
Kapa Haka sleepover – in school all weekend
Tuesday 13th April
Girls Softball Team out today
Friday 16th  April
9.00 a.m. Whole school Assembly on line – Room 12 hosting
Final day of Term 1 – school closes at 3.00 p.m.
School Holidays
Monday 19th April to Friday 30th  April
What's on early in Term 2 ……..
Monday 3rd May until Friday 9th July
Tuesday 11th May
Room 17 planting 'Trees for Survival' today
Friday 14th May
Kapa Haka Regional Competition at Kia Aroha
Blake NZ-VR in school today
Monday 24th May until the end of June
Life Education Caravan here
Thursday 27th May
Student Leaders out all day
Saturday 29th May
Kapa Haka fundraiser – Jack and Jill Family Portraits
Wednesday 2nd June
Afternoon – Otahuhu College Performance – whole school
Friday 4th June
Teacher Only Day – school is closed
Monday 7th June
Queens Birthday holiday – school is closed
Friday 25th June
11.00 a.m. Whole School at Duffy Theatre in the Gym
Tuesday 6th July, Wednesday 7th July and Thursday 8th July
School closes at 2.00 p.m. for Reporting to Parents – 3 Way Conferences
Friday 8th July
9.00 a.m. Whole School Assembly in the Gym [Live Talent Quest]
Last day of Term 2
Term 3 starts on Monday 26th July
KAPA HAKA
We have a great team of students in our Kapa Haka Group lead by Whaea Ihia and supported by Aunty Mere.
Our students will be performing at the Kapa Haka Regional Competition at Kia Aroha College on Friday 14th May. We would like to invite and encourage more students  to join this awesome group.
The Group trains every Wednesday and Thursday from 1.00 to 3.00 p.m. Leading up to the Regional Competition trainings will become more frequent and will also involve 'sleepover' weekends.
If you would like to join the Kapa Haka Group please come along to training on Wednesday next week at 1.00 p.m. in the 'old' Performing Arts Room, and speak with Whaea Ihia or Aunty Mere.
LUNCHES IN SCHOOLS
Free Lunches in Schools started at Papatoetoe Intermediate School on Monday 22nd March. We selected an external supplier Deejays to provide our lunches.
Deejays menu has very appealing choices that the children have been enjoying. The tasty menu means that nutritional components are being met and it's a positive step towards teaching children about healthy options and habits.  Having this new initiative gives children a sense of security, knowing that they will not go without.
Term one is the sandwich menu. Term 2 students will receive a hot meal Monday and Friday and from the sandwich menu on Tuesday, Wednesday and Thursday.
Free lunches has taken off to a wonderful start, and it's fantastic to see everyone eating, sharing and caring about each other.
CONGRATULATIONS

To Ofeina from Room 18. Ofeina is one of 40 girls selected from 29 schools to enter a comprehensive and structured music and choral training programme. Ofeina is a Chorister with the Auckland Girls Choir that will be featuring in Bach Musical NZ's concert at the Auckland Town Hall. 
We are pleased that Ofeina, with her families support, is able to seize this opportunity.
FAREWELLS and WELCOMES
We are sad to announce that Bronwyn Guy, the Executive Officer who has been with us for nearly 5 years is leaving us to join CES, a financial support company for schools. Our loss will be for the gain of many schools and we know that she will provide excellent support and financial guidance; as she has done at our school.
We have appointed a new Executive Officer, Ms Tess Carolissen, whose son previously attended our school. We know that you will all make her welcome.
PARKING
Thank you to all those whanau members who park away from the school gates to drop off and pick up their children.  A short walk helps children to practice good independence skills; such as avoiding unsafe play and sensible road crossing, before they go to college and a much larger environment.
EOTC WEEK
Monday 29th March to Thursday 1st April
Although the weather was not on our side our students and staff have had a great week in and out of the school. Education Outside of the Classroom [EOTC] is an important part of the NZ Curriculum and fosters a healthy lifestyle, safe adventuring, leadership and local community understandings. Students practice the best behaviours for various situations; whether they are at the Museum or kayaking or walking the local Historic Walks.
Well done to all the students, staff and whanau who made this all possible.
Thank you to Room 4  for this article in our Newsletter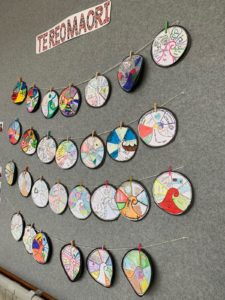 In Room 4, we have been learning a lot about the importance of knowing who we are, and knowing that we belong. We have learnt that Papatoetoe Intermediate is somewhere we can call 'Our Place' as we are the akonga that make this place what it is.

We have spent a lot of time building relationships with our new year 7 students and our new teacher. We try everyday to not just be a regular classroom but really represent a Room 4 whānau.

The piece of writing we are working on, focuses on informing someone about a person who is inspirational to us. The reason for this was so that we could reflect on what about that person inspires us and how we can use this information for our own lives, so we can motivate ourselves to become the best version of ourselves like our role models.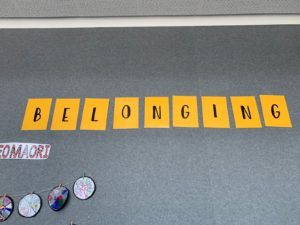 It is very important to know who we are as people practicing our own rangatiratanga, thinking about what we believe in, what are our values and who we are as individuals. We know that Papatoetoe Intermediate is 'Our Place' and we have a belonging here.

Everyday we learn new things about everyone in our class and are really excited to get to know each other more.