PAPATOETOE INTERMEDIATE SCHOOL NEWSLETTER
No. 6 – 14th April 2022
Our school gates do not open for students before 8.00 a.m. Please make sure your child arrives at school after 8.00 a.m. and not before.
Please make sure your child uses the crossings. Many have been running across roads and through traffic. No one wants their child to be hit by a car.
Please make sure your child has a black waterproof coat and black shoes and socks for the winter term. Our main focus is to keep all children safe and happy at school. Please contact us immediately if you have any concerns. 
Term One – important dates
School Holidays
Friday 16th April  to Friday 29th April
Important Term 2 dates
Monday 2nd  May
First day of Term 2
9th – 13th May
Road Safety Week
Tuesday 10th May
Class and Team photos – Photolife in school
Monday 23rd May to the 1st July
Life Education Caravan in school
Monday 30th May
6.00 p.m. Board of Trustees Meeting in the Principal's Office
Monday 6th June
School closed – Queens Birthday observed
Thursday 9th June and Monday 13th June
Tree Planting in the school
Thursday 23rd June
Student leaders out all day
Monday 27th June
6.00 p.m. Board of Trustees Meeting in the Principal's Office
June – mixed days
Everyday Theatre in the school
Tuesday 5th, Wednesday 6th and Thursday 7th July
School closes at 2.00 p.m. – 3 Way Conferences [more information will be circulated closer to the time]
Wednesday 6th July and Thursday 7th July
Wearable Arts show – 6.00 – 7.00 p.m.
Friday 8th July
End of Term 2
Monday 24th July
Term 3 starts
PRINCIPAL'S MESSAGE
We are promoting an 'Attitude of Gratitude' to help all our school members find and tell others about what they are thankful for. This ties in to our studies about other people in our community, along with study about current religious festivals and recent research as to what supports and 'grows' well being. 
Saying and hearing what we are grateful and thankful for builds well being. We encourage your family to practice and promote doing this together once every day – perhaps in the evening.
We are grateful to live in a free, democratic country. While we can always improve what happens here in Aotearoa we do celebrate our ancestors who 'fought' for what is good and right. We remember the sacrifices that people have made so that we can have a peaceful life and in remembering we consider what we should and can do to make the lives for those around us easier, more peaceful and more equitable. I hope you and your family are able to consider our ANZAC troops and what they hoped for as a result of their efforts.
The Government announced on Wednesday 13th April that the Country would move to 'orange' from 11.59 pm.
Our school has decided that students and staff will continue to wear masks until the end of this term, and we will make a decision over the Easter School Holiday break as to what mask wearing will look like in Term 2. An announcement will be made via our Website and School Links prior to school returning on Monday May 2nd 2022.
ANZAC
Our school library currently has a wonderful ANZAC display.
Thank you to all the students who have contributed to this.
BIKES IN SCHOOL PROGRAMME
Our bike track will be finished by the end of Term 1. Room 22 got to trial it on Tuesday 12th April – and what a fun time we had.
Trailpro started construction in week 8. When the bike track opens in Term 2, we will be allowed to use it. The Track has been  generously supported by Bikes in Schools NZ.  It has some bridges, a pump track and flat track that loops around the trees on the field. We will be allowed to use the bike track during break times from Term 2. Everyone is really looking forward to spending time on the Track.  
Our special  thanks to Ōtara-Papatoetoe Local Board, New Zealand Community Trust and New Zealand Lotteries Board and Bikes in Schools NZ  for funding us the money to pay for the bike track,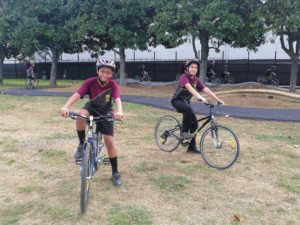 bikes, helmets and shipping container to store the bikes and helmets. 
By Vaishnavi,
Room 19
BOARD OF TRUSTEES ELECTIONS
Board Elections are in September 2022, for a three year term. Please consider if you have the talents, experience and commitment which would contribute to the governance of Papatoetoe Intermediate School. Board members have a significant and very important role, including employment of staff, property and finance, health and safety, strategic direction, accountability and representation.
If you are interested in finding out more about being a Board member please contact our Board Secretary – Barbara Ferregel (barbaraf@papint.school.nz) or one of our Board members who will be happy to answer questions. Information about our Board can be found on our school website.
Interested community members are welcome at meetings. If you would like to know about attending meetings also contact the Board Secretary.
All students should now be attending school. All Parents and Caregivers have a legal responsibility to ensure their child attends school. Schools are required, by law, to monitor and ensure students are attending school.
If your child has frequent absences our school will be monitoring and calling families. 

If your child is away sick for more than five days you are required to provide a medical certificate.  

We will accept absences due to COVID; we will track absences attributed to COVID if students are isolating due to being a household contact or if they have been infected. We will track notifications.

All students will be required to return to school and attend regularly.

Each Teacher's primary focus is for the children at school in classes. 
Visitors are now able to return to schools: please sign in at the office if you need to come into the school grounds. 
Parents and Caregivers may now make appointments to meet with staff members face to face. 

Please provide proof of your vaccination certificate when you sign in

Visitors will be required to wear masks while they are on our school premises

Masks and sanitiser are available 
SCHOOL BUS ROUTE CHANGES
We have been advised by Auckland Transport of changes in the school bus routes. They are to be renumbered.
The afternoon 028 service (Papatoetoe Intermediate To Wiri Depot Via Puhinui) will no longer operate. Students  travelling along Great South Road can use 464 or 461 instead.
All our school bus services are being renumbered and the routes are changing slightly. The route changes should not disadvantage students but they will need to learn their new route number
There are no changes to afternoon departure times. The first stop departure times for the morning trips are changing to reflect the changes to the routes but they will be arriving at the school at about the same time as they currently do.
All these changes will be on the AT Mobile app and online Journey Planner (AT.govt.nz/journey planner) from 2nd May  so students and parents can plan their trip using the revised routes.
Below is a link of the changes including the new route number and route description for our school's buses. the maps for each of these bus routes is attached.
Bus Routes 2022
MANAKIDZ
Last week students bought home a consent form from ManaKidz. ManaKidz provide health checks to help support your child's needs
These can include:
–  Performing ear assessments [checking for excess wax or hearing loss]
–  Testing vision when an issue is identified
–  If your child has a sore throat we can take a swab
–  If your child has a skin sore we can arrange treatment
–  Support with chronic conditions such as asthma, diabetes
–  General checks for students with learning or behavioral problems.
Please only complete the form and return it to Whaea Marie at Student Reception if you DO NOT want your child to participate in Health Checks at school.
THANK YOU TO ROOM 18 for their article for this  Newsletter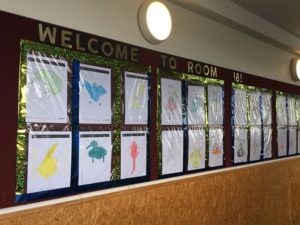 Highlights of Term 1:
This term, a lot of good things have happened but the main thing that went well was meeting the year 7s and getting to know them. We also got good news saying we were getting a bike track and it has now been finished successfully. 
Another highlight is Tech/ Arts because we learn different things every time we go there and it is fun being outside of class.
Sneak Peak into what we have been learning:
In Mathematics: we've been working on 2-D and 3-D shapes.
In Reading: we are using our prior knowledge and synthesising information, to gain a deeper understanding of a range of texts.
In Writing: at the moment we are working on our Informational Writing pieces about our house mascots. At the start of the term we learnt about the Writing Process and focused on Narrative Writing. 
In Tech and Arts classes, Room 18 students have been learning lots!
Room 18 students have enjoyed 2 tech/arts rotations this term. The year 7's had Food  with Mrs Prasad and Hard materials with Mr Singh. Year 8's have had Music with Mr Mckenzie and Visual Arts with Ms Hormann.
In Food Technology the year 7's made many delicious treats like Chocolate chip cookies, Afghan Biscuits, Chocolate chip muffins and bread baskets.
In Music the year 8's had 3 activities to complete: "The player" where they learnt how to play an instrument, Digital music where they made a song on different websites, and finally, students got to perform for the class to show their talent.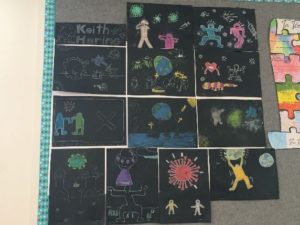 In year 7 Hard Materials they have made coasters for their drinks and some of them are making napkin holders.
In Visual Art the Year 8s have been learning about different artists from now and a while ago. So far we have done Keith Haring and Pablo Picasso. We have been  learning about their different art styles and how they started their journey in art.
What was Term 1 like for Year 7's and new students in Room 18?
Starting at an intermediate has been a nerve-racking experience because we didn't know many of the people, and making new friends can be a little hard. It has been fun learning new things about our house groups, and getting to know who our school leaders are. The year 8 students and student leaders helped us settle in by showing us around the school, and teaching us about the STAR values. 
What is happening with our Wearable Art Project?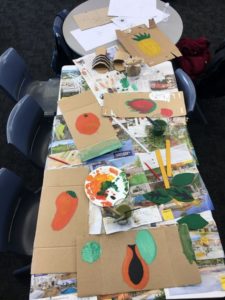 The wearable arts project is underway and it's starting to shape up with a burst of confidence. Room 18 students have started constructing their design and look forward to putting all the pieces together next Term. 
Thank you to the following Room 18 students for providing the inside scoop on Room 18 and Writing our Newsletter Article: Ayesha, Shanaya, Suhana, Isla, Avneet and Ulareece.