PAPATOETOE INTERMEDIATE SCHOOL NEWSLETTER
No. 6 – 4th May 2023
Important Term 2 dates
Sunday 7th May – Saturday 13th May
Rotuman Language Week
Monday 8th May – Sunday 14th May
New Zealand Sign Language Week
Monday 15th May – Friday 23rd June
Life Education Van in school
Thursday 11th May
Cyber Safety Parent Presentation Evening
Tuesday 16th May
South/West Zone Girls Football
Wednesday 17th May
Fo Guang Shan Buddhist Temple Visit for Year 8 students – More information to come
Thursday 18th May
South/West Zone Girls Football – Saving Day
Student Leaders to William Buck in the City
Friday 19th May
Pink Shirt Day – Bully Free
Tuesday 23rd May
South/West Zone Boys Football
School closes at 1pm for teachers to complete restraint training – We ask families to please collect students at 1pm today, buses will run at 3pm.  There is no study centre.
Thursday 25th May
South/West Zone Boys Football – Saving Day
Friday 26th May
Exhibitions of Learning
Monday 29th May – Friday 2nd June
Samoan Language Week
Monday 29th May
6.00p.m. – 8.00p.m. – Board Meeting – anyone who is interested is welcome to attend, we just ask you to let our board secretary know so we can arrange seating – barbaraf@papint.school.nz
Tuesday 30th May
South/West Zone Girls Rugby
Thursday 1st June
South/West Zone Girls Rugby – Saving Day
Friday 30th June
Final day of term 2
PRINCIPALS MESSAGE
Welcome back to Term 2 2023 and the many exciting events we have planned for the term.
Enrolments
Since the start of 2023 our roll has gone from 696 to 751 – an unexpected growth of over 50 students, we are continuing to accept in zone enrolments and expect our roll to continue to grow.  As a result we will be opening new classes over term 2 and term 3.
In New Zealand, schools must accept all in-zone students.  Because of the increasing number of students living in our school zone, we will no longer be able to take any out of zone enrolments.  Enrolment documents are available online and can be emailed to our school office with the required proof of address and cope of the birth certificate.  We cannot accept any enrolment applications without all the required supporting documentation.  Your organisation and support in this is very much appreciated.
Immunisations
We are encouraging all whanau to make sure they are keeping all immunisations current especially for measles, mumps, whooping cough, chicken pox and of course flu and COVID.  Please let us know if your childs immunisations are up to date.
Restraint Policy
We are currently reviewing our Restraint Policy, this will be available on our Facebook page and school website before the end of May.
On Tuesday 23rd May our school will close at 1pm so that teachers can complete training with the Ministry og Education regarding 'Restraint' and in accordance with updated legal requirements.
We are asking families to please collect students at 1pm on 23 May.  Some supervision will be provided for students who are not able to be picked up at this time and who will have to remain at school.  Buses will still run at 3pm.  There will be no Study Centre on Tuesday 23 May.
WELCOME BACK TO TERM 2
As the weather is becoming a bit wet and wild there is an increase in traffic around the school gates, please be mindful of this when you are using the roads.  Please support your child to make safe decisions when they travel to and from school, and to wear appropriate school uniform for the weather, we do have Kidscan jackets available if your child needs one.
Some reminders:
The Papatoetoe Badminton Academy started on Wednesday after school in the gym – see the flyer on our Facebook page, and below – you do need to register for this activity.
Our Health Curriculum Consultation Survey is linked on Facebook and will be sent to all whanau this week via our communication channels – please look out for it, and complete it, as it guides our teaching and learning at Papatoetoe Intermediate.
On Tuesday 11th May we have a Cyber Safety Parent Presentation Evening in the gym – come along to be informed and empowered to support our young people as they navigate the online world.
Trainings for Rugby, Netball, Basketball, Hockey and Volleyball have started – students are permitted to wear sports shoes for these trainings but must change back into their uniform afterwards – please support them to show pride in their school uniform.  Rugby players are required to have a change of shirt and a mouthguard before they can participate in contact training.
INFORMED & EMPOWERED CYBER SAFETY PARENT EVENING
Knowing what our children are potentially being exposed to in the online world is an increasing worry for many of us, we hear about the dangers and potential for harm constantly, but do you know how best to support our young people in the cyber world?
Come along to our free parent evening and get informed about how you can help our young people navigate the online world which our students are living.
The evening will be run by Cyber Safety experts with industry experience and expertise.
The class with the most parents/caregivers that attend will win a prize – and our students love a bit of friendly competition – this is your chance to help them and gain some valuable insights for yourself at the same time!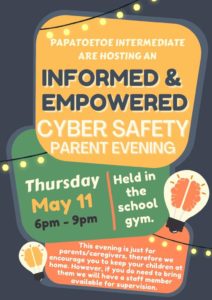 BADMINTON ACADEMY
Wednesday May 3rd commenced the Papatoetoe Badminton Academy.  Come along and give it a go with all equipment provided at the Papatoetoe Intermediate Gymnasium from 3:30-5:pm, parents and all school age children welcome.
Counties Manukau Badminton Association will be running the Papatoetoe Badminton Academy every Wednesday with the support of Papatoetoe Intermediate during 2023.  If your new to the gam or want to get started it would be great to see you.  Full Term enrolment is $60 per child with discounts available for families.
If you have any questions email us at office@countiesbadminton.org or call Steele on 022-388-5086.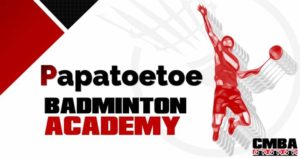 ANZAC DAY AT PAPATOETOE INTERMEDIATE
On the last day of term 1, Thursday 6th April, we celebrated ANZAC Day as it fell during the school holidays.  At the beginning of the day after our school song and karakia the Reveille was played through the speaker system, then just before the end of the day our head boy Tevita recited the Ode of Remembrance and the Last Post was played through the speakers too.
We had a mufti day for a gold coin donation and received a poppy to wear to show our support.  All the money raised went to our local RSA which was $502.
Thank you to everyone who donated and showed their support.
THANK YOU TO ROOM 19 for their article for this Newsletter
Eid Mubarak from Papatoetoe Intermediate School
Islam is a religion.  People who follow Islam are called Muslims.  We have one God called Allah.  Muslims can eat all meat, but it has to be Halal.  We can't eat Pork.
Ramadan is a lunar month in the Islamic calendar and is a time when Muslims are required to fast.  That means they don't eat or drink water from dawn until dusk.  Ramadan lasts for a whole month.  We pray 5 times daily: Fajr, Zhour, Asr, Maghrib, and Isha.  We also recite the Quran.
Eid is a time when Muslims celebrate the end of Ramadan.  We go out, eat sweets and snacks, and invite people to our house.  Sometimes, the adults give the kids money with is called Eidi.
During Ramadan at Papatoetoe Intermediate, at Zhour which was at lunch time every day, we got to p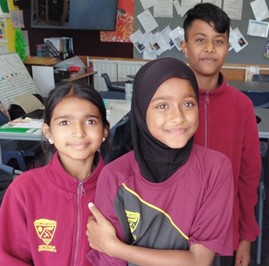 ray in Room 19.  It felt good because I got to pray with other Muslims and meet new people.
Thank you Ms Cornwell for giving us this opportunity to pray at school and supporting us in our fasting during Ramadan.
Eid Mubarak! Happy Eid!
By Ashaz – Room 19