PAPATOETOE INTERMEDIATE SCHOOL NEWSLETTER
No. 7 – 5th May 2022
Important Term 2 dates – We have a lot of exciting things happening this term
Monday 2nd  May
First day of Term 2
9th – 13th May
Road Safety Week
Tuesday 10th May
Class and Team photos – Photolife in school
Wednesday 11th May
Year 8 Vaccinations
16th – 20th May
Bully Free Week
Monday 16th – Thursday 19th May
Syndicate Trips to Mosque and Hindu Temple (TBC)
Tuesday 17th May
Interzone girls and boys Orienteering (TBC)
Thursday 19th May
Project WY students to Motat
Friday 20th May
Pink Shirt Day
Monday 23rd May to the 1st July
Life Education Caravan in school
Monday 23rd – Monday 30th May
Blake NZ – VR in school
Tuesday 24th May
SW Zone girls football (Thursday 26th May – SD)
Monday 30th May
6.00 p.m. Board of Trustees Meeting in the Principal's Office
Tuesday 31st May
SW Zone boys football (Thursday 2nd June – SD)
Monday 6th June
School closed – Queens Birthday
Thursday 9th June and Monday 13th June
Tree Planting in the school
Monday 13th June
Interzone Year 7 Girls Football
Tuesday 14th June
SW Zone Boys and Girls rugby (Thursday 16th June – SD)
Interzone Year 8 Girls Football
Thursday 16th June
Interzone Year 8 Boys Football
Thursday 23rd June
Student Leaders out all day at training
Friday 24th June
Matariki – School Closed
Monday 27th June
6.00 p.m. Board of Trustees Meeting in the Principal's Office
Tuesday 28th June
Interzone Boys Rugby (Tuesday 5th July – SD)
Wednesday 29th June
Interzone Girls Rugby (Wednesday 6th July – SD)
June – mixed days
Everyday Theatre in the school
Tuesday 5th July
SW Zone Girls Hockey
Tuesday 5th, Wednesday 6th and Thursday 7th July
School closes at 2.00 p.m. – 3 Way Conferences [more information will be circulated closer to the time]
Wednesday 6th July and Thursday 7th July
Wearable Arts show – 6.00 – 7.00 p.m.
Thursday 7th July
SW Zone Boys Hockey
Friday 8th July
End of Term 2
Monday 24th July
Term 3 starts
PRINCIPAL'S MESSAGE
Our focus is to have all students return to school, attend regularly and be on time. Please help us with this.
Our school gates do not open for students before 8.00 a.m. Please make sure your child arrives at school after 8.00 a.m. and not before.
Attendance
We are very pleased with the numbers of students we are getting back at school.  We are aiming to have the best 'engagement data' (attendance and participation) for all of Auckland!  We know that this is possible and need whanau to work with us to help get students back at school, on time (8.30am) every day.
We know that sometimes whanau need help with this, please let us know if you would like some support so we can work with you to make sure your child gets the most out of intermediate school.
Call or email leaving your childs name and room number and one of our school leaders will contact you.
Bullying
Every school deals with some bullying.  The best way to overcome bullying behaviours is:
– Report
– Investigate
– Respond
– Resolve
Please make sure that you tell us immediately if your child is worried or harmed by any classroom or playground behaviour, or if they have problems on the way to or from school.
Contact your child's teacher, their AP or the Deputy Principal or me, the Principal.  We all want children to feel safe and be happy at school.
BOARD OF TRUSTEES ELECTIONS
Board Elections are in September 2022, for a three year term. Please consider if you have the talents, experience and commitment which would contribute to the governance of Papatoetoe Intermediate School. Board members have a significant and very important role, including employment of staff, property and finance, health and safety, strategic direction, accountability and representation.
If you are interested in finding out more about being a Board member please contact our Board Secretary – Barbara Ferregel (barbaraf@papint.school.nz) or one of our Board members who will be happy to answer questions. Information about our Board can be found on our school website.
Interested community members are welcome at meetings. If you would like to know about attending meetings also contact the Board Secretary.
FROM THE LIBRARY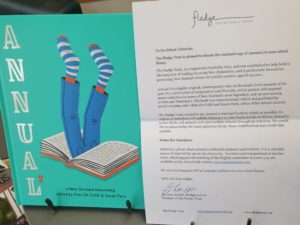 Our school received an amazing book Annual 2 from a charitable trust called The Fledge Trust.  The trust was established to help build a life-long love of reading in young New Zealanders with the focus on promoting New Zealand stories for middle readers.
We really appreciate this kind gesture.
BIKES IN SCHOOL PROGRAMME
Our bike track is now all finished and is being enjoyed by all our students during rostered class times and break times. On Monday 2nd May we had a wonderful ceremony to open 'Ara Pahikara' – our bike track, and would like to thank all our guests who attended for sharing in this wonderful event.
We would like to make a special thanks to Ōtara-Papatoetoe Local Board, New Zealand Community Trust, New Zealand Lotteries Board and Bikes in Schools NZ for funding us the money to pay for the bike track, bikes, helmets and shipping container.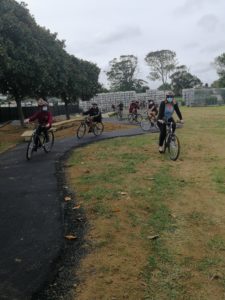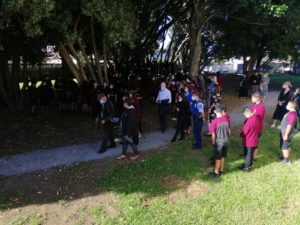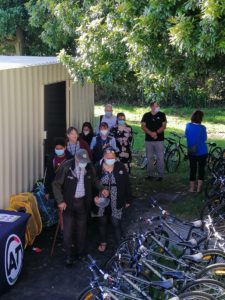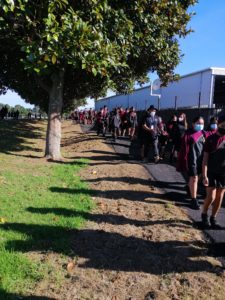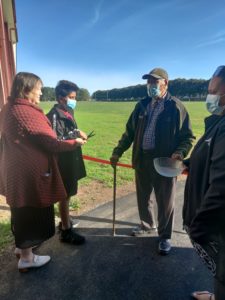 GOING DIGITAL
We are working towards becoming a paperless school.  Within the next few weeks we will be trialing sending out permission slips digitally, please check your emails regularly for upcoming trip information and links to grant permission for your child/ren to attend these trips/events.
Our class/team photos are on Tuesday 1th May. Information will be going home after these have been taken with how these can be ordered online through photolife.
EDGE for Caregivers
The Caregiver, or parent portal gives you immediate access to all of your own child's/children's data in Edge.  This includes but is not limited to:
The caregiver and student information we have on file (Please check this information and let the office know if any details are incorrect or need to be updated)
Student's Attendance
Mid-year and End of year reports – these can be downloaded as PDF for your records
School Payments
To activate this feature:
Go to http://parent.edgelearning.co.nz/. Enter the email address we have on file for you and click Forgot Password.  An email will then be sent to your email inbox.  Click on the link within the email to set up a login.
Once logged in you will see the Home page.  From here you can see contact details and school announcements.  From here you can also change your edge password.  You can also select the student profile you wish to view at the top of the page (if you have more than 1 child at our school).
You can also set up the Edge App by downloading this from the app store.
If you have any questions or issues setting this up please contact the office on 09 278 9763 ext 901
INTRODUCING…
We would like to introduce our new staff who have joined Papatoetoe Intermediate school during 2022 so far.
Celeste Williams – Teacher Aide
Lilymoana Manu – Teacher Aide
Jay Dryden – Teacher Aide
LeeAnne Keates – Financial Manager
Sian Strachan – Student Counsellor
THANK YOU TO ROOM 19 for their article for this Newsletter
Room 19's Wearable Arts update so far
Last Term, Room 19 got a headstart on their Wearable Arts costume design.  The theme for the Wearable Arts competition is Incredible Kai.  Uru-rangi syndicate narrowed the theme further to Cultural Incredible Kai.  Some of us paired up, grouped up, or even worked alone to design a garment incorporating foods from that country.  It was Vaishnavi's 'incredible kai from the Amazon' design that won our hearts.
It has also been a great opportunity for us to learn, investigate, and practice our key competencies.
Understanding language, symbols, and texts
Room 19 students have been learning to communicate their ideas using symbols, language, and texts displayed creatively through art.  The students researched about the Amazon to find out which foods were common.  We found that the native people of the Amazon like to hunt and fish.  Therefore, we decided to make a spear to represent the methods natives use to hunt food.  We also made accessories that resemble the food itself.
Thinking
Most of the material we are using is from recyclable items!  This takes a lot of questioning, research, and hands-on experimentation to figure out what materials were best to use, accessible, and safe.  Someone came up with the idea to reuse our fruit cups that we receive from KidsCan and paint them green to look like turtle shells, which is also a creature hunted in the wilderness of the Amazon.
Participation and contributing
Room 19 students have also been learning to participate and contribute fairly and positively when working collaboratively.  This key competency helped them to have a growth mindset due to the positive exchanging of ideas and opinions.  Students encouraged each other with positive words and remained open to the ideas of others.
The Wearable Arts unit has been a very sticky, glittery, gluey, but rich experience for Room 19!