What's on in Term 2 ……..
Monday 3rd May until Friday 9th July
Tuesday 11th May
Room 17 planting 'Trees for Survival' today
Wednesday 12th May to Thursday 13th May
Eid, The end of Ramadam
Wednesday 12th May
Kapa Haka sleep over at school
Thursday 13th May
Kapa Haka sleep over at school
Friday 14th May
Kapa Haka Regional Competition at Kia Aroha
Blake NZ-VR in school today – all students participating
Monday 24th May until the end of June
Life Education Caravan here – in school and students attending
Thursday 27th May
Student Leaders out all day – visiting William Buck in the City
Thursday 27th and Friday 28th May
3G4G Festival of Cultural Sharing
Saturday 29th May
Kapa Haka fundraiser – Jack and Jill Family Portraits
Wednesday 2nd June
Afternoon – Otahuhu College Performance – whole school
Friday 4th June
Teacher Only Day – school is closed
Monday 7th June
Queens Birthday holiday – school is closed
Wednesday 9th June
Matariki Celebrations begin
Friday 25th June
11.00 a.m. Whole School at Duffy Theatre in the Gym
Tuesday 6th July, Wednesday 7th July and Thursday 8th July
School closes at 2.00 p.m. for Reporting to Parents – 3 Way Conferences
Friday 8th July
9.00 a.m. Whole School Assembly in the Gym [Live Talent Quest]
Last day of Term 2
Term 3 starts on Monday 26th July
Kia Ora Tatau
We hope that all parents have received and logged into their child's EDUCA  e-portfolio by now. If you are having difficulty please contact your child's classroom teacher asap. It is important all families become used to this form of reporting and keeping in touch with their child's learning and achievements – it is how 'reports' will be in the future.
Our learning in Term 1, punctuated by pandemic lockdowns centered on 'getting to know the learner', getting to know our community and getting to know one another. Our over arching learning context of 'Belonging' provides opportunity to explore culture, customs and cooperation. Term 2 will extend this and will provide opportunities for our students to visit important places in our community and share understandings. If you have something  (art, music, customs etc) which you or your family could contribute to this widening of community understandings please let your child's classroom teacher know. We are eager to use the richness of our own diversity to provide deep learning.
Core curriculum (Reading, Writing and Mathematics) remains a focus. Please make sure your child does actually read at home for at least 20 minutes each day. Reading is foundational to all academic learning. There is always Mathematics they can do on line at home too. Your help in these areas is proven to make a difference to a child's levels of achievement.
We hope you have all had a chance to meet with your child's classroom teacher to discuss how they can be best supported to maximise learning at school, and at home.  These meetings are fundamental to your child's wellbeing and success at school. Remember, if you have any problems do not hesitate to contact your child's teacher or the senior leader. Contact details can be found on our school website or in the class newsletters.
Warning: we have had reports of bullying on line. We understand some students have set up 'chat rooms' which they are going into in the evenings, when they are at home. We would appreciate your help in checking that your child is not involved by checking their on line history. If you do discover such a chat room please let us know. We will do everything we can to stop the impact of this type of poor behaviour.
HAVE YOUR SAY
Have your say, we're listening
Motatau Road, Papatoetoe –Raised Zebra Crossing
Kiaora,
Aucklanders have told us that moving around our city safely and easily is important to them.
We are proposing some improvements to your area and would like to hear your views. We were asked by the Papatoetoe Intermediate School to improve the safety of students by upgrading the crossing facilities outside the school on Motatau Road.
You can help shape these improvements
Listening to what you have to say is important to us. Your local knowledge can help us make better decisions, so together we can achieve the best outcomes for your neighbourhood.
The changes we are proposing
:
•   Upgrade the existing school patrolled crossing outside the entrance to Papatoetoe Intermediate School to a raised zebra crossing, which is      on top of a flat, widespeed bump.
•   Paint new road markings and install crossing safety features to support the zebra crossing, including orange reflective discs and streetlights      that will bring drivers' attention to the crossing and side islands on both sides of the crossing.
•   Widen and reconstruct the footpath at either side of the crossing and install upgraded covered drains for storm water runoff.
•   Install tactile pavers, which are yellow guidance paving markers to help visually impaired people find their way to the crossing and safely          cross the road.
•   Install flexible poles on the centre line in the driveway entrance to Papatoetoe Intermediate School to prevent U-turns.
How this will benefit your neighbourhood
Auckland Transport would like to work with you to deliver safer roads in your neighbourhood. Safety around schools is important to us and these proposed changes aim to slow driving speeds and create a safer place to cross for school children and the wider community. The upgraded crossing would support walking and cycling opportunities in the neighbourhood.
Auckland Transport is taking a Vision Zero approach to road safety. This means we are striving to have zero deaths or serious injuries on our transport system by 2050. To achieve this, we are working to create a more forgiving road network that recognises that we are human and make mistakes. But those mistakes should not mean someone dies or is seriously injured on our roads.
Tell us what you think. You can play a role in shaping the way we make this happen.
Here's how you can have your say:
Phone:09 448 7265
Online Survey:www.at.govt.nz- search for: Motatau Road, Papatoetoe –Raised Zebra Crossing
Give your views up until Monday, 17 May.
We'll listen to all the feedback we receive, and then decide the best way to move forward. This project is subject to funding and decisions by Auckland Transport and Auckland Council in the Regional Land Transport Plan. We are seeking feedback now so that we can be prepared once the funding for this project is given the go ahead. We'll post the outcome of this proposal and a summary of community feedback on our website. We can also email you the proposal outcome as soon as it's ready –just give us your email address when you call us or fill in the survey on the website.
This project is part of the Safe Schools Programme, which Auckland Transport has developed in partnership with schools, school communities, Local Boards, and key stakeholders, including NZTA and the New Zealand Police. The aim of the programme is to deliver a Safe System approach to road safety around schools and reduce congestion.
Thank you and we look forward to hearing from you.
Ngā mihi,
Tracey Berkahn | Group Manager Services & Performance Auckland Transport
09 448 7265
Click on the link below – this will show you proposed changes.
THANK YOU
Our sincere thanks to Countdown Mangere for their very generous donation of containers for our Staffroom, Food Technology Room and other areas of our school that these containers will be used with gratitude.
HELL READING CHALLENGE
The Hell Reading Challenge is back and the Pizza Wheels are now available.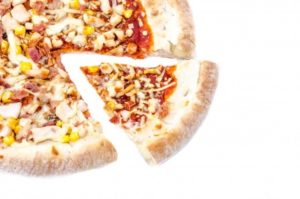 Students are encourage to read books and have them signed off by their Class Teachers and get a stamp on their wheel. As soon as they have read 7 books they receive a 'free' pizza from Hell Pizzas.
Students can take part unlimited times by completing as many Wheels as they are able to.
Students will receive a Pizza Wheel from their Classroom Teacher if they would like to join the Challenge.
Thank you to Room 6  for this article in our Newsletter
Welcome to another fabulous school term…
Malo e lelei everyone and welcome back to what is set to be another fast paced term in Room 6.
It was wonderful to see so many parents join their children at the interviews last term. A huge "thank-you" to all our parents and caregivers for your continuous support from home. I am so proud of the work that you and your children have done over the last term. One of the Term One highlights is the students' involvement and commitments inside and outside the classroom, especially the EOTC Week. Some of these highlights are lifetime experiences. So THANK-YOU to all students and parents!
Term 2 is set to be a normal school term. There will be a lot of interesting things happening like Sports, Extension and Enrichment classes, Electives programmes, Robotics (Ozobots), and Cultural Groups. Please encourage your child to participate, give it a go and have fun!
This term, Room 6 students are encouraged to: have a positive attitude to learning; be creative and think outside the box; give everything a go; ask questions; ensure they are on time; have fun and enjoy learning. Students are also encouraged to check our Google Classroom everyday and complete all the learning tasks online; especially on Maths-whizz, Studyladder and EDUCA. My expectations for online learning are: make sure that every child is safe while they are using the internet. Be kind and be respectful to each other on the internet.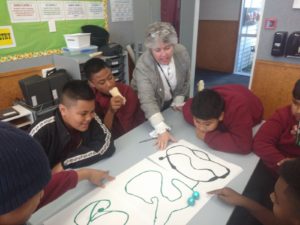 Thank you for supporting your child's learning.
Our photo shows Tailyn, Dwayne, Roger, Pasa, Ayush and Raonak, working on Ozobots with Mrs Stanisich in Room 6 during lunch break.  While enjoying their time working on Ozobots the boys appreciate free lunch of chicken wraps and Anzac Biscuits.