PAPATOETOE INTERMEDIATE SCHOOL NEWSLETTER
No. 8 – 1st June 2023
Important Term 2 dates
Monday 15th May – Friday 23rd June
Life Education Van in school
Monday 29th May – Friday 2nd June
Samoan Language Week
Thursday 1st June
South/West Zone Girls Rugby – Saving Day
Monday 5th June
Kings Birthday – School Closed
Tuesday 6th June
South/West Zone Boys Rugby
Wednesday 7th June
Interzone Year 7 Girls Football
Tupu Maia (Girls) – Mt Smart
Otahuhu College Pasifika Performance for Year 8 students – 2pm
Thursday 8th June
Interzone Year 7 Girls Football
South/West Zone Boys Rugby – saving day
Tuesday 13th June
Interzone Year 7 Boys Football
Wednesday 14th June
Interzone Year 8 Boys Football
Tuesday 20th June
Interzone Boys Rugby
Wednesday 21st June
Interzone Girls Rugby
Monday 26th June – Friday 30th June
NZ Maritime Museum – In the library
Tuesday 27th June
Interzone Boys Rugby – Saving Day
South/West Zone Girls Hockey
Tuesday 27th June – Thursday 29th June
3 Way Conferences
Wednesday 28th June
Interzone Girls Rugby – Saving Day
Art Extension Students to Auckland Art Gallery
Thursday 29th June
South/West Zone Boys Hockey
Friday 30th June
Final day of Term 2
Talent Quest Finals – 9am – 11am
Monday 10th July – Friday 14th July
Kiribati Language Week
Friday 14th July
Matariki
Monday 17th July
First Day of Term 3
In and Out of zone applications open for 2024
PRINCIPALS MESSAGE
Farewell and thank you to Anna Davies (Room 23) who has gone home to Dunedin to be with family.  We thank Ms Davies for all the efforts and dedication for her students over the time at our school.
Welcome to Mrs Roshni Shailendran (Room 23) and to Mrs Charina Martinez (Room 24) – [a new class due to roll growth].
We also welcome David Sua and Sonia Mehta who have started working as Teacher Aid's with students across our school.
Enrolments – we are currently not taking any out-of-zone enrolments.  It is unlikely we will take any out-of-zone enrolments for 2024.  Please keep this in mind as you and whanau plan for 2024.
Thank you to the whanau who came to the exhibition of learning last Friday.  It makes a positive difference to student learning and engagement more positive.
FO GUANG SHAN BUDDHIST TEMPLE TRIP
On Wednesday 17th May, the Year 8's went on a trip to the Buddhist Temple.  On reaching there, we were divided into four different groups based on our Syndicates.  When we entered the temple at first, we learnt how to greet others.  They taught us about different Buddhist statues which represented the Buddha in different countries.  After offering the scented sticks provided, we were guided to the calligraphy room.
In calligraphy, we wrote the 3G's and 4G's of the Buddha in Chinese (do good things, think good thoughts and say good words).  Our guide then took us to watch a short film about the life of the Buddha.  We then took a candle and place it under one of the four trees, representing the 4G's.  We also wrote a wish on coloured pages cut in different shapes, then pinned it on a wall.  To calm everyone, we headed outside to the courtyard for some group meditation.  Around 10 minutes later, we made our way to the hall to have a chat with a New Zealand police officer.  By the time we had finished, everyone was hungry.  We then ate the fried rice prepared by the temple.  When everyone had finished, we were presented with a pencil with the 3G's on it.  Then hopping on the buses, we were taken back to school.
We all enjoyed the trip and learned a lot.
Dan and Abhinoor – Room 10
---
On the 17th May 2023, some of the Year 8's from Papatoetoe Intermediate School went to the Fo Guang Shan Buddhist Temple in Flat Bush.  This temple trip was educational and taught us about how to live a fulfilled life and to be grateful for everything and everyone.  Before any of the activities started, we offered an incense candle to a Buddhist God.
One of the activities was "Single Stroke Calligraphy" where we followed lines on a Calligraphy Character but we can only use one stroke per line.  The Single Stroke Calligraphy was a fun activity and somewhat calming.  The creator of Single Stroke Calligraphy, Venerable Master Hsing Yun, was a man who inspired others with his calligraphy.  But when he started losing his vision and got shaky hands due to old age, it became difficult for Master Yun.  However, he persevered, knowing how much enlightenment it brought to people.
Another activity was watching a movie.  But not any movie.  This movie was a biography about Siddartha Gautama, the founder of Buddhism.  He was born rich, but he wanted inner enlightenment, so he sought it.  He performed difficult practices for years until he was finally fully enlightened.  He gave up all his worries.  Gautama then started teaching others about the way to enlightenment.  One of his quotes: "As this basin of water, every lie you tell you become tainted and then no one will care about what you have to say".
At around 11, all of the Year 8's had lunch.  The lunch was a vegan/vegetarian friendly rice dish consisting of: Rice, Mixed Vegetables and Soy Meat.  It was pretty surprising that there was enough for everyone including seconds!
Finally, the last activity was just a speech from a Police Official about making good choices and being proactive.  The bus ride back to school was smooth and fun.  I had a good experience on this trip and I am sure everyone else did too.
By Gurjashan – Room 9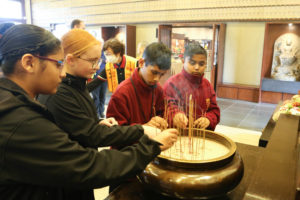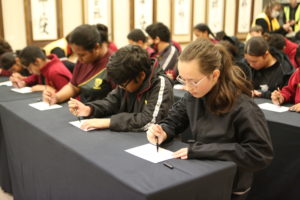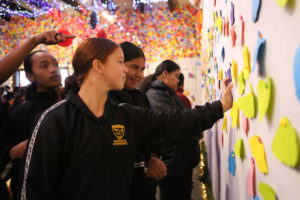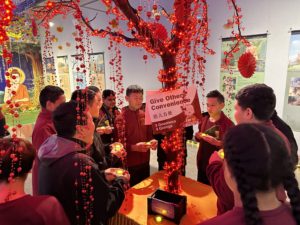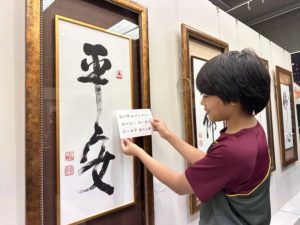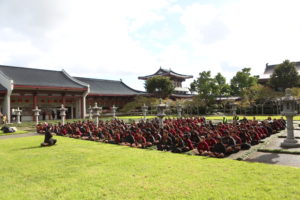 TUPU MAIA
What is Tupu Maia?
Girls only health & wellbeing programme for students Year 7-8.  Tupu (grow, foster) Maia (confidence, bravery, boldness).  Warriors Community Foundation have created a programme for Wahine Toa, Tupu Maia.
Tupu Maia is specifically targeted at Year 7-8 girls to focus on:
– confidence
– participation
– enjoyment of sport
– wellbeing
– keeping physically and mentally active with their peers
Key measures for Tupu Maia:
– Increase confidence in girls playing sport aged 11-12 years of age
– Increase participation in girls aged 11-12 years of age, including links to clubs
– Increase the "fun" element
Our research & consultation has shown us, that there are many reasons for young wahine to drop out of sport & physical recreation.  Tupu Maia aims to create a positive environment for young women.  The programme is underpinned by Te Whare Tapa Wha.  For more details please contact Community Programmes Coordinator, Charlotte Scanlan at charlotte@wcf.kiwi.
PINK SHIRT DAY 2023
On Friday 19th May Papatoetoe Intermediate School celebrated Pink Shirt Day.  It was awesome to see so many students wear pink in support of Bully-Free Week 2023.  It shows that our students care about each other and want a peaceful school and community.
One of the major areas bullying happens is online outside of school hours – in social media platforms – our students know what to do and how to report it if they see it – we use the B.I.R.D model
BIRD stands for:
BLOCK
IGNORE
REPORT (to https://netsafe.org.nz/ AND directly to the social media platform using the report functions they all have)
DELETE
Please look at www.netsafe.org.nz yourself – we all want all our tamariki to feel safe and supported online but it takes the whole community to help make this happen.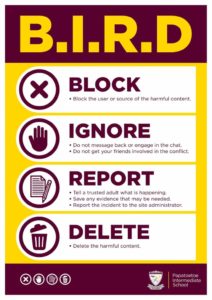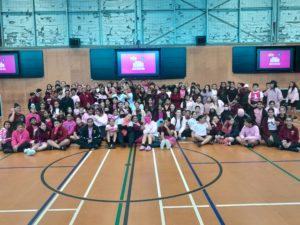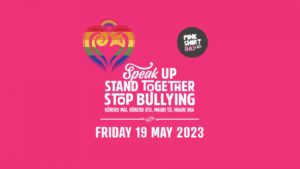 PINK SHIRT DAY – STUDENT ARTICLE
On Pink Shirt Day, we, Papatoetoe Intermediate School, celebrated Bully Free Week, in Week 4.  As a sign of anti bullying, posters were put up to send little messages about why we shouldn't bully, and informing us about Pink Shirt Day, which was part of Bully Free Week.
Throughout the week, our teachers in classrooms gave us little talks about the different forms of bullying such as, Physical, Verbal, and Cyberbullying.  We were informed about what these are, and why we shouldn't treat one another using these forms of treatment, including topics such as racism, sexual touch/abuse, and many more.
What was Pink Shirt Day?  On Friday in Week 4, students, teachers, and staff were welcome to wear a pink accessory(s) or something pink, such as a pink shirt, pink shorts, pink sunglasses, and so on.  This was more so a pink accessory day, because for the students that wore pink accessories, they were required to wear school uniforms.
Some of our students went all in with what they wore on Pink Shirt Day, whilst some decided to wear something as miniscule as a hair ribbon.
I have to say, from my perspective, Bully Free Week was both a success, and failure in one.  I say that, because with the amount of bullying that stopped, more bullying arrived especially in the form of Social Media, such as Instagram Pages that go by, PapInt Ships, Papint Confessions, and some more.  Nevertheless, I do think that the bullying in school hasn't stopped completely, but with saying that, there have been less fights, incidents, and situations.
Moving on to the positives about bully free week, there were hardly any incidents/reports during Bully Free Week, so I can say that Bully Free Week and Pink Shirt Day have impacted our school behaviour towards others, and how we treat one another, especially take into factor our school values which are:
S – Safety
T – Trust
A – Attitude
R – Respect
I believe that we should all be nice and kind towards one another, despite what da it is or what event is taking place.  We should all follow our school values listed above, every time, everyday.  With that being said, it is vital for us students to show respect towards one another, and always be friendly and kind.
Act Nobly. – By Irwin- Room 1
EXHIBITIONS OF LEARNING
On Friday 26th May 2023 we held our Technology/Arts Exhibition.  Thank you to our Papatoetoe Intermediate whanau who came through to support this wonderful event.
It was wonderful to see the technology and arts space buzzing with a range of performances, exhibitions and conversation opportunities!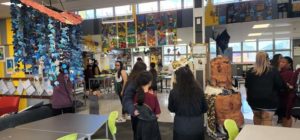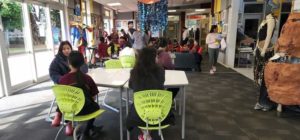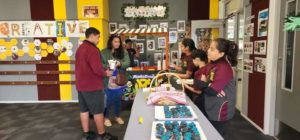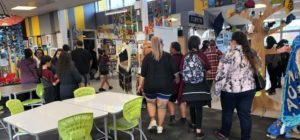 ROOM 17 'TREES FOR SURVIVAL' PLANTING TRIP
On Wednesday 24th May, Room 17 went on a trip to plant plants in Brookby near Clevedon.  It was a trip we all looked forward to.  On the bus, we listened to some awesome music and different tunes.  We sang along as we travelled, watching the beautiful scenery and landscape.  When we got there, we got off the bus and then crossed a busy road to a farm shed for a briefing.
Thereafter, we quickly made our way near a stream and got to planting, with Lindsay and our sponsors helping us as well.  We all scattered around the planting area and got to work.  It was hard work – digging and planting the trees!.  We planted loads and we were told that there was BBQ for us!  We could just smell the BBQ so everyone just blasted swiftly and easily through the pile of plants.  It was great fun!
At around 1pm we went back to the shed and got ready for a good feed of the BBQ.  When we were done our class leader gave thanks on our behalf and Lindsey told us that our plants from last year have become huge.  One day we hope to go and see that too.  That was in Bombay Hills, by the way!  We then cleaned up the tools and helped tidy up everything.  The owner of the farm then stood forward with a plate filled with chocolate and we all jumped forth ready to devour the chocolate.
It was time to go back to school.  We gave our thanks to everyone and got on the bus happily – knowing that together we planted 889 plants!!  The trip back was a bit quiet – due to our exhaustion.  We all felt relieved that this year's project was done.  Hopefully the Y7's continue the potting of the seedlings and go on another planting trip next year.
Remember: Support conservation, Save trees, Plant trees – Trees are for our Survival!!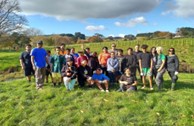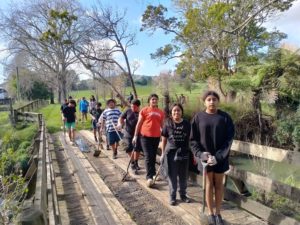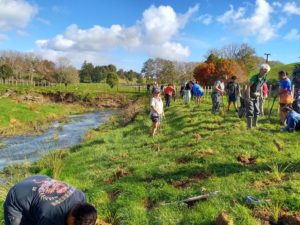 2023 CLASS PHOTOS
The 2023 Papatoetoe Intermediate School class photos are now available to purchase.  An email would have been sent to you in early may with your child's unique code for ordering these.  To order your child's class photo go to http://photolifeonline.co.nz/ordering/access, then enter your child's unique Access Key Code.
If you didn't receive this email from photolife or have any questions/queries please either call photolife on 09 262 1040 or 0800 50 10 40.  Alternatively you can email them at enquiries@photolife.co.nz
Please note the ordering of the class photos is through photolife directly and the school does not take any money for these or have the ability to amend any orders.
THANK YOU TO ROOM 21 and ROOM 22 for their articles for this Newsletter
ROOM 22
Road Safety Week
From the 15th to 21st of May it is NZ Road Safety Week.  This year's these is Be a road safety hero.  It recognises everyone who helps to make our roads safer and supports people after a crash, and explains how we can all play a part in making journeys safer for everyone.
We had the opportunity to use the speed guns with the assistance of Auckland Transport and record the speeds from our community.  A lot of the community have been going over the speed limit with 54% (Thursday) and 60% (Friday) of the community going over 40km/h between 8:15am-8:45am and 2:45pm-3:15pm.
For our safety we ask parents and the community to slow down and stick to the speed limit.  Going over the speed limit could cause accidents, a fine for the damages or even a 28-day licence suspension.  So, please follow the speed limit.  It's not just for our school's safety, it's for everyone.  Thank you to everyone who keeps us safe.
By: Patience and Peyton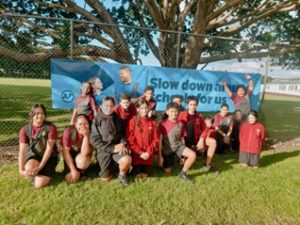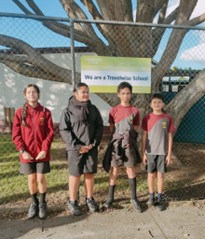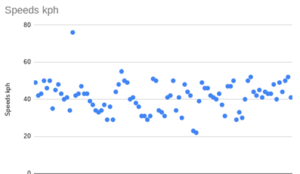 ROOM 21