PAPATOETOE INTERMEDIATE SCHOOL NEWSLETTER
No. 9 – 15th June 2023
Important Term 2 dates
Monday 15th May – Friday 23rd June
Life Education Van in school
Thursday 15th June
Talent Quest Heat 1 – Lunch time
Friday 16th June
Talent Quest Heat 2 – Lunch Time
Monday 19th June
Room 4 to Ngati Otara Park – Sea Cleaners trip
Tuesday 20th June
Interzone Boys Rugby
Wednesday 21st June
Interzone Girls Rugby
Thursday 22nd June
Talent Quest Heat 3 – Lunch Time
Friday 23rd June
Talent Quest Heat 4 – Lunch Time
Monday 26th June – Friday 30th June
NZ Maritime Museum
Tuesday 27th June
Interzone Boys Rugby – Saving Day
South/West Zone Girls Hockey
Tuesday 27th June – Thursday 29th June
3 Way Conferences for year 7 and 8
Wednesday 28th June
Interzone Girls Rugby – Saving Day
Art Extension Students to Auckland Art Gallery
Thursday 29th June
South/West Zone Boys Hockey
Friday 30th June
Final day of term 2
Talent Quest Finals
Monday 10th July – Friday 14th July
Kiribati Language Week
Friday 14th July
Matariki
Monday 17th July
First Day of Term 3
In and Out of zone applications open for 2024
Welcome to the new teacher for Room 19
PRINCIPALS MESSAGE
Welcome
We welcome a new teacher for Room 18: Mrs Priya Kumar who starts on Monday 19th June.  Mrs Kumar is an experienced teacher and we are very pleased to have her join our teaching team.
On Friday last week we were privileged to welcome Ms Nora Swann, Stylist with a business in Te Rakau Drive and Duffy Role Model, to speak to our students about her businesses, her interests and what success means to her.  These opportunities provided by the Duffy Books in Homes along with the books are a commitment our School Board makes to every student attending Papatoetoe Intermediate School.
The Board, many of whom currently have children attending our school, or who have attended themselves or who had family members attend in the past are keen to receive suggestions and encourage whanau to email or even attend meetings to discuss ideas or concerns.  You can do this by emailing the Board Secretary, Barbara Ferregel (barbaraf@papint.school.nz).
OTAHUHU COLLEGE PERFORMANCE
On Wednesday 7th June Otahuhu College came to Papatoetoe Intermediate and performed for the year 8's.  The group of student performers sang in perfect harmony mixing Cultural Identity and Dancing.  Using Pasifika language in their performance helped connect to the audience.  I was thrilled by the mix of culture and the arts.  It was like two ribbons being entwined and blending into one bind.  I felt the year 8's really appreciated the performance.  To the Year 8's next year it is a MUST SEE.  A Big Thanks to Otahuhu College for coming to our school and showing us how talented they are.
MOTH POD COMPETITION
Moth plant spreads quickly and kills our native plants.  Room 1 put a team together and collected enough moths pods to win first Prize, $500 cash for their classroom.
Thank you to Mrs Prout, Mrs Nel, Miss Skudder and Azalea (Room 1 student) who attended the event.  It was a great class effort yet special mention has to be made to a small group of students that went above and collected a lot of pods within their neighbourhood, Ilayana, Grace, Azalea, Promise, Pepe and Jassen.  In addition to winning this wonderful prize they were also gifted some kowhai trees.
As a community you can also do your part to keep our native plants safe and if you see these moth pods in your neighbourhood please remove them.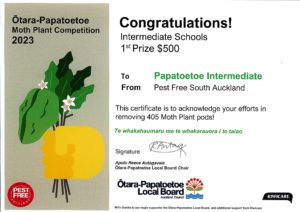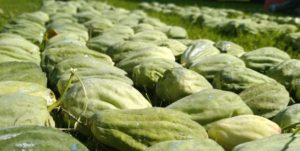 DUFFY ROLE MODEL ASSEMBLY
This year we had our Duffy role model assembly on the 9th of June.  Our guest was Nora Swann who is a personal stylist consultant.  She has made a big name in the fashion industry and is a campaigner for Maori and Pacific designers.
Her talk was very inspiring with a moral to never give up your dreams.  She also gave out the Duffy books for term 2.
We would like to thank her for taking her time to be part of our assembly and also thanks to Duffy in Homes for making all these arrangements.
Mrs Dass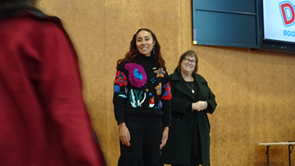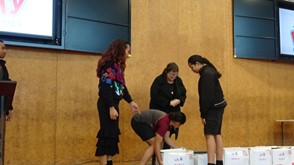 3-WAY CONFERENCES
On Tuesday 27th June, Wednesday 28th June, Thursday 29th June, 2023 from 2.15pm-6.00pm we will be holding Year 7 and 8 3-Way Conferences.
School will close at 2.00pm on these days.  School buses will still be at 3pm and those students needing to catch the school bus or have to be picked up at 3pm will be supervised until this time.  Please make an appointment immediately so that you book a time that suits you and your whanau.
You will have the opportunity to discuss with your child and their classroom teacher how they have progressed so far this year, review any testing results to date and receive their Mid-Year School Report.  For Year 8 students this will be an opportunity to discuss their transition to High School.  It is important for your child to be present.  During this 3-Way Conference your child, with assistance from their teacher, will be asked to explain:
– Which level he or she is currently on – "What level am I working at?"
– What it means to be on this level and where they are likely to be by the end of the year – "What I can do at this level"
– What they need to work on to progress to the next level – "What do I need to do to get to the next level?"
They will be asking you for your help and assistance to get them to their next level.
Appointment Times
We are using an online booking system to make appointments.  Simply go to www.schoolinterviews.co.nz and enter the school code: 594uj
Choose the teacher you want to meet with and see the time slots they have available.  When you book you will receive an email confirming your appointment time.  Appointment times are 15-minute slots with the last appointment for the day at 5.45pm.
If you are unable to book online, please contact your child's teacher directly or the school office (09 278 9763) and leave a message for the teacher to contact you to make a booking.
DUFFY AWARDS
Caught being good award
Papatoetoe Intermediate school is a Duffy school and we are privileged to receive books every term.  We also are able to receive awards during the year for various other achievements.
These are the students who have been awarded Duffy awards for various accomplishments.  Congratulations to these students for receiving these awards.
Room 1
Cash – For the great attitude towards his school work
Paula – Setting some great goals to improve her classwork success.
Tatem – Improving on his reading skills in class
Kepueli – Setting goals to improve in his learning.
Room 2
Hari Krish – For being enthusiastic about reading.
Khadeejah – For being such a keen reader.
Room 3
Jazz – For being an enthusiastic reader
Zehra – For being an enthusiastic reader
Room 4
Manshika – For being a role-model student
Gabriel – For being a role-model student
Room 5
Olivia – For reading 3 Novels in a week
Paea – Able to make connections between the text and prior knowledge
Room 6
Alison – Well written explanatory writing on Say No To Bullying.
Lora – Always shows engagement in reading at all times.
Room 7
Dru – Submitting an excellent piece of explanatory writing.
Jason – Dedication to Stepsweb
Room 8
Elijah – Reads eagerly and with interest
Jethro – Showing proficiency and good skills in Writing
Room 9
Michael – Participating in lessons and being able to come up with a series of questions to guide his learning.
Mele – Diligently carrying out her duties as Y8 leader, taking her responsibility seriously
Room 10
Abhinoor – Giving great reviews about the books she is reading
Fawwaz – Having a positive attitude towards writing.
Room 12
Mishika – Being an eager reader
Roi – Having a positive attitude towards writing at all times.
Room 14
Sueao – For the great effort attitude towards his school work.
David – Showing proficiency and good skills in Writing.
Room 15
Kavish – For showing an enthusiastic attitude towards his explanation writing.
Ana – For always having a keen and positive attitude towards reading and making progressions in her stepsweb.
Room 16
Corban – Making connections between different texts.
Jessica – Supporting others with their writing.
Room 17
Reetinder – Ready to read during literacy time.
Maya – Being a fantastic reader and building on her writing skills
Room 18
Shekinah – Well written explanatory writing.
Noor – Well written and presented explanatory writing piece.
Room 19
Samarah – For writing an exceptional explanation about Hair growth by following the Writer's Process.
Dhanvin – For reading a variety of texts during S.S.R. and completing book reviews about them.
Room 20
Mafi – For completing a wonderful piece of explanation writing on sea life.
Zoey – For submitting an excellent explanation writing on photosynthesis.
Room 21
Ysmael – For writing a great descriptive narrative piece.
Logan – For writing thought provoking discussion questions to lead literature circles.
Room 22
Chitrakshi – For having a positive attitude during literacy time
Ezra – For always trying his best in reading and writing.
Room 23
Georgia – For always switching to reading whenever possible.
Jannatpreet – For displaying keen interest in research and writing.
Room 24
Nabeela – For following and doing all writing tasks on time.
Rayna – For giving importance to all reading tasks.
Room 25
Aisea – For always being positive about Reading in class
Aashka – For always finding time to read in class
Room 26
Savanna – For being a fantastic reader
Gerado – Always finding time to read
THANK YOU TO ROOM 23 for their article for this Newsletter
Room 23 is a class that has 25 students and an amazing teacher.  It's a class that's always open for everyone.  In this room most students are really friendly, kind, caring and are always there to help you out if you have any problems.
Earlier this term we got split up in two different classes, because of the sudden burst of new students and also because our old teacher Miss Davies had to move with her family back to Dunedin.  We got a new teacher Mrs Roshni Shailendran.  Mrs Shailendran is a helpful and experienced teacher.  She is from the beautiful island of Fiji and has taught for more than 20 years.  She is very pleased that she is able to teach us.  Even though we have been split we still see Room 24 at PE and TECH times.
We are still trying to get used to the new classmates and our new teacher Mrs Shailendran.  Mrs Shailendran has given a chance to somehow restart and try to really push ourselves to be the best we can possibly be.  We are all looking forward to seeing Mrs Shailendran excel in everything she does.
By Georgia and Ayush