PAPATOETOE INTERMEDIATE SCHOOL NEWSLETTER
No. 9 – 2nd June 2022
Important Term 2 dates
Monday 23rd May to the 1st July
Life Education Caravan in school
Blake NZ – VR in school all week
Monday 6th June
School closed – Queens Birthday
Tuesday 7th June
We welcome Lilly Swail to Room 7
Thursday 9th June and Monday 13th June
Tree Planting in the school with Trees for Survival
Monday 13th June
Interzone Year 7 Girls Football
Tuesday 14th June
SW Zone Boys and Girls rugby (Thursday 16th June – SD)
Interzone Year 8 Girls Football
Thursday 16th June
Interzone Year 8 Boys Football
Thursday 23rd June
Student Leaders out all day at training – details TBC
Friday 24th June
Matariki – School Closed
Monday 27th June
6.00 p.m. Board Meeting in the Principal's Office
Tuesday 28th June
Interzone Boys Rugby (Tuesday 5th July – SD)
Wednesday 29th June
Interzone Girls Rugby (Wednesday 6th July – SD)
June – mixed days
Everyday Theatre in the school over the course of this month
Tuesday 5th July
SW Zone Girls Hockey
Tuesday 5th, Wednesday 6th and Thursday 7th July
School closes at 2.00 p.m. – 3 Way Conferences [more information will be circulated closer to the time]
Wednesday 6th July and Thursday 7th July
Wearable Arts show – 6.00 – 7.00 p.m – in the school gymnasium
All whanau invited (please wear masks)
Thursday 7th July
SW Zone Boys Hockey
Friday 8th July
End of Term 2
Monday 24th July
Term 3 starts
BOARD OF TRUSTEES ELECTIONS
Board Elections are in September 2022, for a three year term. Please consider if you have the talents, experience and commitment which would contribute to the governance of Papatoetoe Intermediate School. Board members have a significant and very important role, including employment of staff, property and finance, health and safety, strategic direction, accountability and representation.
If you are interested in finding out more about being a Board member please contact our Board Secretary – Barbara Ferregel (barbaraf@papint.school.nz) or one of our Board members who will be happy to answer questions. Information about our Board can be found on our school website.
Interested community members are welcome at meetings. If you would like to know about attending meetings also contact the Board Secretary.
Election Dates:
– 15th July – call for nominations
– 5th August – nominations close
– 10th August – voting papers distributed
– 7th September – Election
– 13th September – votes counted
– 14th September – New Board takes Office
REGISTRATION OF INTEREST
DIRECTOR OF EDUCATION APPOINTMENTS TO THE SCHOOL BOARD OF
PAPATOETOE INTERMEDIATE SCHOOL
Papatoetoe, Auckland
Registrations of Interest are invited for up to four appointments to the School Board governing Papatoetoe Intermediate School.  The school has an alternative constitution which allows for four people to be appointed by the Director of Education for Auckland to the School Board.  The positions are available from 14 September, 2022.
About the School
The Papatoetoe Intermediate School is an urban, state intermediate school situated in Motatau Road, Papatoetoe, Auckland, providing education for students in Years 7 and 8.  Students remain with their same teacher for the two years they are at school.
The school has a long and rich history, and it prides on its heritage, high achieving alumni and its current students and their families.  The school's focus is to have its students demonstrate that they are effective communicators and connected learners with healthy minds and bodies.  Papatoetoe Intermediate School ākonga commonly achieve accelerated academic achievement over the two years.  The school provides a well-rounded holistic curriculum with a wide range of subjects and learning contexts and its staff are committed to assisting all students to realise their potential and achieve to the very best of their abilities.  Increasingly the school provides extended opportunities for online learning, STEAM provisions and experience in coding and robotics.
The intermediate years are exciting years for students.  It is a time of considerable physical and emotional growth as children move from childhood to adolescence.  It is a time of transition between primary and secondary paradigms.  Papatoetoe Intermediate School curriculum aims to build on prior learning and achievement, and it works towards a more independent, self-directed learning style.  Its students are encouraged to develop a clearer understanding of their own achievement levels and to set and achieve personal learning goals.  "We all want our students to be successful at secondary school and become self-motivated 'life-long learners'".
About the Role
The School Board is a Crown Entity.  In its governance role, the Board is the employer of the school staff, sets the school's overall strategic direction and is future focused.  The overriding focus and primary duty of effective Board membership is the quality of education that each of the school's students receives.
Board members need a balance of skills and experiences.  They need to work well in a team, be able to put strategies in place for the school's future, ask challenging questions, have good communication skills and represent the diversity of the school's students.  It also helps to have an understanding of financial matters, the education sector and experience in managing people.
The term of appointment is for up to three years.  Applicants should preferable have knowledge and experience of school governance.  Knowledge of developing and maintaining relationships with Māori and Pasifika parents, whānau and community is highly desirable.
For more information and Application Form, please contact Sonja Petkovic on 09 632 9453 or email sonja.petkovic@education.govt.nz
Applications close on Thursday 23rd June at 5.00 p.m.
PRINCIPAL'S MESSAGE
We have had a number of students bringing 'banned items' to school.  It is sensible for parents to occasionally check their children's bags and talk to them about what is OK to be at school and what is not, e.g. it is not sensible to bring toys, lots of money, expensive jewellery to school (even though they are not 'banned').  Thanks for your support.
MEASLES INFORMATION
It is important to us that all our students and their families are fit and healthy.  Please see the link below for the ADHB website's 'Beat the Bugs – Measles' resource for information on what to look out for and how to manage this disease.
https://arphs.health.nz/assets/Uploads/Resources/Disease-and-illness/Measles-Mumps-Rubella/Measles/2022/Education/Beat-the-Bugs_Measles-Resource_2022May25.pdf
FRUIT IN SCHOOLS
We have been fortunate to be part of the Fruit in Schools programme for several years now.
Having fruit readily available has increased the chances that our students will develop healthy habits and increasingly make healthier choices –  now and in the future.  We have fruit available in every room, in fruit bowls and baskets and encourage students (and staff, whanau and visitors) to 'help themselves'… and they do.  Alongside this programme we have developed a recycle programme and worm farms to 'feed our gardens'.  Fruit in schools is pivotal to the provision of our 'healthy school environment'.  Since the pandemic lockdowns and increasing food and living costs many more families cannot afford fresh fruit.  They can be assured that their children will have access to fruit every day… and anything left over is bagged and sent home to those families in need.  Our children have these basic needs met and full bellies, so they can concentrate on the learning.  Thanks to our delivery people, the suppliers, Fruit in Schools and all of those kind people and businesses who donate to this cause.
TRAVELWISE MESSAGE
Everyday the Travelwise Ambassadors have been monitoring students riding their Bikes and Scooters to and from school and ensuring they are meeting the following criteria.  We have been receiving messages from the community regarding unsafe behaviour from students riding to and from school.
If your child rides their bike or scooter to school.  They need to have filled out a permission slip from home to say that they can ride their bike or scooter to school.  If you need a permission slip please see Whaea Marie at the office.
The Bike and Scooter Requirements at Papatoetoe Intermediate School:
– Wearing a helmet to and from school up to the bike shed
– Riding safely to the bike shed.  Not riding around the school grounds
– Being safe with the bikes or scooter e.g. not doing wheelies etc
– Being visible to members of the community
– You check in and out mornings and afternoons with the Bike Ambassadors
– Your bikes being up to bike safety standards
– Following Bike Ambassador instructions
Please make sure your child follows the school expectations as we want to keep them safe in the community.
We have seen an increase in behaviour where students are not being picked up from school safely.  We are here to ensure that your children go home safely.
Please make sure that our parents are parked appropriately, not double parked or on yellow lines and definitely not on the median strip.
If there are too many cars along Great South Road or Motatau Road, arrange with your child to wait 5-10 minutes after school as it is quieter then.
Please make use of the pedestrian crossings as we want to ensure your child gets home safely.
INCREDIBLE KAI' WEARABLE ART SHOW – At the Vodafone Events Centre Manukau
10 Classes will be representing our school on Thursday 23rd June from 6.30-8.30, tickets can be purchased for this event in the link below
https://www.eventfinda.co.nz/2022/eye-on-nature-wearable-arts-fashion-show-2022/auckland/manukau-city
Each garment is designed to represent the theme, "Incredible Kai" with special consideration of the materials they use to construct their garments and their environment impact.  Natural materials and environmentally sustainable ideas will certainly be a big part of the event.
Come along and support our students wearing their class creations, they will be showcased on a professional fashion runway and the winners will be announced at the end of the night.
THANK YOU TO ROOM 21 and ROOM 22 for their articles for this Newsletter
ROOM 21
In Room 21 we have been using Ozobots and have been working on our wearable arts project.
Ozobots
Ozobots are small robots that the entire school has been playing/working/coding with.  We use black markers to draw lines that the Ozobots will scan and follow, we also use different colours to command the Ozobots to do different things such as go faster, slower, spin etc.  Here in Room 21 we have worked together in groups to create one massive track for the ozobots to follow.  We are also working on a play for the historical story of Captain Stewart.  Room 21 likes the Ozobots and thinks they're lots of fun to use.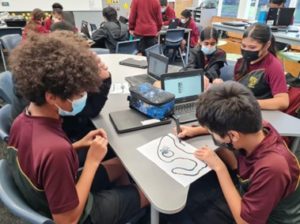 Wearable Arts
Wearable arts is a project that each class was given.  Each Syndicate had different themes for their Wearable arts project.  Room 21 chose the Chinese cultural food for wearable arts.  We made yin and yang out of rice, noodles, fish shoes, a dragon drawn by Fawwaz (our artist), dragon scales, moon cakes, bok choy, wok hat, dumpling and a robe for our model Dani.  We have been working very hard and have made good progress.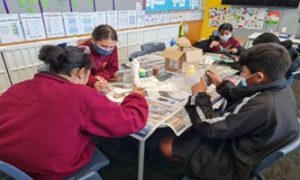 By Jesse and Raumati – Room 21 Class Leaders.
ROOM 22
This year Room 22 has been competing in Education Perfect competitions.  Education Perfect is a digital learning programme that provides engaging activities in Maths, English, Science, Languages and Social Science to assist with our learning.  Some of the competitions we have competed in are: Languages, Young Kiwi Challenger series, and the Humanities Competition.  During the competitions we compete with other students from around New Zealand and around the world.  We have learnt many things from these competitions, and have achieved great results, along with awards.
In term 1, Room 22 received 2 Elite Awards, being amongst the top 0.1% in the world, 1 Bronze Award, being in the top 2% in the world and 4 Credit Awards for being within the top 6% in the world.  In the Young Kiwi Challengers Series we received 8 Gold Awards, 13 Silver Awards, 21 Bronze Awards and 16 Credit Awards over the duration of the week.
We all enjoy competing in these events, and look forward to the upcoming competitions throughout the year.
By Elisiva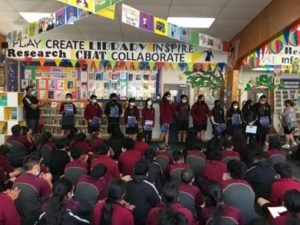 AUCKLAND GIRLS' GRAMMAR OPEN DAY 2022