What's on in Term 3 ……..
The Marae Trips due to take place next week have been postponed until March 2022.
Tuesday 10th August
Girls Netball Team out today
6.00 p.m. Parent Information Evening for 2022 new enrolments – School Library
Tuesday 17th August
Boys Netball Team out today
Monday 23rd August to Friday27th August
Sports Camp in Matamata all week for Sports Academy Students
Monday 30th August
Teacher Only Day for Union Members – School closed.
6.00 p.m. BoT Meeting in the Principal's Office – please advise Barbara Ferregel – BoT Secretary – barbaraf@papint.school.nz if you would like to attend
Wednesday 1st September
Out of zone applications for 2022 close at 3.00 p.m.
Monday 6th September to Thursday 9th September
First Aid Courses for ALL students [Classes will be timetabled to attend]
Wednesday 8th September
Out of zone Ballot Day for 2022 out of zone applications
10.00 a.m. Speech Finals in the School Library
Monday 20th September to Thursday 23rd September
First Aid Course for ALL students [Classes will be timetabled to attend]
Tuesday 21st September
Boys League team out today
3.00 – 6.00 p.m. STEAM projects – venue to be confirmed
Wednesday 22nd September
Girls League team out today
3.00 – 6.00 p.m. STEAM projects – venue to be confirmed
Monday 27th September to Thursday 30th September
First Aid Course for ALL students [Classes will be timetabled to attend]
Monday 27th September
6.00 p.m. BoT Meeting – please advise the BoT Secretary – Barbara Ferregel [barbaraf@papint.school.nz] if you would like to attend
Wednesday 29th September
9.45 a.m. – 1.45 p-.m. Papatoetoe Kapa Haka Festival at Papatoetoe North Primary School
Thursday 30th September
Boys Basketball team out today – to be confirmed
Friday 1st October
Last day of Term 3 – school closes at 3.00 p.m.
Monday 18th October
First day of Term 4
SCHOOL BUS TIME CHANGE FOR 027 and 029
From the first day of THIS term, the 027 bus from Middlemore Hospital to Papatoetoe schools  will start running 5 minutes earlier than at present. The bus will depart bus stop number 6494 from  Hospital Rd by Golf Club at 7:40am  There will be no change to the route.
From the first day of THIS term, the 029 bus from Puhinui to Papatoetoe schools will start running 7 minutes later  than at present. The bus will depart bus stop number 2338 from Waka Pacific Wiri Depot at 7:57am  There will be no change to the route.
This change will help to ensure students arrive at school on time.
STORYLINES – AUTHOR VISIT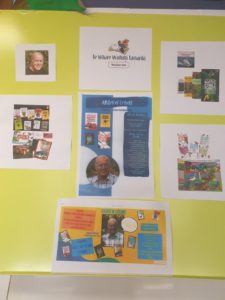 Our school had the opportunity to have an author visit during the Storylines National Tour.
Our students were fortunate to listen to Andrew Crowe on his life as an author.
He is one of the best-known authors in New Zealand. He has written more than 40 titles for which  he has designed and taken photographs for most of his books. His fantastic non-fiction books mainly focus on nature. Andrew Crowe has won numerous awards such as the Storylines Margaret Mahy Award.
Recently, his latest book Pathway of the Birds won the Storylines Notable Book Award. 
FOOD TECH EXTENSION CAFE
The Food Technology Students opened a Café for the staff . This was pretty empowering for them. It was also rewarding for the students to receive recognition for all the hard work, from the teachers, after all the planning and preparation they did.
During the project students learned the necessary vocabulary. All the knowledge that was learned and everything students did was purposeful because they learnt and experienced that it requires a lot of planning and organisation in order to run a Café. Students gained the knowledge/skills  on measuring, hygiene/safety in production,  sensory testing, modelling and trialing, terminology and team work. This unit involved nearly every curriculum area in some way, for example  maths is hugely important for getting the amount of the ingredients right according to the number of people. Innovation in problem solving is also part of this unit. 
Students are really excited and are looking forward to opening a Café for their Whanau on 21st and 22nd of September during the STEAM evenings.
Thank you to Room 12 for this Newsletter article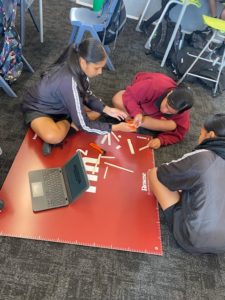 Our STEAM journey so far: We started STEAM at the start of Term 2. Students had many ideas and projects that they thought would make Papatoetoe Intermediate's living landscape better. We started by making groups and choosing roles. Then we designed our projects and made material lists to get stuck in. By the end of Term 2 our prototypes we complete!
We have learnt how to make material lists, budgets, use sketching to make designs, time management and how to present our ideas. Some of our ideas include: decorating the treeline, creating birdhouses to attract birds, treehouses and other structures around the school. We are hoping to get some of these ideas and prototypes built properly for our school community to enjoy.
TOTARA SEATS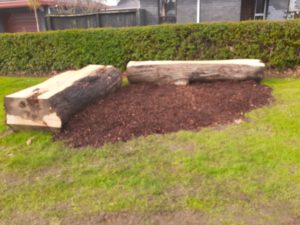 Some of you may have noticed the logs that have been recently milled and installed at the front grassed area by the driveway for students to sit on while they wait for the parents after school. We hope that you appreciate that children are safer if they wait inside the school grounds and we encourage whanau to remind children to do this.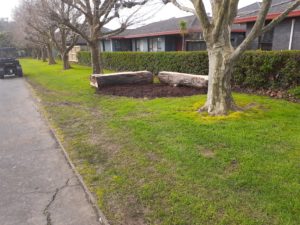 The logs have a story of their own. They are from a mighty totara tree that was felled to make way for our new Specialist Classes. It was with great sadness that the tree needed to be cut down because it was planted by the first students attending our school – in 1953, along with several other trees that are on the fence line behind the Spec Classes and Gym. None of this tree has been removed from our school site. The small leaves and branches were mulched for our gardens. These large logs, from the trunk of the tree, made into these seats and the other branches and rest of the truck rest near where the tree once stood, and near our vege gardens, providing informal seating in the shade of the others planted by those students.
Our history is important to us all, as are the people who go before us. We also have planted trees each year, to replace those removed, to provide fruit and shade  for future generations and to develop a 'native garden' that attracts native birds and insects.
ENROLMENTS FOR 2022 – IN ZONE and OUT OF ZONE
Applications for in zone and out of zone are now open. We encourage all IN ZONE enrolments to be completed and returned to Papatoetoe Intermediate  by Friday 13th August 2021. Out of Zone Applications close on Wednesday 1st September 2021 at 3.00 p.m. A ballot will take place on Wednesday 8th September – for any balloted places Papatoetoe Intermediate has available.
Application Packs are available on our School Website https://papint.school.nz  or from the Papatoetoe Intermediate School Office.
On Tuesday, 10th August at 6.00 p.m. we have an Information Evening in our School Library for new 2022 enrolments for for any families that would like to enrol their student/s for 2022 – both in zone and out of zone students are very welcome.
Current Year 7 students ARE NOT required to re-enrol for their Year 8 year in 2022.
HIGH SCHOOL/COLLEGE ENROLMENTS
Year 8 families should now be enrolling their son/daughter in the Secondary/College of their choice, for Year 9 2022.
We will update families with out of zone closing dates for the Secondary Schools as the Schools advise us of these dates.
If you need help with enrolling please do not hesitate to contact our School Office. We are happy to help.
Papatoetoe High School out of zone applications close on Wednesday 1st September 2021.
Otahuhu College have extended their closing date for out of zone applications. As soon as they advise us of the new closing date we will let you know.