What's on this term ……..
Friday 19th  March
9.00 am. Whole School Assembly in the Gym – Room 16 hosting
Monday 22nd March
Free Lunches in Schools starts today
Tuesday 23rd March
Boys cricket team out all day today
Friday 26th March
9.00 a.m. Whole school Assembly on line – Room 6 hosting
School Leaders out all day today – William Buck in the City
Monday 29th March to Thursday 1st April
EOTC Week
Monday 29th March
6.00 p.m BoT Meeting in the Principal's Office. All welcome [please let Barbara Ferregel, BoT Secretary – barbaraf@papint.school.nz know if you intend attending. This is to make sure extra seating is available]
Thursday 1st April
School closes at the usual time of 3.00 p.m.
There is NO Study Centre this afternoon
Thursday 1st April to Tuesday 6th April
Easter break – school is closed Friday, Monday and Tuesday
Sunday 4th April
Daylight Saving finishes today – put your clocks back one hour
Thursday 8th April
Boys Softball team out today
Friday 9th April
9.00 am. Whole School Assembly in the Gym – Room 2 hosting
Friday 9th April to Sunday 11th April
Kapa Haka sleepover – in school all weekend
Tuesday 13th April
Girls Softball Team out today
Friday 16th  April
9.00 a.m. Whole school Assembly on line – Room 12 hosting
Final day of Term 1 – school closes at 3.00 p.m.
School Holidays
Monday 19th April to Friday 30th  April
Monday 3rd May
Term 2
EDUCA for families
There is real educational value in students being supported by their families. This can only happen if a student's learning is visible to families in real time.
Educa is a tool which allows students and teachers to share your child's progress with you as it happens. Rather than waiting for their mid-year or end of year report, you will be able to access examples of your child's work, with teacher feedback, from your phone throughout the year.
Once the student's work is shared into their private, online portfolio, families can share their feedback to support both the student and teacher. You can also share your own updates from home, so teachers can see learning that takes place outside of the class room.
Educa allows you to become a partner in your child's learning, collaborating with teachers to ensure the best outcomes for your child.
Families would have now, all received, an invitation from EDUCA. Please accept this invitation. You will now be able to access your child's School Profile.
EOTC WEEK
Monday 29th March to Thursday 1st April
In 'even' years our whole school goes to Camp.
In 'odd' years we undertake a week of Educational Experiences Outside the Classroom [EOTC]. This year our students will be participating in a wide range of EOTC experiences. This is part of the expected NZ Curriculum.
One of the activities our students will be offered is 'Okahu Bay – Ocean Adventure'.
On Friday evening, 12th March our staff took part in experiencing what our students will be taking part in on the day. As you can imagine there was a lot of fun and laughter had by all.
Thank you to Room 3  for this article in our Newsletter
I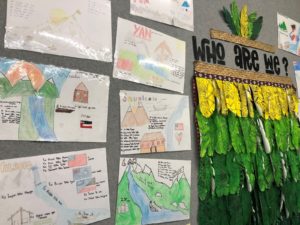 n Room 3 this term we have been focusing on building relationships and getting to know one another. We have a diverse range of cultures and personalities in our class. We were able to get to know each other further by writing, creating and displaying our pepeha posters. The students in Room 3 had to find out the different pieces of information they needed in order to write their pepeha. We talked about the purpose of writing and knowing your pepeha and when would be the best time to use it. When they were finished writing they designed and drew a poster that included and represented different parts of their pepeha. They had to draw a mountain, a river, a marae, a waka, something to represent their family and something to represent their culture. Through creating these posters we were able to learn more about each other's families and where each of us is from.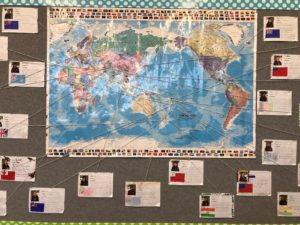 We also created a display that shows all of the different cultures that we have in our class. We located the countries on a map to show that we all come from different places all over the world. Each student had to create a little profile about the country they are from. They had to state where they are from and list three facts about that country. We've really enjoyed reading all of the different facts, we've all learnt a lot from and about each other. 
ENGLISH PARTNERS – South Auckland
English Language Partners Auckland South helps former refugees and migrants to learn English in the communities they live in.  People make new friends and are supported by their teachers with the settlement difficulties they may face.
During the two recent COVID-19 lockdowns our learners were confused with the many messages they received.  Our teachers are usually their first contact.  They are able to explain and support our learners to understand the language used by the Government and experts during national emergencies.
Tell and encourage your family, friends and neighbours to come and learn English in a small friendly and free class so they can gain confidence to use English and become more independent.
https://www.englishlanguage.org.nz/auckland-south
LICE CAP
A thick cap immersed with 100% Natural Oils designed to eliminate head lice. The lice cap looks and feels like a regular shower cap.
You simply place the cap on the head then massage through to the scalp, do this procedure every 10 minutes. Leave the cap on for 40 minutes then remove and comb all the dead lice and eggs out.
There is no need to wash the hair afterwards as the Natural Oils used will leave the hair and scalp cleaned and soothed.
Use this school discount code and receive 20% off – NITBUSTERS
www.licecap.co.nz
info@licecap.co.nz