What's on in Term 3 ……..
Tuesday 17th August
Boys Netball Team out today
Monday 23rd August to Friday27th August
Sports Camp in Matamata all week for Sports Academy Students
Monday 30th August
Teacher Only Day for Union Members – School closed.
6.00 p.m. BoT Meeting in the Principal's Office – please advise Barbara Ferregel – BoT Secretary – barbaraf@papint.school.nz if you would like to attend
Wednesday 1st September
Out of zone applications for 2022 close at 3.00 p.m.
Monday 6th September to Thursday 9th September
First Aid Courses for ALL students [Classes will be timetabled to attend]
Wednesday 8th September
Out of zone Ballot Day for 2022 out of zone applications
10.00 a.m. Speech Finals in the School Library
Monday 20th September to Thursday 23rd September
First Aid Course for ALL students [Classes will be timetabled to attend]
Tuesday 21st September
Boys League team out today
3.00 – 6.00 p.m. STEAM projects – venue to be confirmed
Wednesday 22nd September
Girls League team out today
3.00 – 6.00 p.m. STEAM projects – venue to be confirmed
Monday 27th September to Thursday 30th September
First Aid Course for ALL students [Classes will be timetabled to attend]
Monday 27th September
6.00 p.m. BoT Meeting – please advise the BoT Secretary – Barbara Ferregel [barbaraf@papint.school.nz] if you would like to attend
Wednesday 29th September
9.45 a.m. – 1.45 p-.m. Papatoetoe Kapa Haka Festival at Papatoetoe North Primary School
Thursday 30th September
Boys Basketball team out today – to be confirmed
Friday 1st October
Last day of Term 3 – school closes at 3.00 p.m.
Monday 18th October
First day of Term 4
GIRLS NETBALL
On Tuesday, 10th August,  20 players travelled to the David Lange Netball Courts and competed in the Southwest Zone Tournament. We had a Year 7 and a Year 8 team playing. 
The Year 8 competition had 11 schools entered with a number of strong teams. Our team came 2nd= after pool play rounds but unfortunately on a countback we didn't qualify for the Semi Finals.
In the Year 7 competition the pattern was the same with a 2nd= placing in the pool but with a superior goal difference we qualified for the Semi Final.
In the Semi Final game the girls came up against a very strong Holy Cross team who played an outstanding game and ran away with the win. (They won the Tournament too.)
All the girls stepped up over the day, getting better as the day went on, and took a lot of confidence from the experience – of course not qualifying for finals or downing don in a Semi Final is disappointing but the girls showed their character and pride in the way they supported each other and the other schools in the face of this.
A huge thank you to Ms Skudder and Miss Nosa for their coaching of the teams and to Mr Fletcher for stepping in on the day to support the year 7 team.
It was awesome to see many parents and whanau on the sidelines supporting our teams – we really enjoy and appreciate seeing and hearing you at the games.
Congratulations and well done to the players – you should be really proud of your efforts.
Thank you to Room 13 for this Newsletter article
The Olympic Games
The Olympic games is known for bringing the best athletes of each country together to compete in various games. All participants strive to obtain a medal for their country and bring honour to their countrymen.
Excellence, Respect and Friendship are the three core values of Olympism and are a central focus at the Olympic Games and Youth Olympic Games.  
Students at Papatoetoe Intermediate were taught the origins of the Olympics Games and what the Olympic Games signifies. Seen in the picture are Paras and Jasleen from Room 13 holding up their favourite Olympic Champion. Students were also excited to paint and express their understanding of the Olympics.
Student engagement was at an all time high. Students were seen competing amongst themselves to create the perfect interpretations of the Olympic Games. Staff and students look forward to the coming years of this amazing tradition.
THANK YOU DUFFY BOOKS and LATITUDE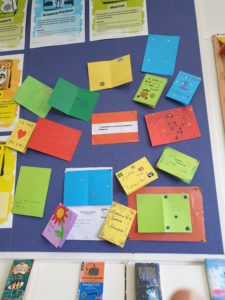 Our students received cards from Latitude Finance encouraging and inspiring them to read. Our students replied to these  inspiring cards and received a big box full of goodies, oreos, rugby balls, books and other treats.  These will be used in the library, as prizes for students and during our upcoming book week.
Papatoetoe Intermediate school staff and students would like to thank our Duffy Partners-Latitude for their generosity .
ENROLMENTS FOR 2022 – IN ZONE and OUT OF ZONE
Applications for in zone and out of zone are now open. We encourage all IN ZONE enrolments to be completed and returned to Papatoetoe Intermediate  by Friday 13th August 2021. We thank all whanau who have already completed their enrolments for 2022.
Out of Zone Applications close on Wednesday 1st September 2021 at 3.00 p.m. A ballot will take place on Wednesday 8th September – for any balloted places Papatoetoe Intermediate has available.
Application Packs are available on our School Website https://papint.school.nz  or from the Papatoetoe Intermediate School Office.
Current Year 7 students ARE NOT required to re-enrol for their Year 8 year in 2022.
HIGH SCHOOL/COLLEGE ENROLMENTS
Year 8 families should now be enrolling their son/daughter in the Secondary/College of their choice, for Year 9 2022.
We will update families with out of zone closing dates for the Secondary Schools as the Schools advise us of these dates.
If you need help with enrolling please do not hesitate to contact our School Office. We are happy to help.
Papatoetoe High School out of zone applications close on Wednesday 1st September 2021.
Otahuhu College have extended their closing date for out of zone applications. As soon as they advise us of the new closing date we will let you know.